Bitcoin & Altcoin Season
Are Altcoins on the cusp of Altseason?
Total Crypto Market Cap and Bitcoin Dominance
In mid-May, I posted this tweet about Total Crypto Market Cap:
Let's fast forward to today:
Indeed, Total Crypto Market Cap performed a volatile retest of the green area, digging deeply into it, to turn it from old resistance into new support.
Really important to take a moment to appreciate the tremendous transition in market psychology that has taken place over the past year or so.
Last Summer, in mid-2022, this same region was acting as a region of resistance and now it is acting as the exact opposite: new support.
And now the Total Crypto Market Cap is trying to break to new Yearly Highs which would enable growth in the Market Cap by +10% to up to +23%.
Crucial Insight: But it's really important not to fall into the tempting mental shortcut that because Total Crypto Market Cap could breakout to new highs, the entire Crypto Market will rally along with it.
And here's why: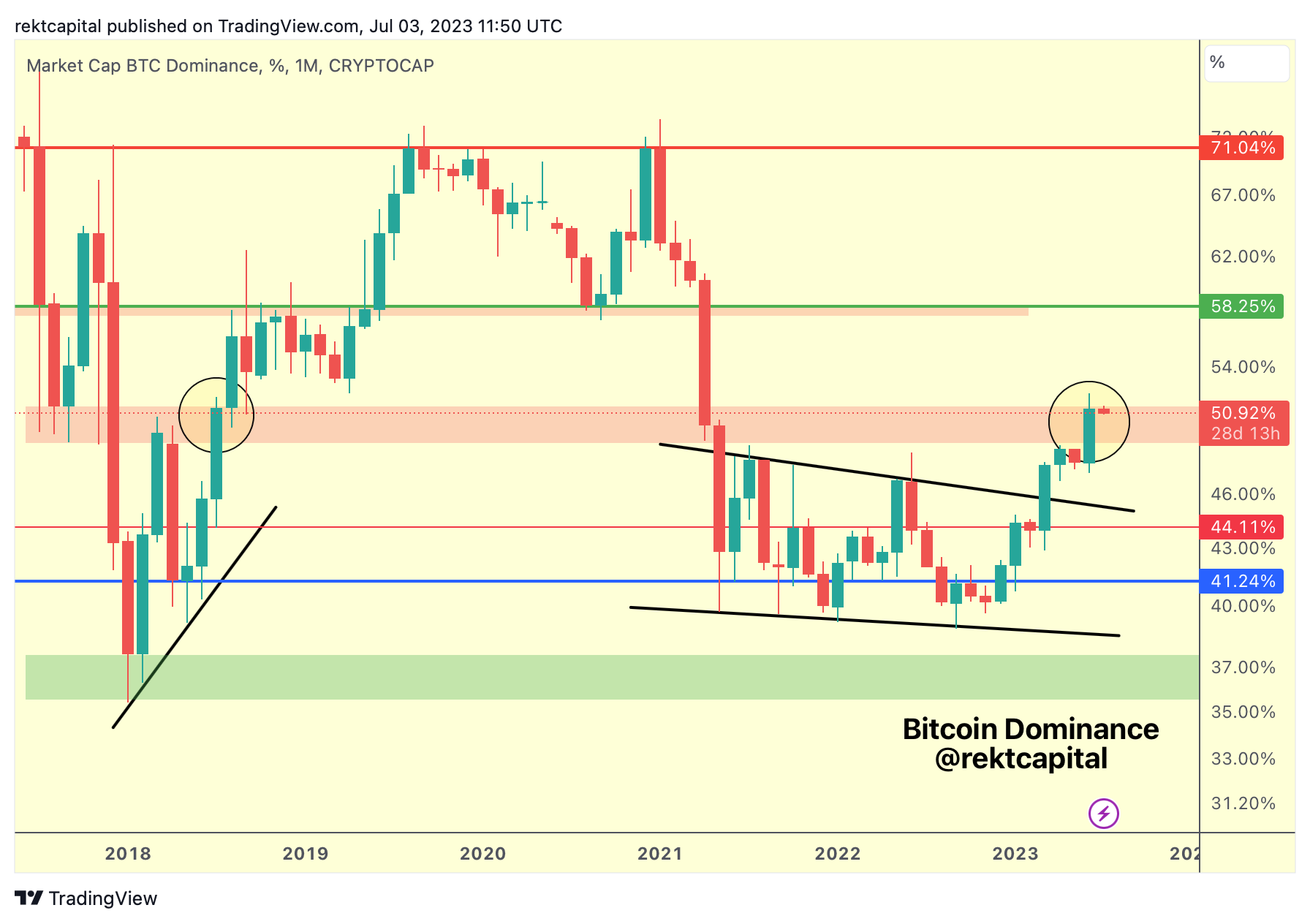 Bitcoin Dominance has performed a new Monthly Close inside the red resistance area, just like in mid-2018.
And upon such Monthly Close in mid-2018, BTC Dominance experience a brief dipping period to successfully turn this red resistance area into new support before blasting to the upside and rallying to the 58% Dominance region (green) before some pro-Altcoin shift occurred in the market.
With Bitcoin Dominance now positioned for a similar technical event (i.e. a potential retest of the red area into new support), Altcoins may briefly rally but it looks like Bitcoin Dominance is in a strong macro uptrend and could continue its rise to the upside, to even as high as 58%.
As Bitcoin gains Market Dominance, some Altcoins may try to follow, but will probably for the most part struggle to keep up and instead lose valuation. Of course, Large Cap Altcoins like Ethereum, Litecoin, or Bitcoin Cash may have better success in keeping up - it is mostly the smaller Altcoins that could struggle as people panic sell them in an effort to keep up with the Bitcoin uptrend.
In short - an increasing Total Crypto Market Cap doesn't necessarily have to translate into both Bitcoin and the entire Altcoin Market increasing in tandem together.
Crucial Insight: In fact, with the way that Bitcoin Dominance is looking right now, it's possible that Bitcoin itself could account for the majority of increase in the Total Crypto Market Cap, while Altcoins struggle to keep up and fall behind.
Up next, we'll discuss Bitcoin's recent cycle-defining technical feat that is has just achieved which could set price for additional upside.
This post is for paying subscribers only
Already have an account? Sign in.