Altcoin Newsletter #133
Features chart analysis on 8 Altcoins: ETC LTC FIL INJ CRV SNX SOL LINK
In today's Altcoin newsletter, I cover 8 different Altcoins, specifically:
Ethereum Classic (ETC)
Litecoin (LTC)
Filecoin (FIL)
Injective (INJ)
Curve Dao (CRV)
Synthetix Network Token (SNX)
Solana (SOL)
Chainlink (LINK)
These Altcoin TA requests are made by valued readers of the Rekt Capital Premium Newsletter.
Let's dive in.
And in case you missed it, only 2 days remain to buy my courses before the price increases by up to 100%.
Join thousands of students right now:
---
Ethereum Classic - ETC/USD
This past Wednesday, I discussed how ETC was on the cusp of breaking its Macro Downtrend (red diagonal):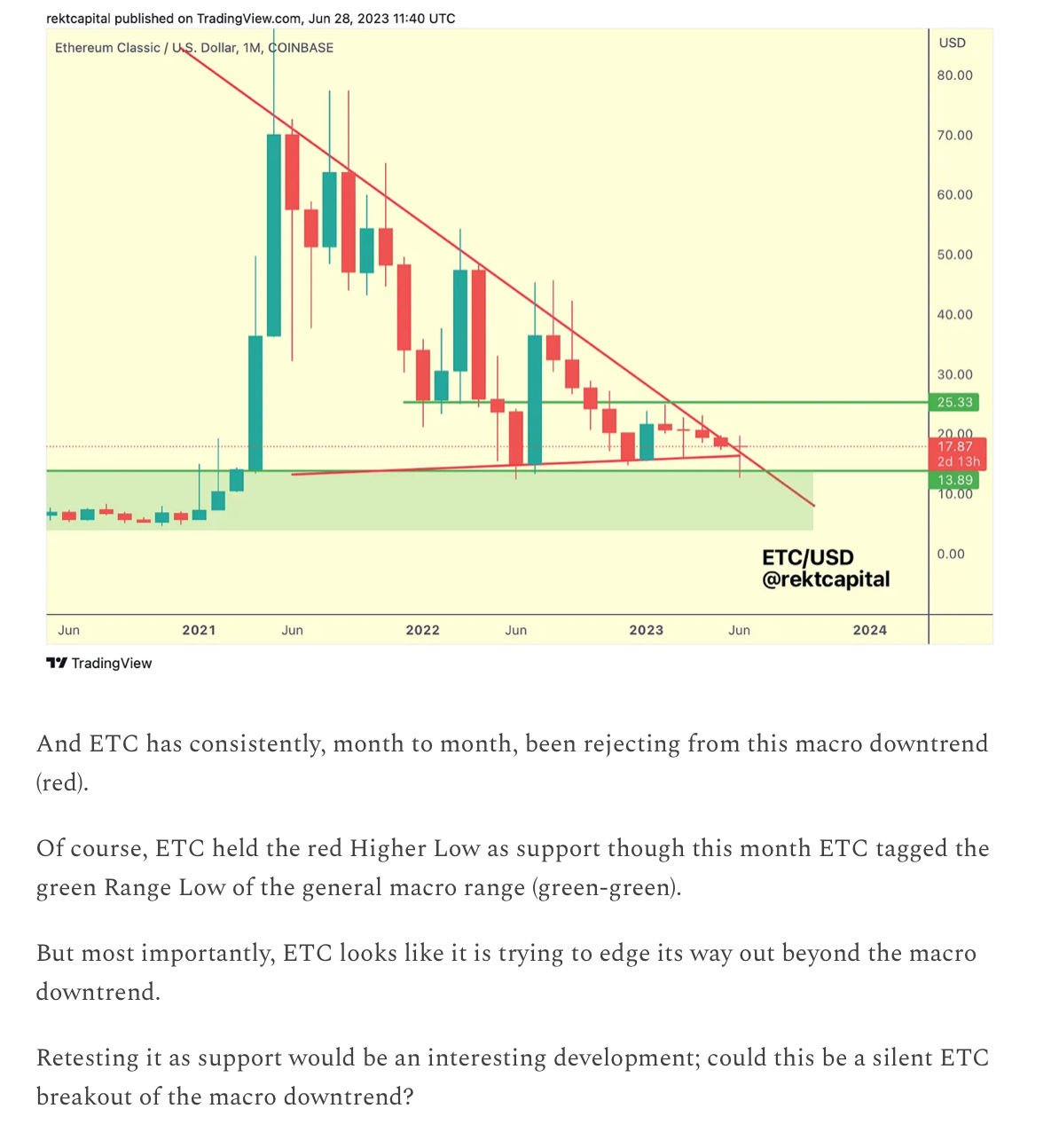 And fast forward to today...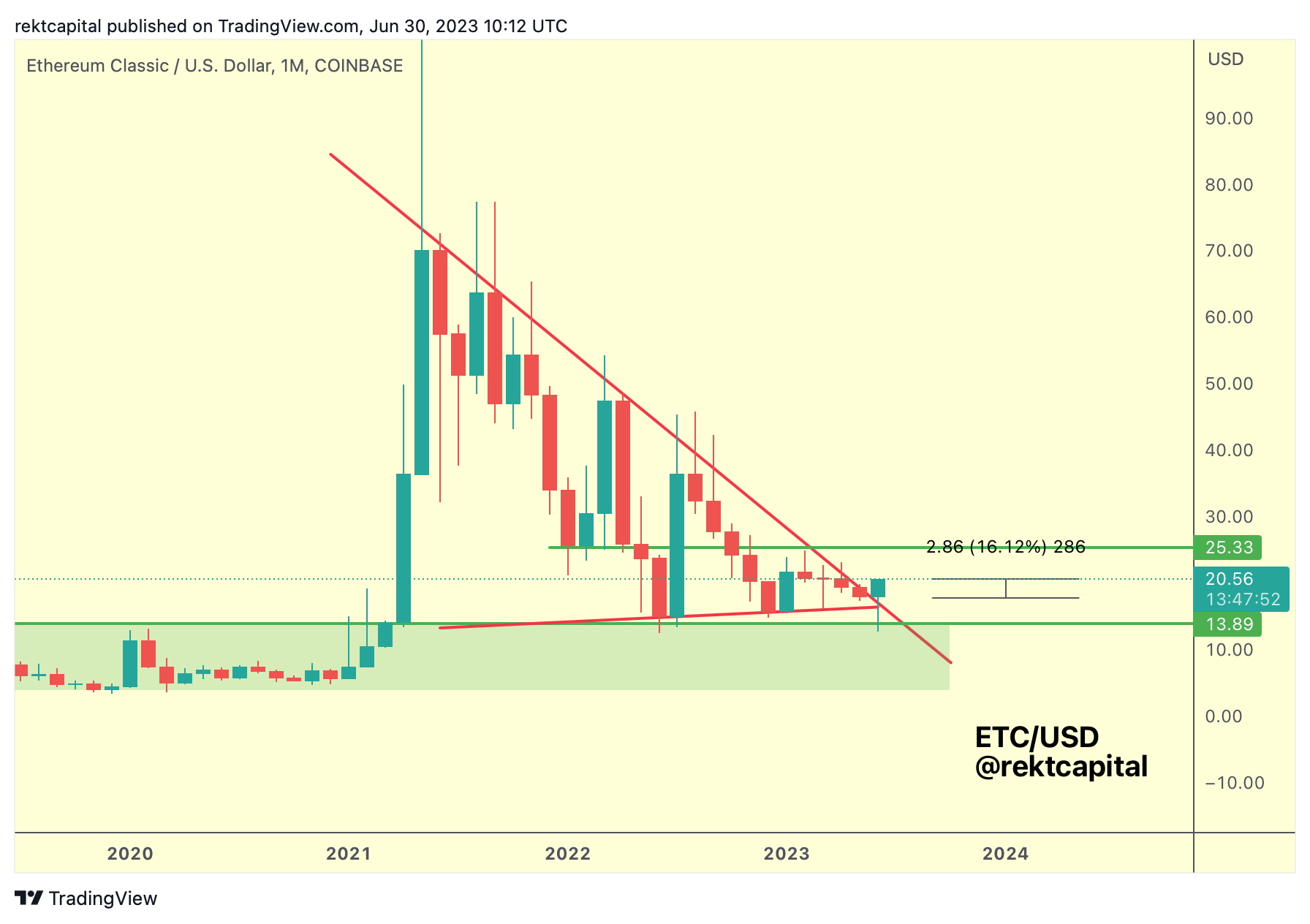 ETC has succesfully retested the Macro Downtrend as new support and has rallied +16% since covered on Wednesday.
There has been a clear and distinct shift in how ETC behaves at the Macro Downtrend; over the past several months, price would overextend to the upside via wicks before rejecting.
However this time, ETC is turning this multi-year resistance into a new support to enable upside.
Clear shift in market psychology and when a multi-year downtrend breaks, a multi-year uptrend emerges.
As a result, this is likely the very beginnings of a new macro uptrend for ETC.
In the short-term however, ETC could rally to as high as the green level above.
And that green level is the Range High of its current Accumulation Range (green-green).
So while ETC may be beginning its new macro uptrend, there is still technical scope for price behaviour to remain within this Accumulation Range (green-green).
Until ETC performs a higher-timeframe close above the Range High to confirm the breakout from the Accumulation Range.
Litecoin - LTC/USD
This past Wednesday, I also covered Litecoin.
I prefaced the analysis with discussion on a market structure that I first mentioned in Video Deep Dive from last week.
Last week I spoke of how a rebound from the Range Low would be likely to occur due to signs of Seller Exhaustion: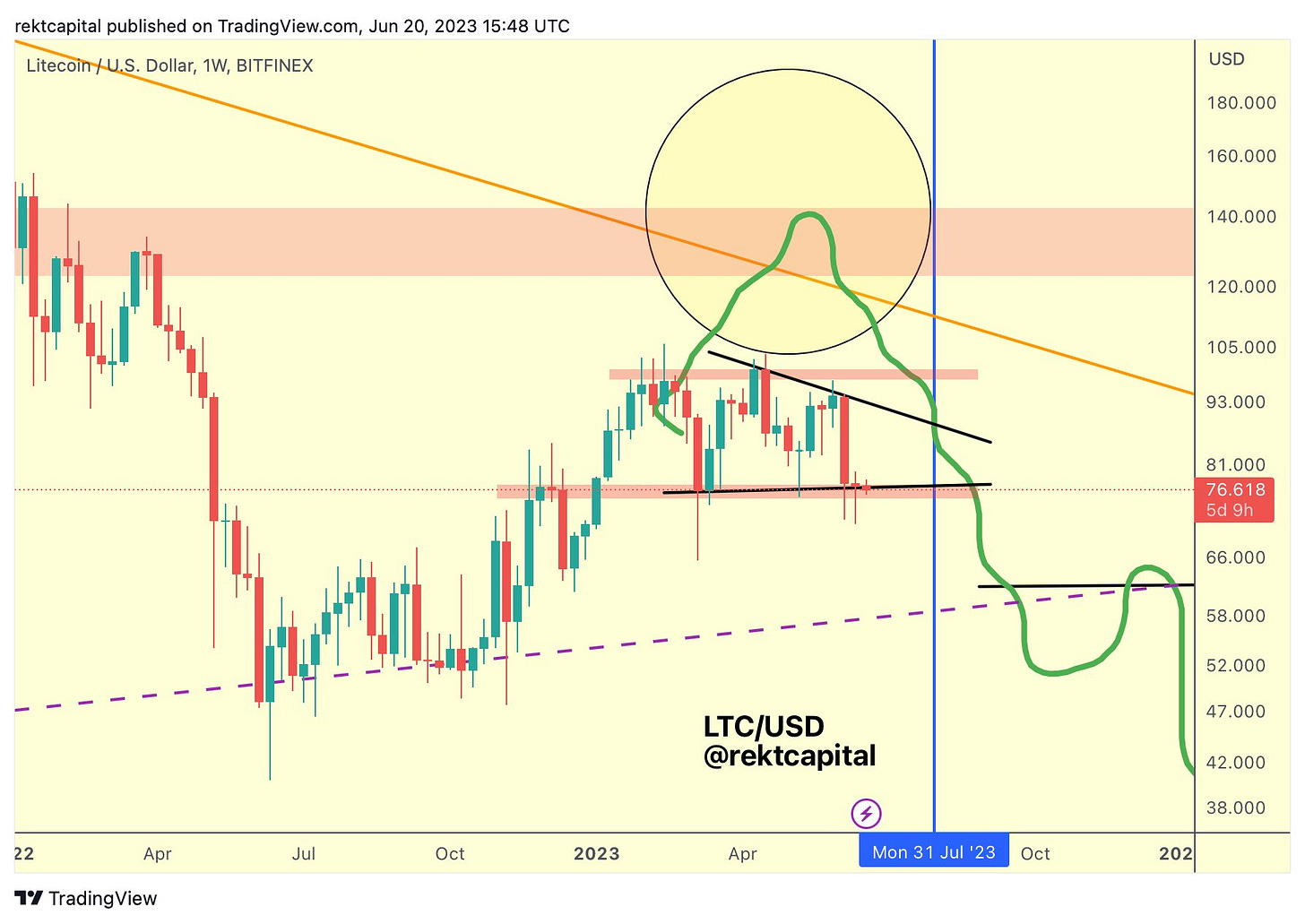 And LTC indeed rebounded from the Range Low for an over +30% rally to the upside: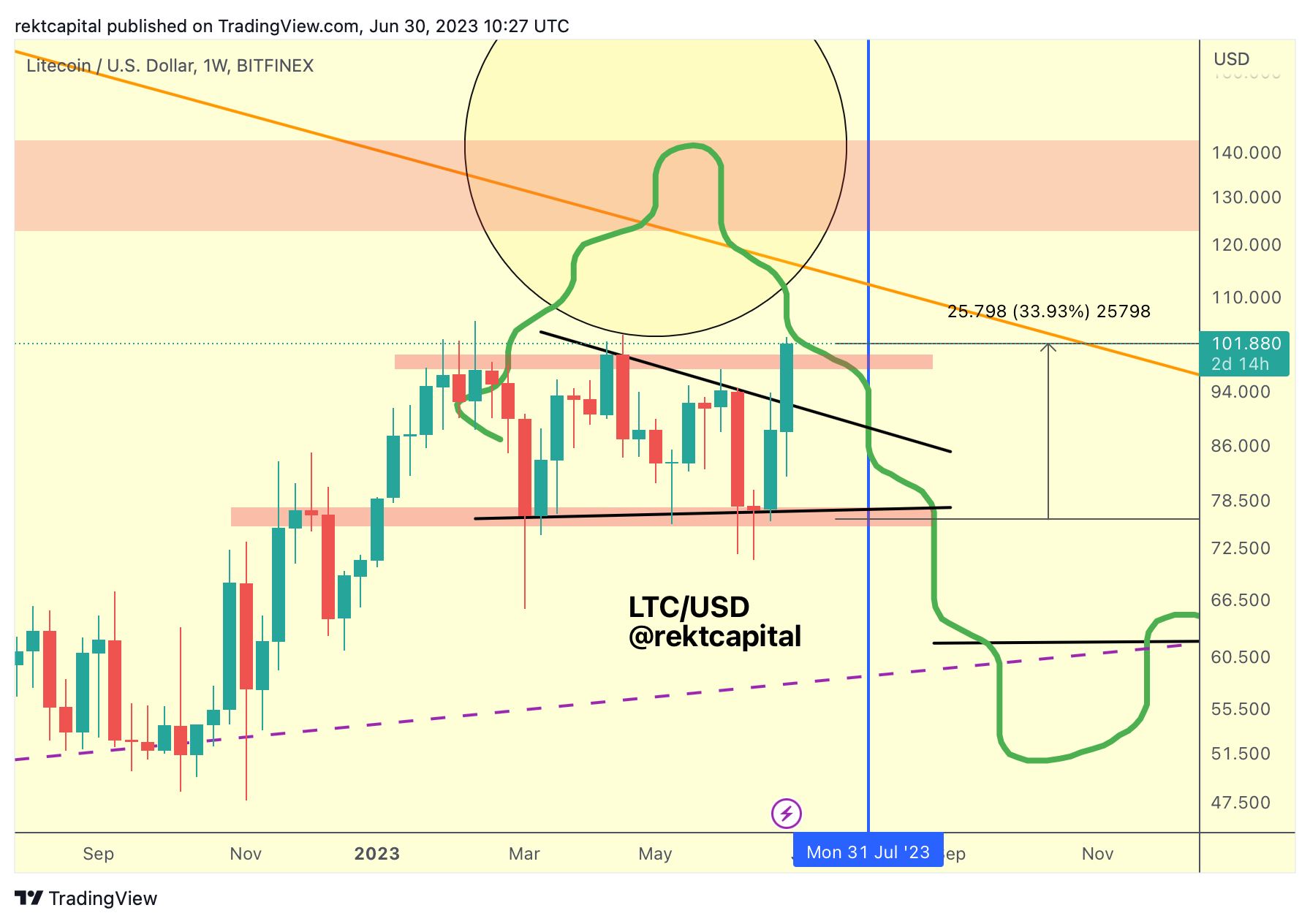 Litecoin has broken out from its black wedging structure.
And in fact, LTC is now challenging the red Range High for a breakout.
Of course - upside wicks beyond this red Range High have occurred in the past, which is why it is key for LTC to Weekly Close beyond this resistance and/or retest this region as new support.
Doing so would confirm trend continuation in its Pre-Halving rally.
But let's look further than that, because a new Monthly Close looms large.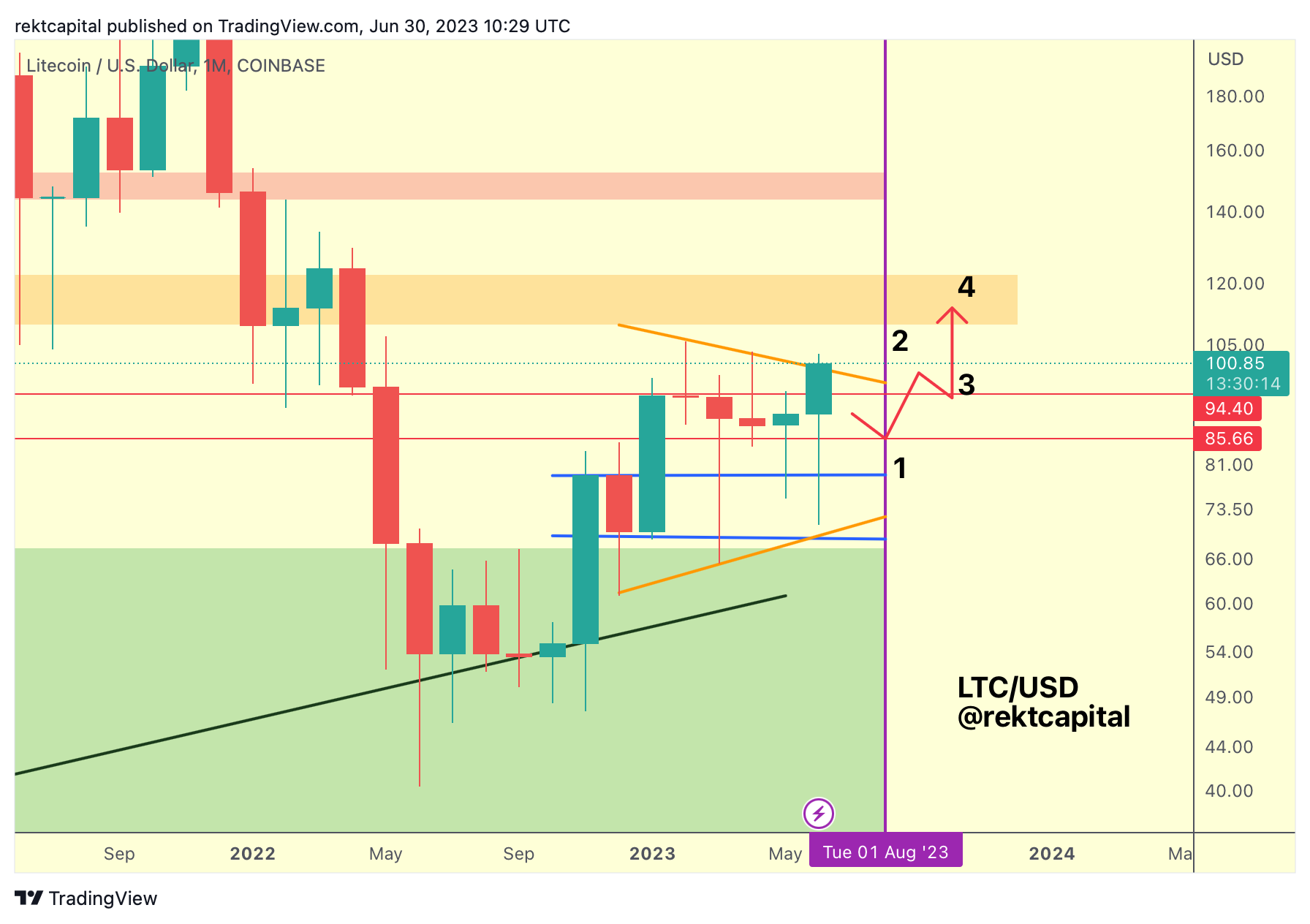 LTC is positioning itself for a Monthly Close beyond the red Monthly resistance of $94.
Which means that after rejecting price since January 2023, this same $94 level will now have a chance to act as support.
So any dips into $94 in July would be most welcome as that would fully confirm the breakout from the red-red range, all in an effort to fully break beyond the orange Lower High downtrend.
Monthly Close above the orange Lower High downtrend would invalidate the series of Lower Highs and price could go higher right away.
However Monthly Close below the LH however and LTC may have to dip closer into the $94 level for that all-important retest.
This post is for paying subscribers only
Already have an account? Sign in.