Bitcoin Death Cross Analysis Continued
Are Altcoins Experiencing Relief?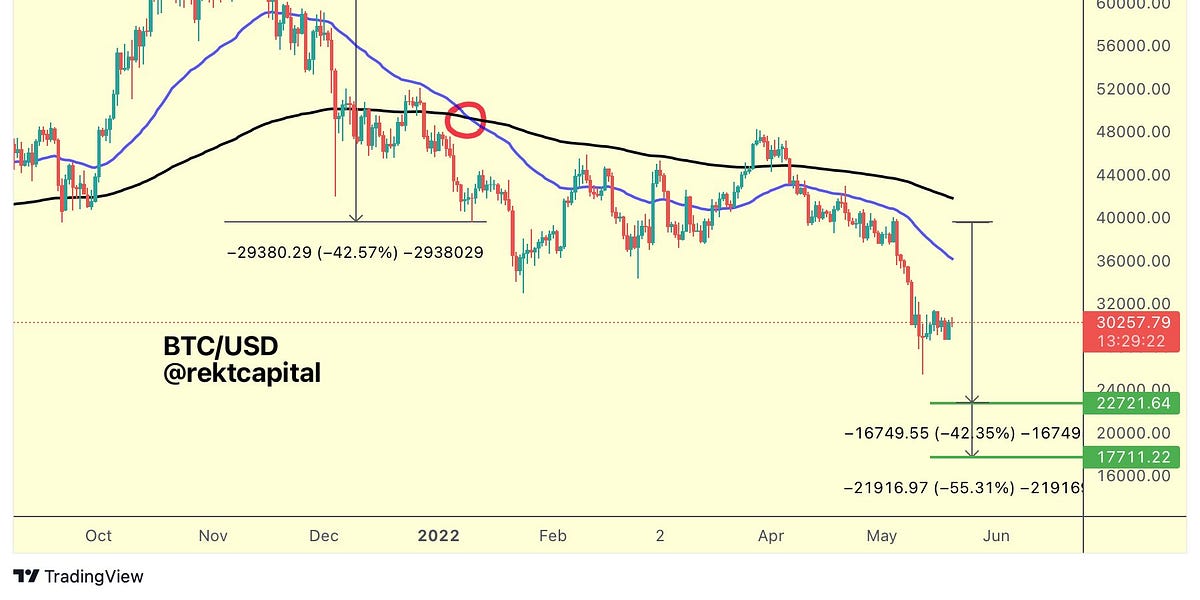 Dear Rekt Capital traders and investors,
Before we jump into today's newsletter, I want to remind you about my brand new exclusive TA session on Bitcoin released last Thursday…
In case you missed it, click here to watch it here.
In this 30-min session "Post Luna Crash Price Prediction for BTC", I share:
A deep-dive TA analysis on Bitcoin,
Historical analysis of Bitcoin Death Crosses and the implications for this current period,
My opinion on where the area of outsized historical ROI for long-term BTC investors resides, based on metrics and indicators covered in the video.
Feel free to Like, Subscribe and share your thoughts in the comments section!
That being said, let's now dive into today's newsletter!
---
Are Altcoins Experiencing Relief Right Now?
Before we address this topic, I'd like to share an excerpt from the May 11th edition of the newsletter to give more context: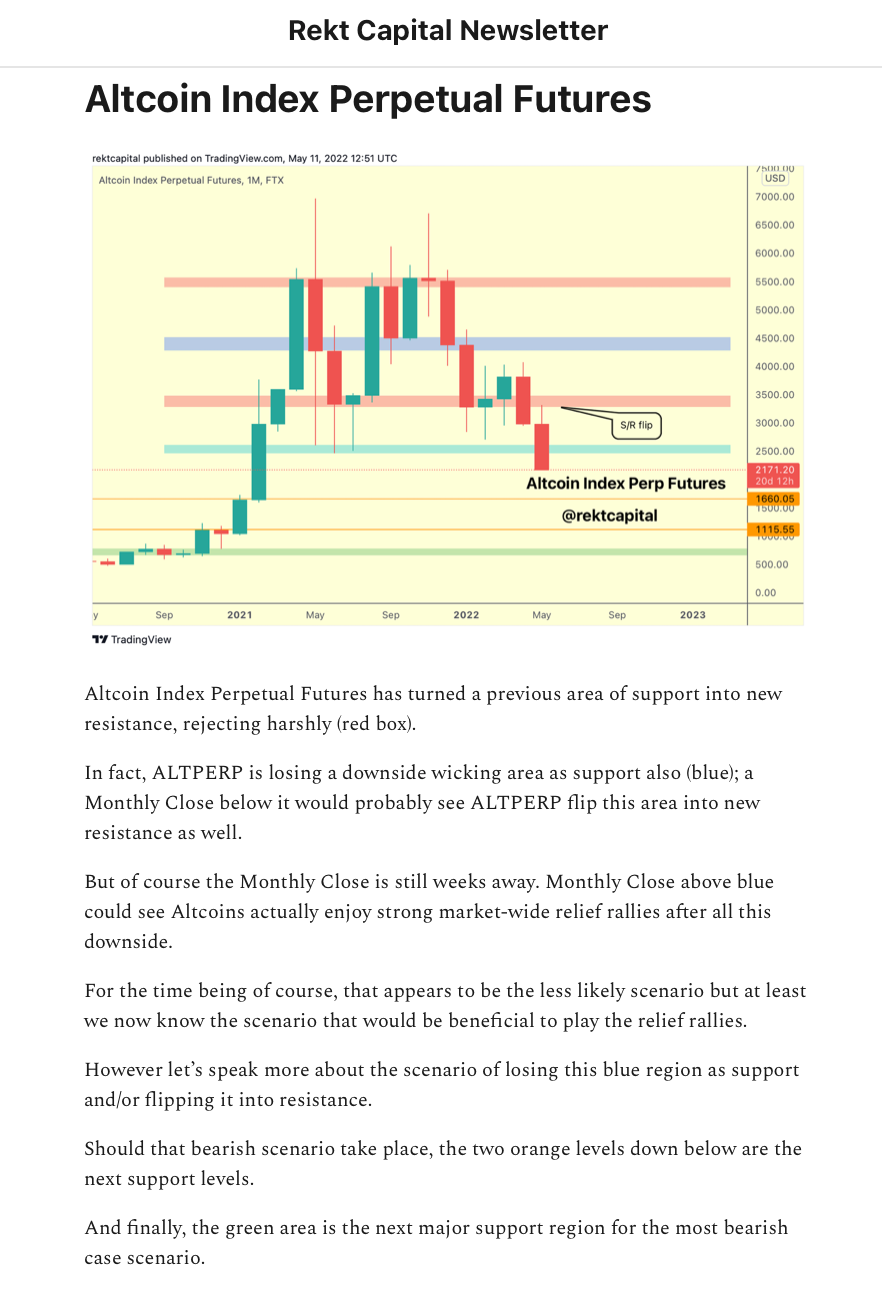 Bearing this in mind, here is an update to the chart: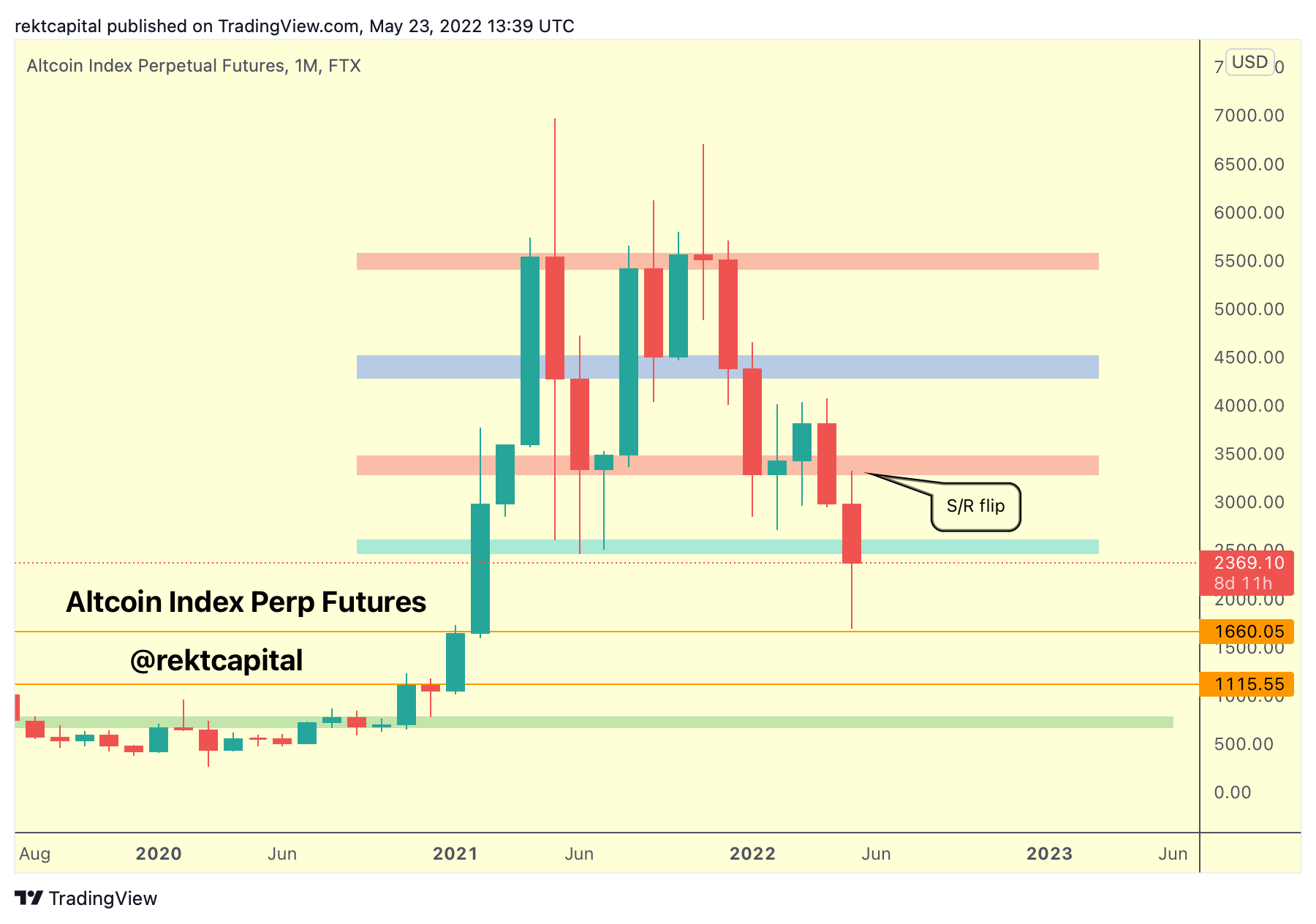 ALTPERP has rebounded from the first orange level of support, enabling a strong recovery that is on the way towards the blue region.
At the moment, the excerpt from the newsletter from two weeks ago rings very true.
Is this now Altcoin relief into the blue region to turn it into new resistance?
The Monthly Close is not too far away at this stage and will be important confirmation in deciding the next trend for Altcoins.
Monthly Close below blue could prove problematic for Altcoins, but only if ALTPERP follows up with a confirmation of blue flipping into resistance to reject ALTPERP to lower levels upon contact.
On the other hand, a Monthly Close back above blue would probably be very bullish, in which case blue could be reclaimed as a support and ALTPERP would later challenge the red region of resistance - Altcoins would enjoy some upside in this scenario.
What would ALTPERP need to do in the short-term to confirm upside in the coming weeks?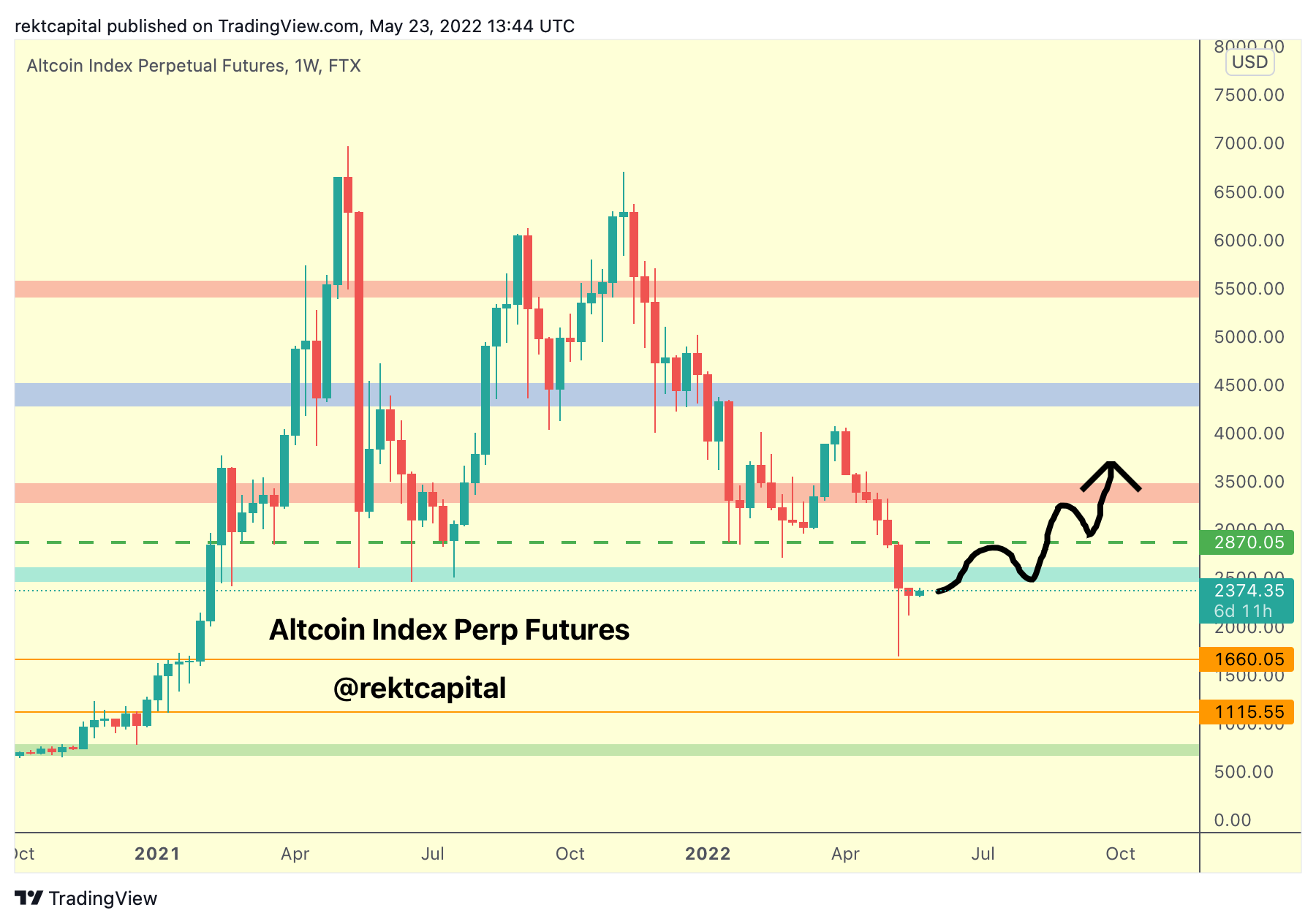 ALTPERP would need to follow the black pathway, essentially flipping the Monthly blue region into support, before flipping the Weekly dashed green level into support before breaking to or even beyond the red resistance area.
This is essentially the invalidation scenario for a relief rally thesis.
But what's interesting about this is that we will need to also keep an eye on Ethereum to gauge whether ALTPERP will in fact confirm a relief rally scenario or an invalidation of said thesis.
And here's why: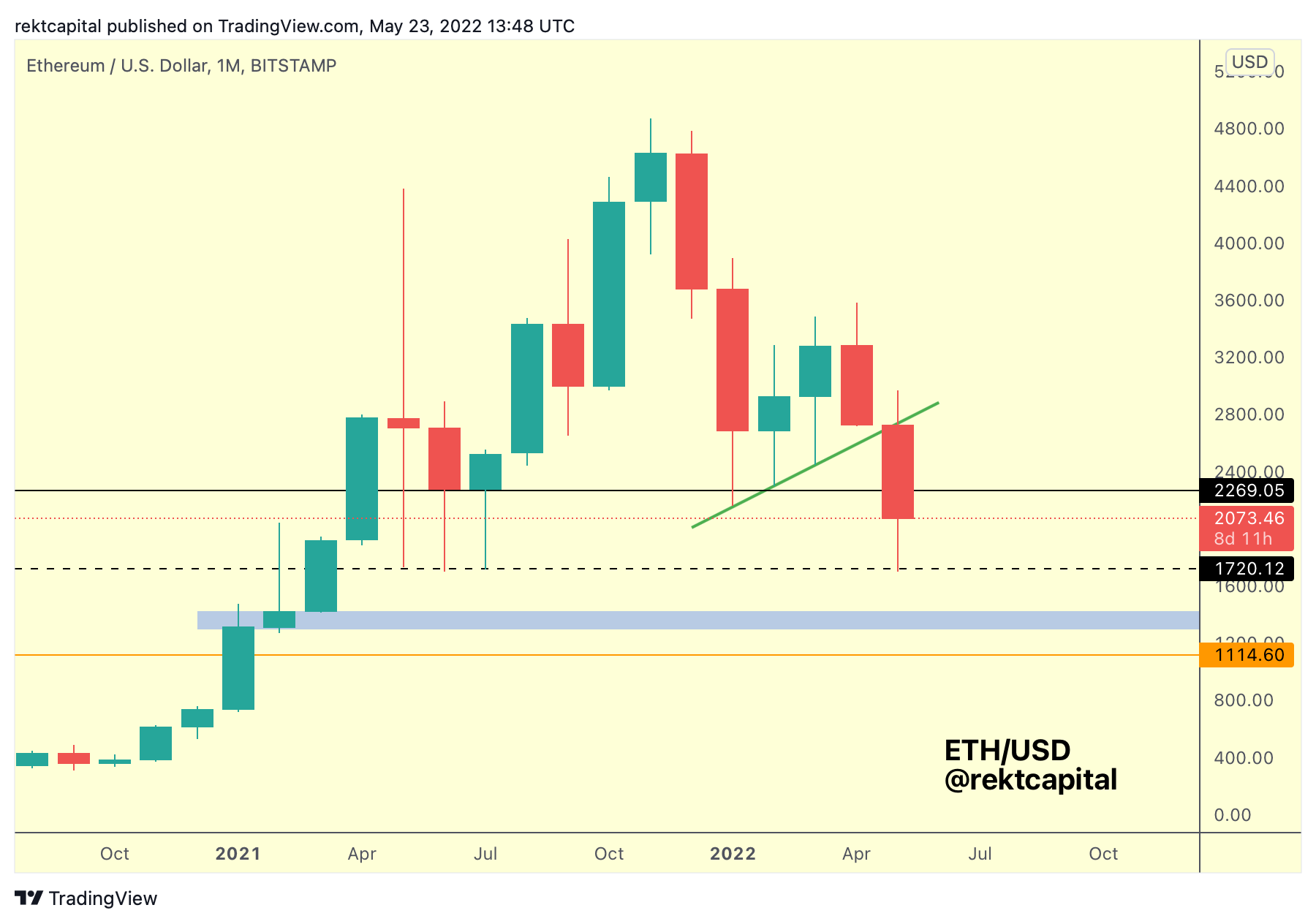 Because ETH has rebounded from the ~$1720 level (dashed black), much like in mid-July 2021.
But the difference right now is that ETH hasn't reclaimed the black ~$2269 level as support, as was the case in mid-July 2021.
So the upcoming Monthly Close on ETH relative to ~$2269 will be key in confirming a) whether ~$1720 is weakening as support, and b) will ALTPERP Monthly Close below its blue region to confirm relief.
A Monthly Close for ETH below ~2269 would show that ~$1720 isn't generating the same reaction as it did in mid-2021 and that ~$2269 could indeed be turning into resistance on the next test of it.
In the next part of the newsletter, I'll be building on my recent Death Cross Twitter thread, where I share more astounding historically recurring price tendencies which ultimately will help us hone in even more on where the generational bottom resides.
Let's dive in
This post is for paying subscribers only
Already have an account? Sign in.