Altcoin Newsletter #78
My exclusive commentary on 8 Altcoins
Dear Rekt Capital traders and investors,
I hope you enjoyed my brand new exclusive TA Session on Bitcoin yesterday.
In case you missed it…
Click here to watch my Technical Analysis Session: ''Post Luna Crash Price Prediction for BTC".
It ended up being a really in-depth dive into the BTC price! 📉
Really glad to see some positive comments already coming in from other traders and investors:

It was my goal to share unbiased and level-headed analysis to make some sense of the market and clear the FUD.
Make sure to Like, Subscribe and share your thoughts in the comments section!
Without further ado, let's dive into today's newsletter 🥳
---
Welcome to the Rekt Capital newsletter, a resource for people who want to better navigate the crypto markets with the help of cutting-edge crypto research and unbiased market analysis.
Every Friday, I host an Altcoin TA session where I share my exclusive commentary on the price action of a wide variety of coins.
I share charts on 8 coins today.
---
In today's Altcoin newsletter, I cover 8 different Altcoins, specifically:
Ethereum (ETH/USD)
Solana (SOL/USDT)
OMG Network (OMG/USD)
Elrond (EGLD/USDT)
Polkadot (DOT/USDT)
Basic Attention Token (BAT/USD)
Woo Network (WOO/USDT)
Avalanche (AVAX/USDT)
---
Ethereum - ETH/USD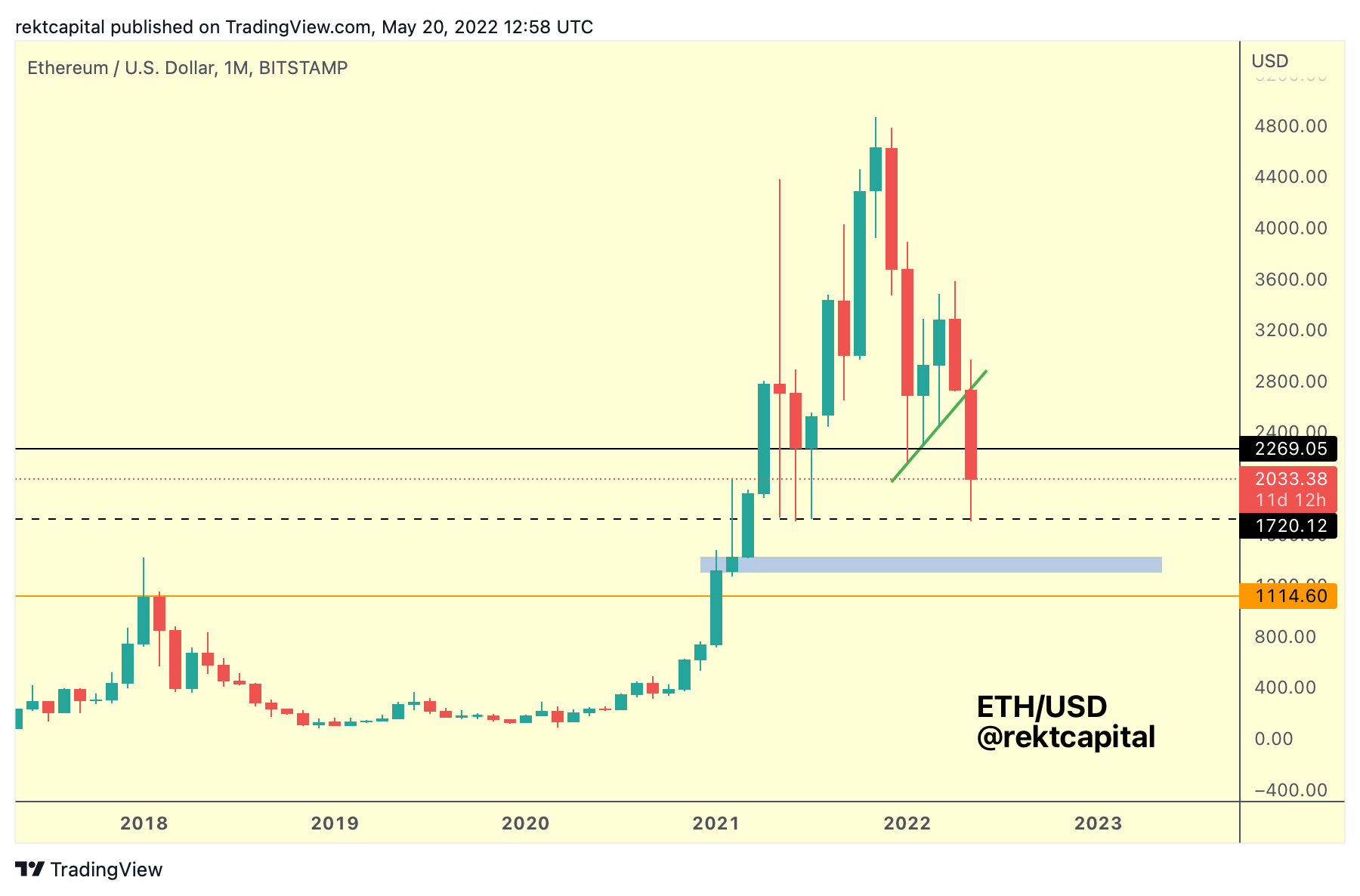 Ethereum lost its multi-month technical uptrend this month (green Higher Low).
In the process, ETH lost the ~$2269 level as support as well; a support that enabled a move to new All Time Highs in late 2021.
Of course, in mid-2021 ETH would produce three long downside wicks into the ~$1720 level before finally reversing to reach those new ATHs.
And this month, ETH has once again revisited the ~$1720 level, managing a decent rebound from it thus far, but still not as strong as in mid-2021.
It would be bullish if ETH were to Monthly Close above ~$2269 as that would essentially be a copy-paste scenario of mid-2021 where ETH was able to hold the $2269 level as support.
But until ETH is positioned for a Monthly Close above ~$2269, then there's always going to be some doubt regarding the ~$1720 level and its strength.
In mid-2021, the strength was apparent, but this month the reaction isn't as emotionally fervent.
Of course, ETH could relief rally into ~$2269 to turn it into new resistance at some point also.
At the moment however, price is just inside a new range of ~$1720-~$2269 until further notice. With the Monthly Close coming soon, we'll have more insight into the relative strength/weakness of this ~$1720 level.
Solana - SOL/USDT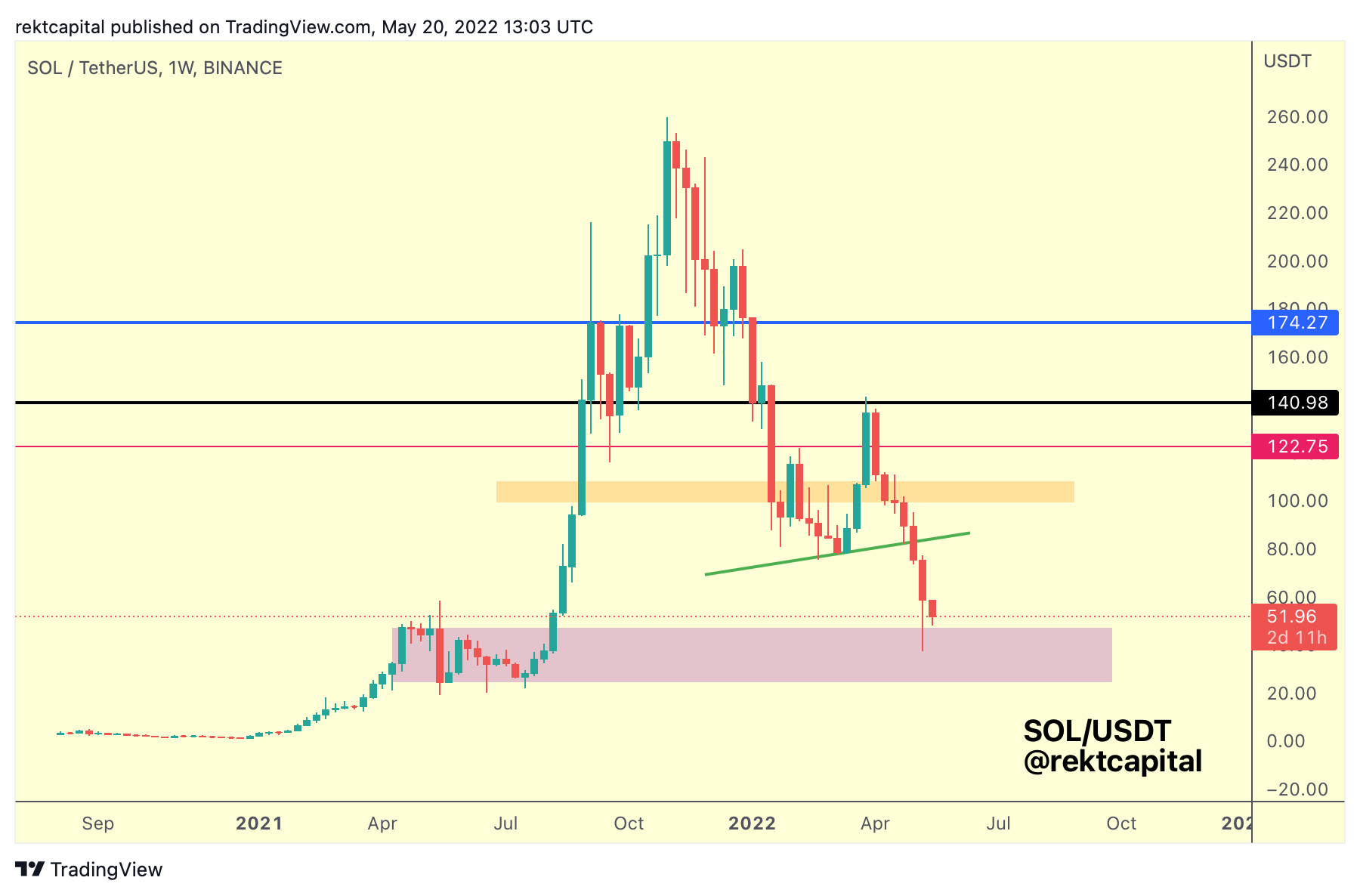 SOL has tapped the very top of its historical demand area (purple).
Lots of historical price action occupies this region so it's reasonable to assume some stronger support and basing should take place here over time.
This post is for paying subscribers only
Already have an account? Sign in.