Altcoin Watchlist
Extreme fear precedes financial opportunity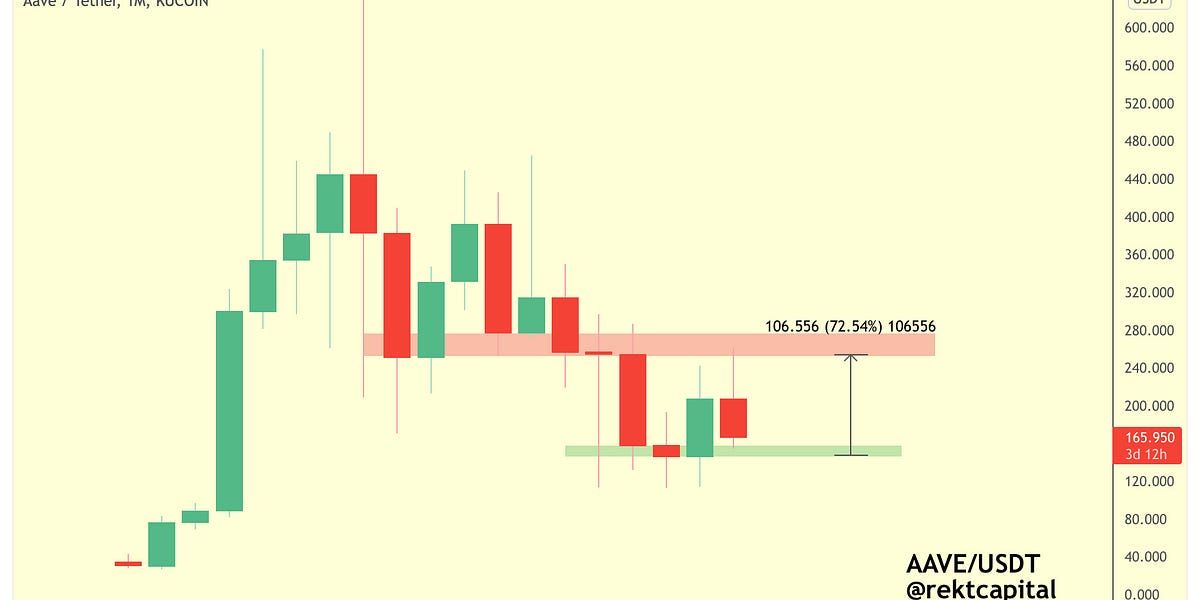 Welcome to the Rekt Capital newsletter, a resource for investors who want to better navigate the crypto markets with the help of cutting-edge crypto research and unbiased market analysis.
This Friday, I'll chart your Altcoin picks in an exclusive subscriber-only TA newsletter and will cover as many as I can. So if you'd like to have an Altcoin charted, feel free to share max. two TA requests each in the comments below.
I'll chart the Altcoins that get mentioned and 'Liked' the most. Let's dive straight into today's market analysis.
---
In today's newsletter, I'll share a few Altcoins that are on my radar.
AAVE - AAVE/USDT
In recent months, AAVE has performed a U-Shaped reversal on the Monthly.
And with the Monthly Candle Close looming large, it makes sense to watch for how the Monthly Candle will close relative to key levels.
Technically, in early 2022 AAVE experienced resistance in the green area.
Last March, AAVE broke out beyond that resistance and this month is pulling back to flip it into support.
And so a retest is in progress. Monthly Close above it would solidify support at the green area, with stiff resistance ahead in the red region above.
Building a base would establish a range inside the green-red area ~$155-$260.
This post is for paying subscribers only
Already have an account? Sign in.