Altcoin Watchlist
Features TA on 7 Altcoins in my Watchlist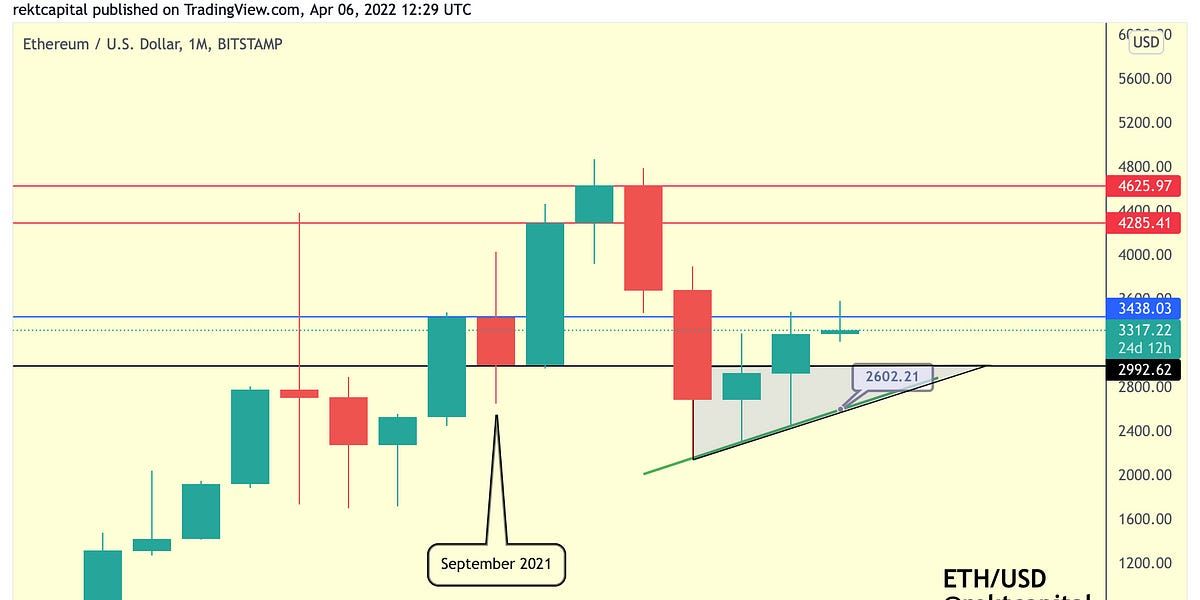 Welcome to the Rekt Capital newsletter, a resource for investors who want to better navigate the crypto markets with the help of cutting-edge crypto research and unbiased market analysis.
This Friday, I'll chart your Altcoin picks in an exclusive subscriber-only TA newsletter and will cover as many as I can. So if you'd like to have an Altcoin charted, feel free to share max. two TA requests each in the comments below.
I'll chart the Altcoins that get mentioned and 'Liked' the most. Let's dive straight into today's market analysis.
---
In today's Altcoin Watchlist, I cover 7 different Altcoins, specifically:
Ethereum (ETH/USD)
Algorand (ALGO/USDT)
Alpha Finance (ALPHA/USDT)
Cosmos (ATOM/USDT)
Nervos Network (CKB/USDT)
Hathor (HTR/USDT)
Verasity (VRA/USDT)
Ethereum - ETH/USD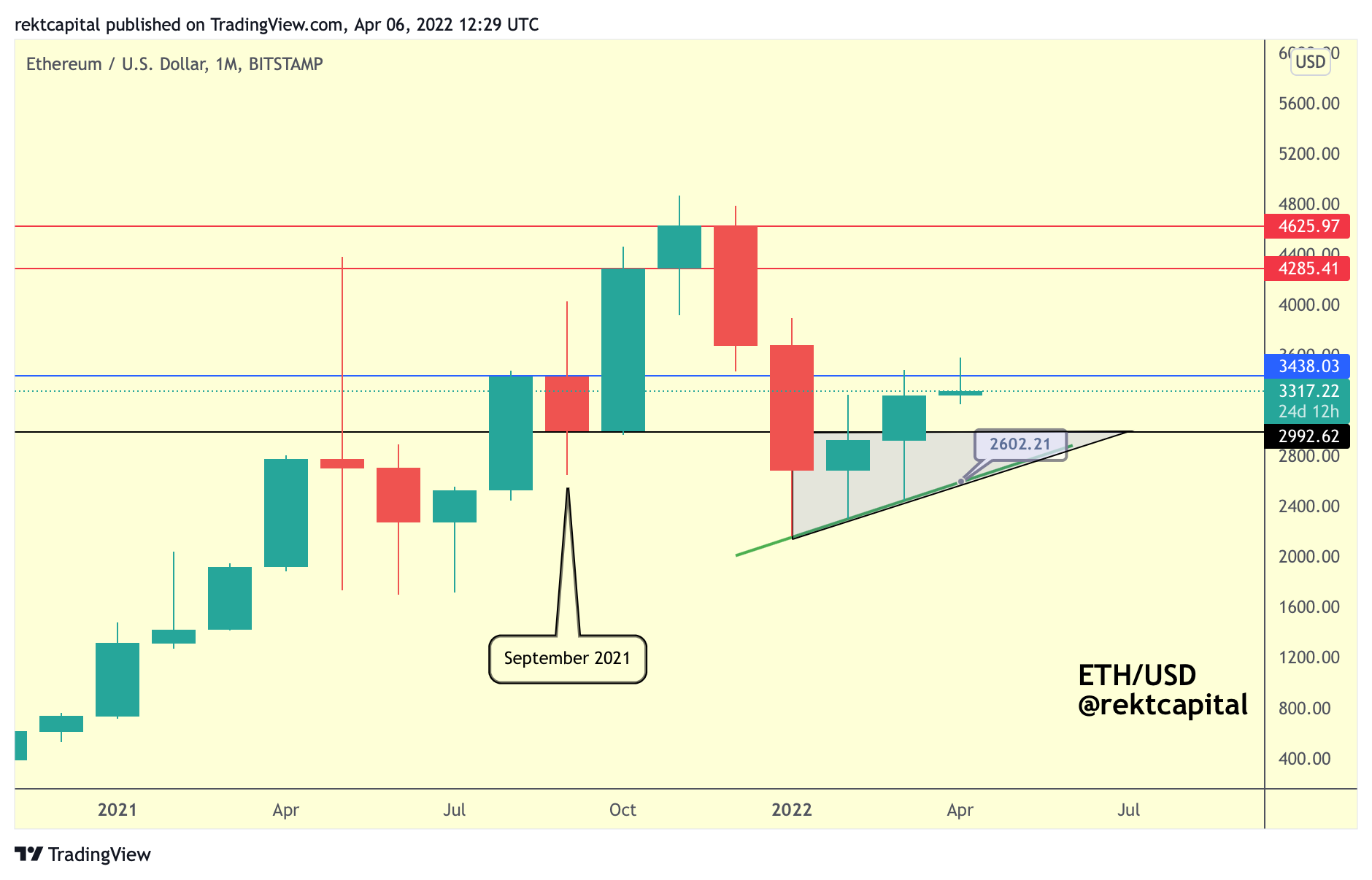 Ethereum recently broke out from its Ascending Triangle but never actually retested it.
It just broke out without interruption in the trend, rallying towards the blue $3440 resistance, which a Monthly resistance.
Of course, breaking the $3440 level would mean ETH would break back into the $3440-$4300 range, which would mean ETH would have a chance to move towards the top of that range over time.
However, until that happens ETH is still inside a narrower range, the $3000-$3440 range, with the $3000 level being the Range Low and also the top of the Ascending Triangle that ETH didn't retest.
So this blue $3440 resistance here could reject ETH to the $3000 level for a retest, especially since a rejection from here is what happened the last time ETH rallied here in an uptrend back in September 2021.
And if the rejection here causes a really volatile retest of the Ascending Triangle triangle (remember the downside wick in September 2021?) then I could see price even go as low as $2600 to the green Higher Low and close the Monthly above $3000.
That would be a panicky scenario but one that would nonetheless maintain macro bullish market structure.
In any case, bullish upon support flip of $3440 but in the absence of that, $3000 is the level I'm watching for a retest and $2600 for a volatile retest.
Algorand - ALGO/USDT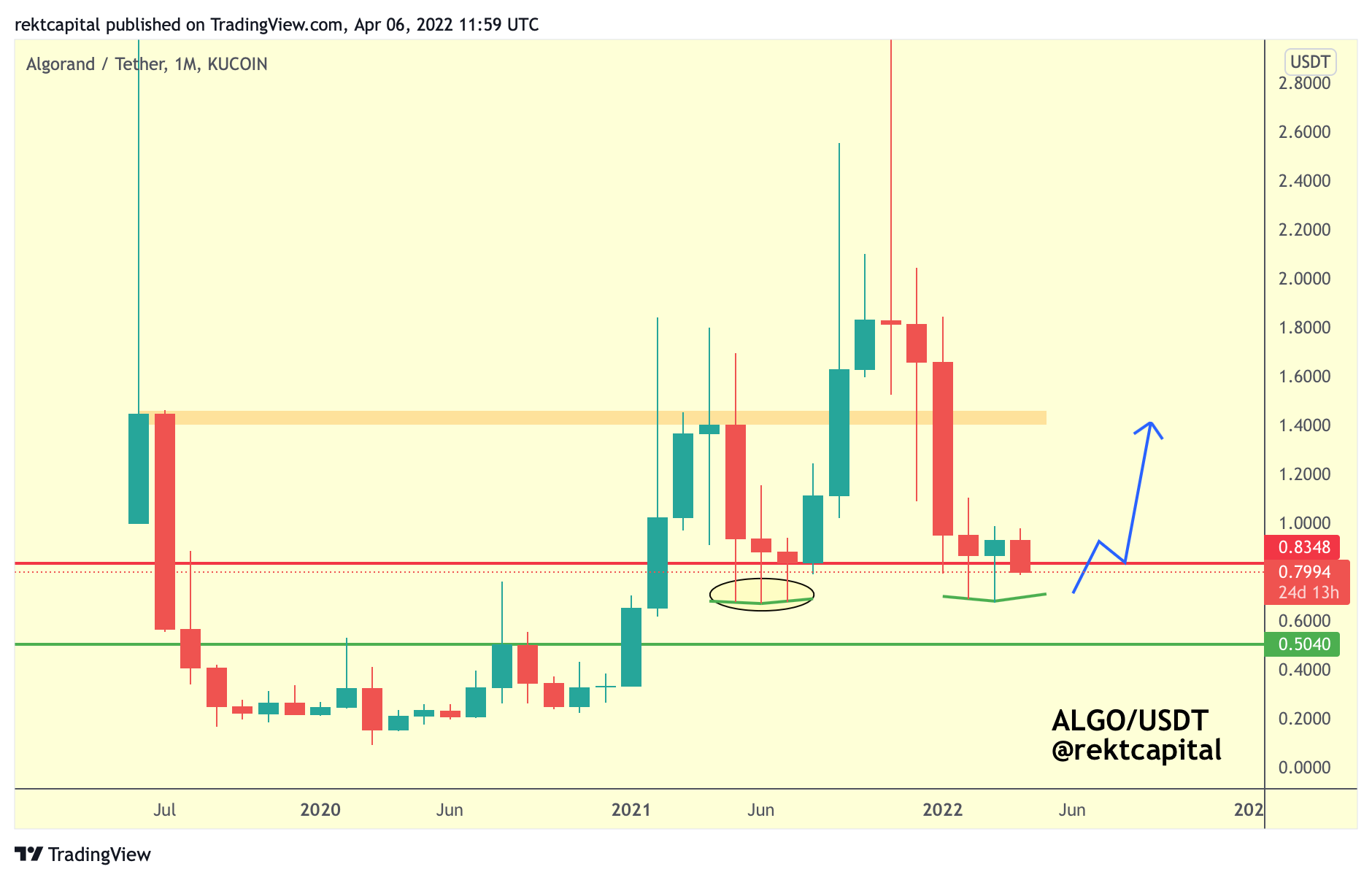 Algorand was able to Monthly Close above the Monthly red $0.83 level, thus maintaining it as support.
But ALGO has a history of producing downside wicks below the red $0.83 level; ALGO has done this in recent history as well as back in mid-2021.
In mid-2021, ALGO would form a Diamond-Shaped bottom with its downside wicks below the red $0.83 level.
What's interesting is that ALGO also has a chance at forming the same Diamond-Shaped bottom this time around as well.
It has already formed a Lower Low with its wicks - if ALGO is able to wick into the green Higher Low I've outlined and still Monthly Close above the red $0.83 level then history may very well repeat itself and ALGO will follow the blue path to ~$1.40.
This post is for paying subscribers only
Already have an account? Sign in.