Altcoin Newsletter #135
Features chart analysis on 8 Altcoins: SNX OCEAN ADA AVAX GMX MATIC DUSK INJ
In today's Altcoin newsletter, I cover 8 different Altcoins, specifically:
Synthetix Network Token (SNX)
Polygon (MATIC)
Ocean Protocol (OCEAN)
Cardano (ADA)
Avalanche (AVAX)
GMX (GMX)
Dusk Network (DUSK)
Injective (INJ)
These Altcoin TA requests are made by valued readers of the Rekt Capital Premium Newsletter.
Let's dive in.
---
Synthetix Network Token - SNX/USDT
As a preface to today's analysis, let's recount my Quarterly analysis of SNX back in mid-March: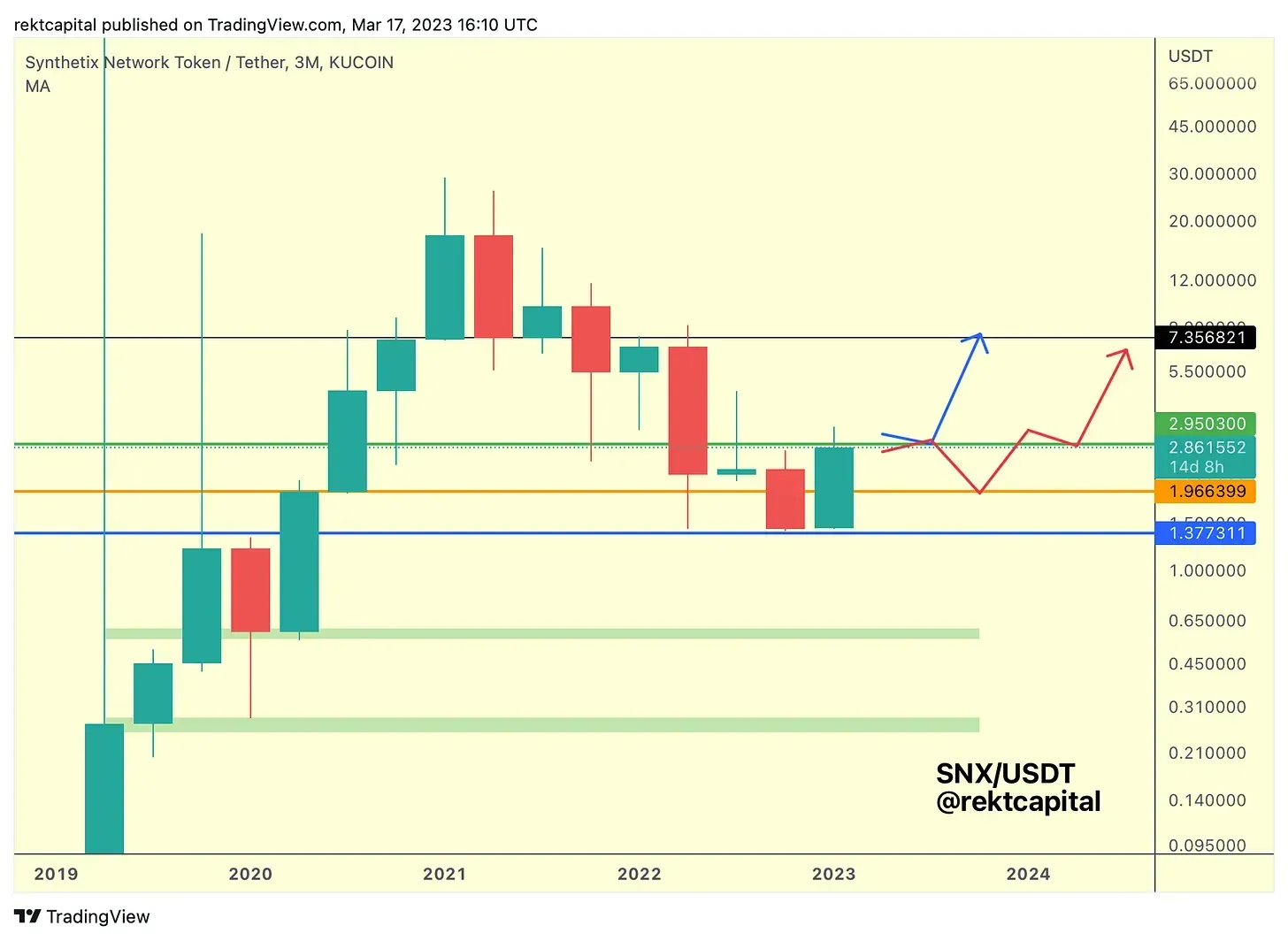 I outlined the blue path in the event that SNX would be able to reclaim the green level as support and the red path in the event that price would reject from there.
This led to my update from last week ago which shows that SNX followed the red path: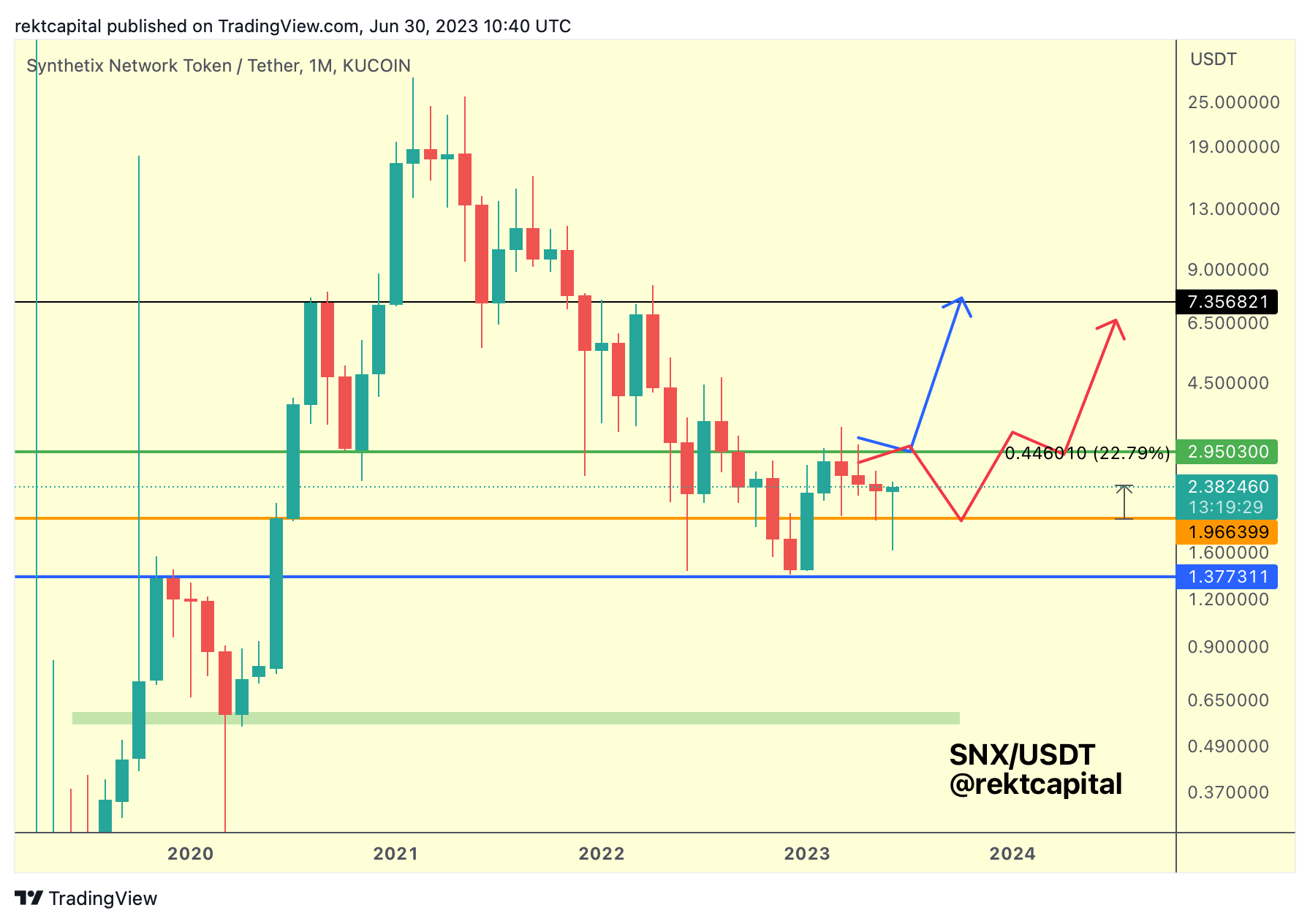 SNX dropped into the orange level ($1.96) and retested it successfully as support.
The red path further suggested that SNX would revisit the green $2.95 resistance above, perhaps even overextend it in a way that SNX would be able to position itself for a retest of the said green level into new support:
Here's today's update: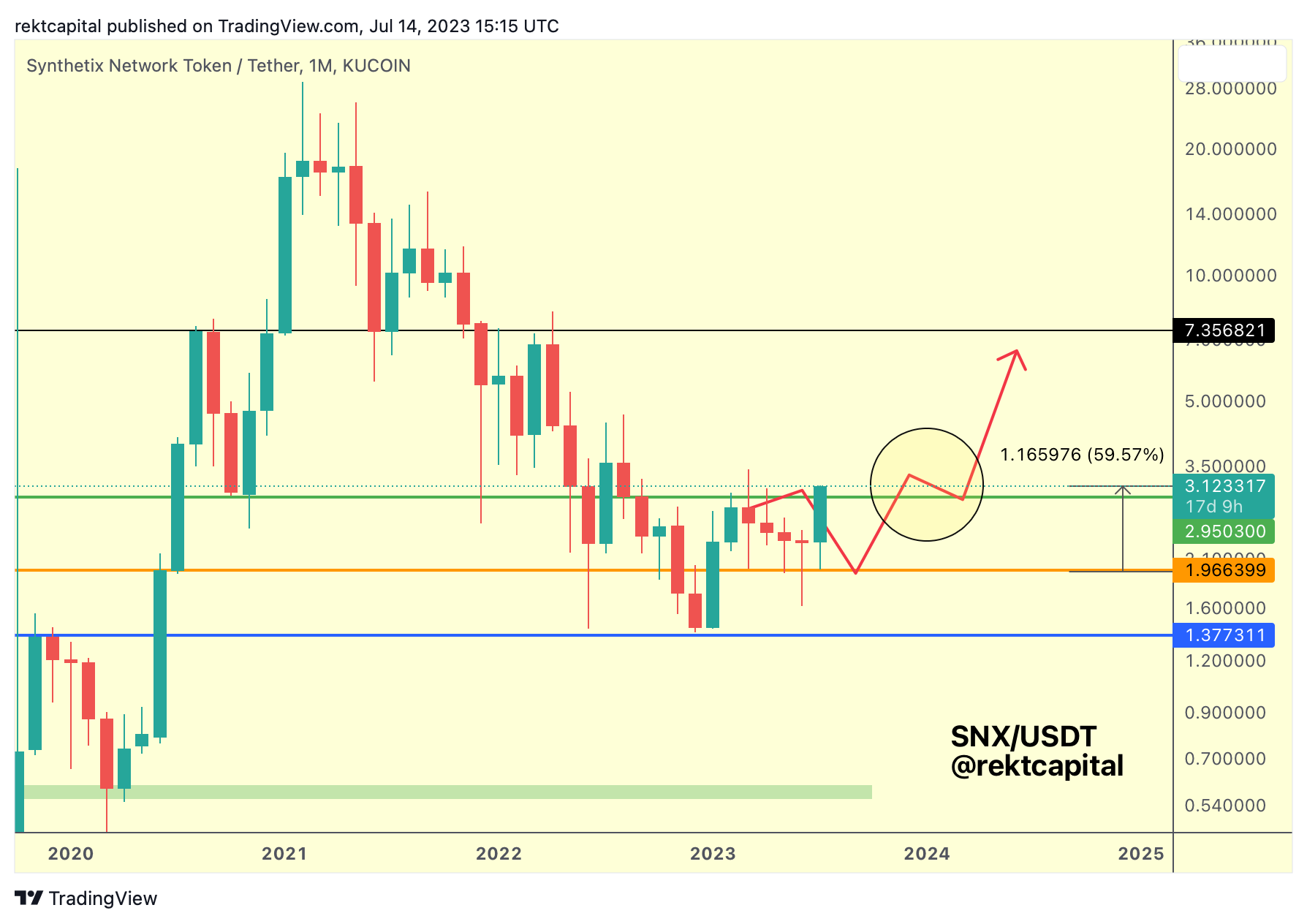 SNX has rallied almost +60% since rebounding from the orange support, following the red path perfectly thus far.
And this stage, it is all about the yellow circled area which highlights a key retest that needs to occur for SNX to rally higher.
Essentially, SNX needs to reclaim the grene $2.95 level as support to advance higher.
It's important to note that a few months ago, SNX upside wicked beyond this green level on multiple occassions only to falter and reject lower.
Which is why it is important for higher timeframe candle closes to be secured above this green level.
A Weekly Candle close followed by a retest of green as support would be a good first sign).
Polygon - MATIC/USDT
As a preface to today's analysis, let's look back on the proposed pathway I'd suggested for MATIC not too long ago in the Altcoin Watchlist from 9 days ago: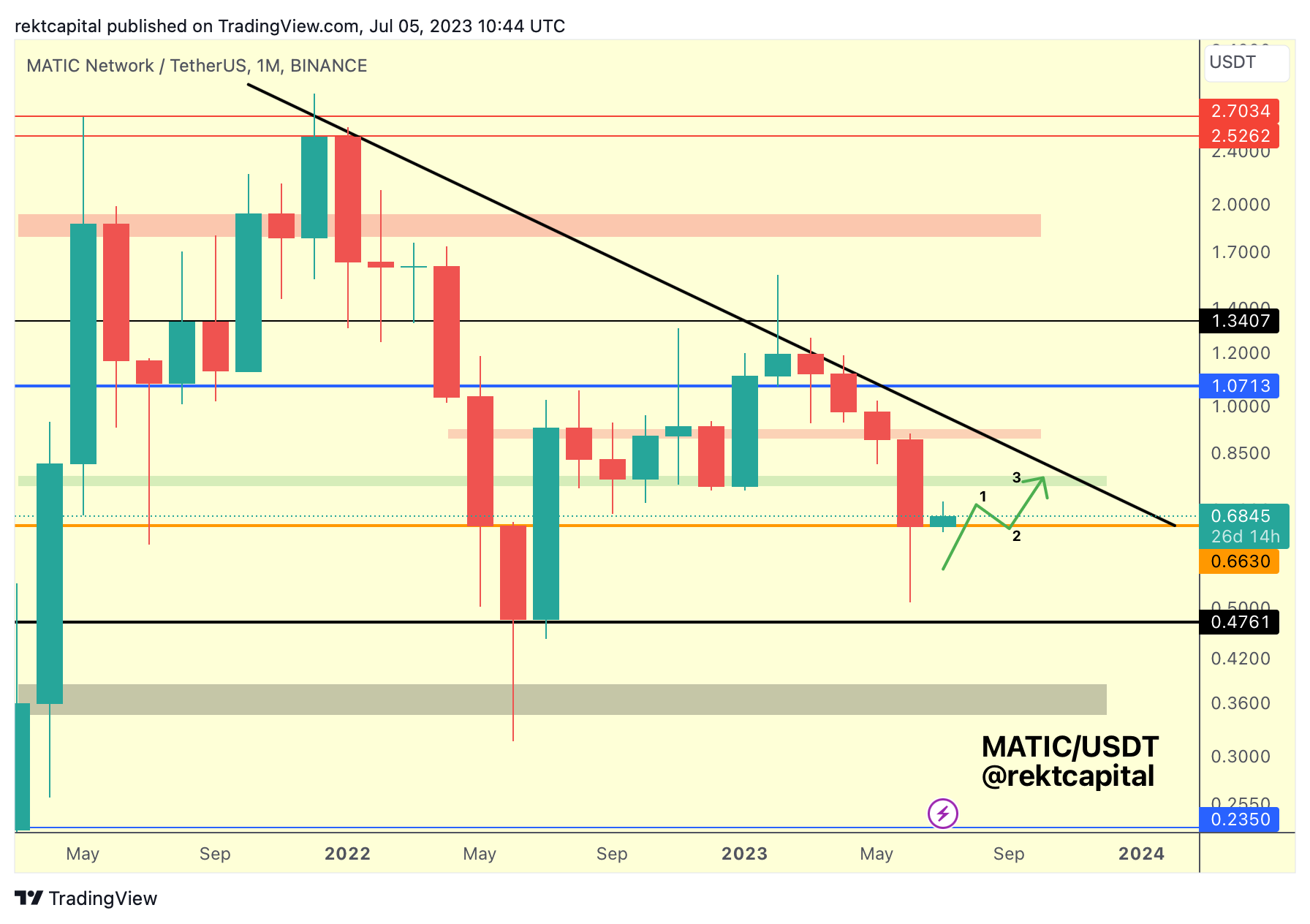 The chart suggests that having Monthly Closed above the orange level ($0.66), MATIC had a decent chance of successfully retesting its green area as support before breaking out to the upside.
Here is today's updated chart: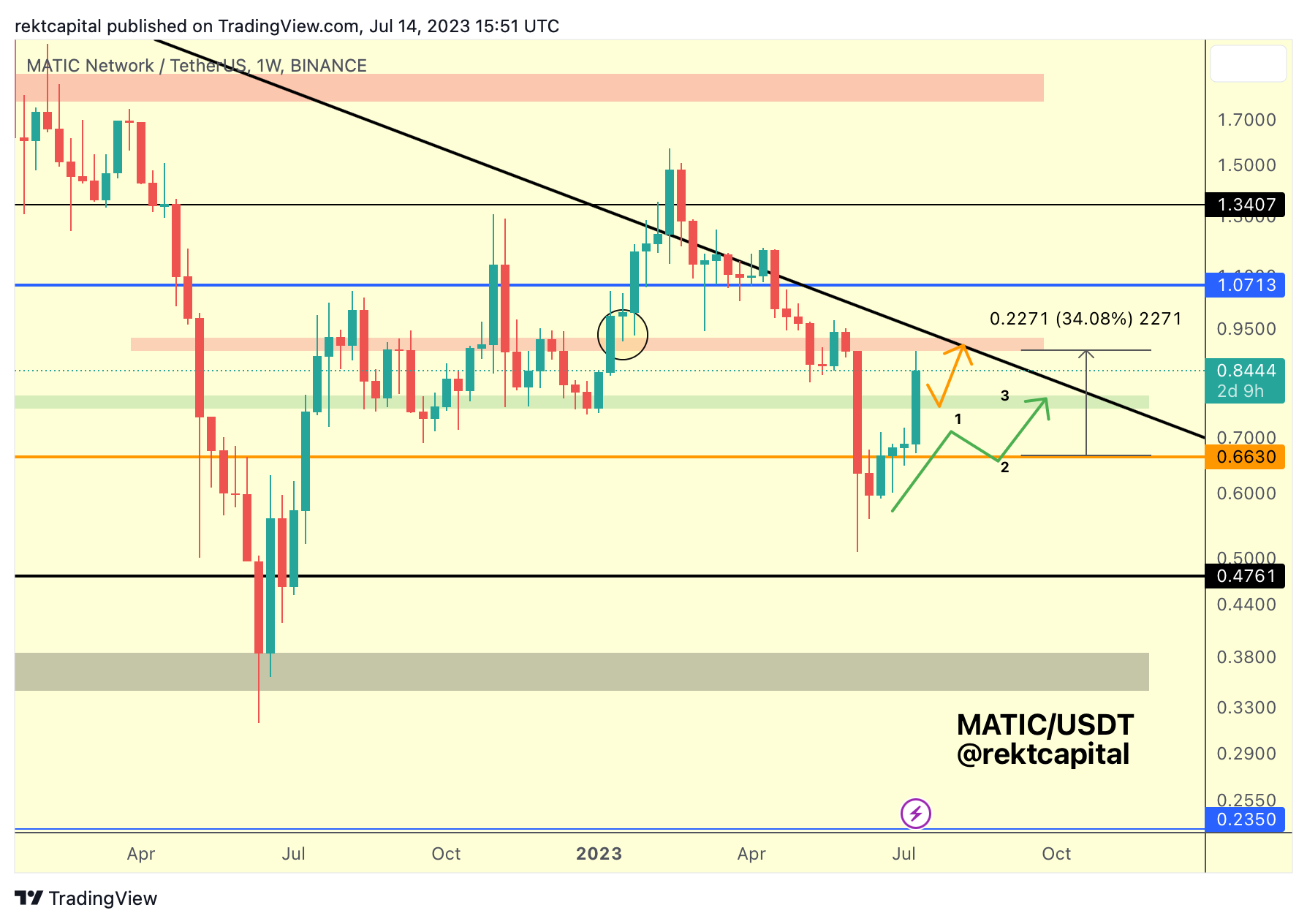 MATIC followed the green pathway perfectly.
In fact, MATIC broke beyond the green resistance and rallied straight into the red resistance above which is where price rejected most recently.
Now at this juncture, price could dip into the green region just below to flip that area into new support.
Doing so successfully would essentially enabled MATIC to revisit the red resistance above, and perhaps with better effect to break beyond that area.
Of course, a Weekly Close above the red resistance area could actually set MATIC up for a retest of the red region before rallying higher.
But because the red resistance is confluent resistance with the black diagonal trendline, that confluence may make it difficult for MATIC to reclaim the red area on this current move up.
This post is for paying subscribers only
Already have an account? Sign in.