My Altcoin Watchlist
Features analysis on 6 Altcoins: OCEAN DOGE WOO VRA XLM INJ
This Friday, I'll chart your Altcoin picks in an exclusive subscriber-only TA newsletter and will cover as many as I can
So if you'd like to have an Altcoin charted, feel free to share max. two TA requests each in the comments below.
I'll chart the Altcoins that get mentioned and 'Liked' the most
Click the buttom below to leave a comment with your TA request!
Let's dive into today's Altcoin Watchlist.
In today's edition of the Rekt Capital Newsletter, the following cryptocurrencies will be analysed and discussed:
Ocean Protocol (OCEAN)
Dogecoin (DOGE)
Woo Network (WOO)
Verasity (VRA)
Stellar (XLM)
Injective (INJ)
Before we dive in, last week's Altcoin Watchlist is essential reading and today will be a direct update to that edition.
Let's dive in.
---
Ocean Protocol - OCEAN/USDT
In last week's edition of my Altcoin Watchlist, I covered OCEAN and discussed how a downside wick below the Channel Bottom followed by a reclaimed of the Channel Bottom would position OCEAN for a revisit of the Channel Top: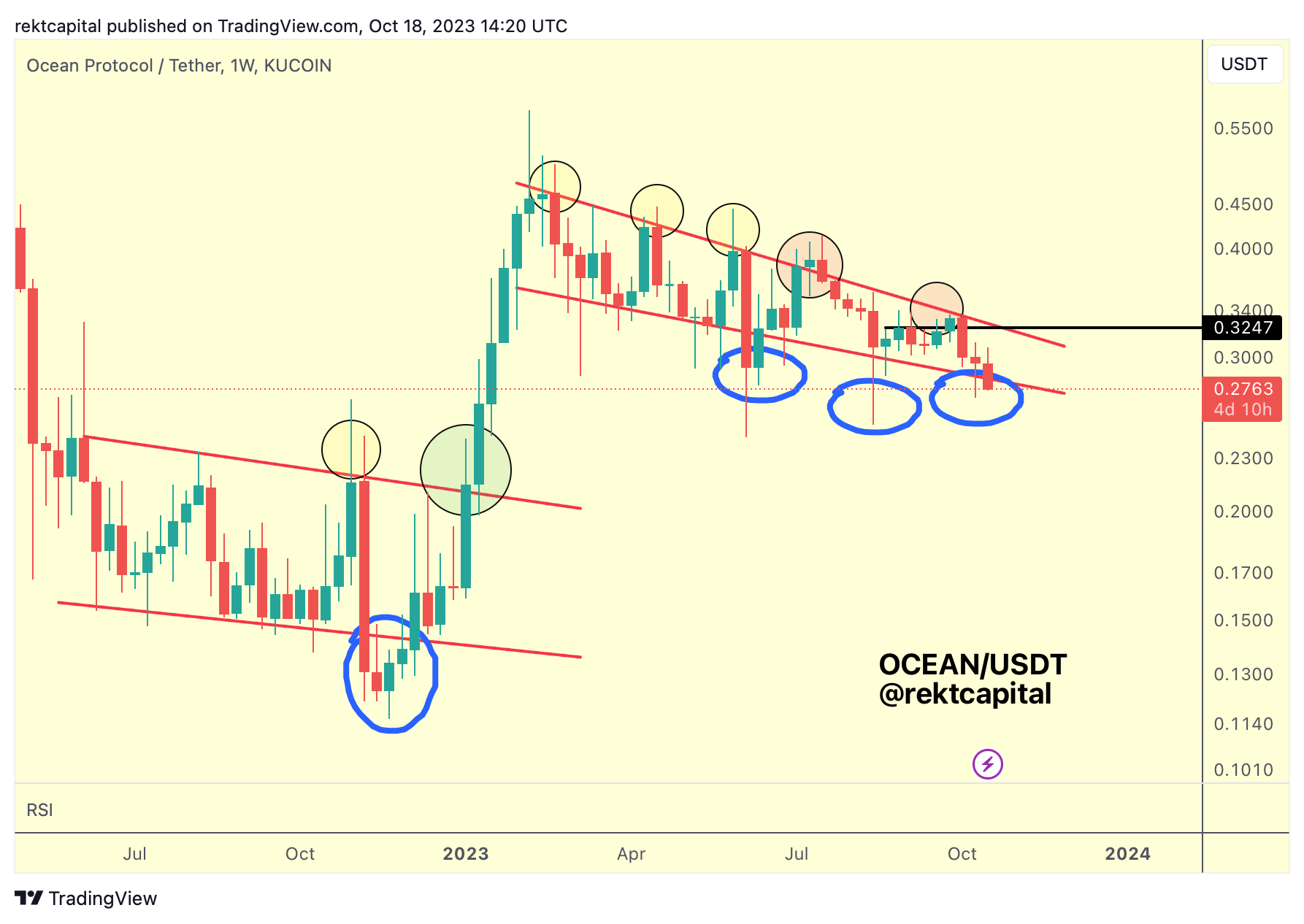 Fast forward to this week and here is today's update: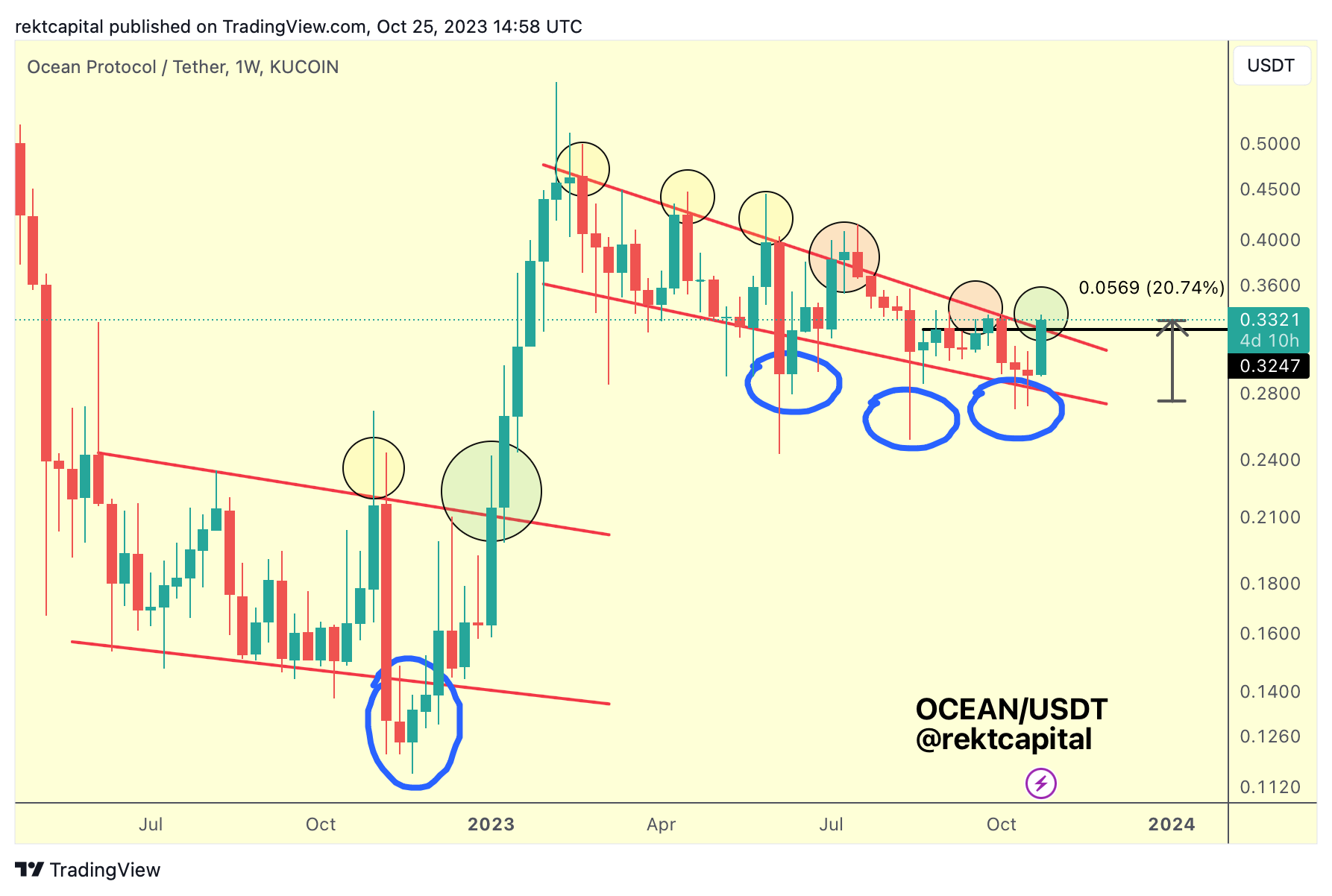 OCEAN has rallied +20% from Channel Bottom to Channel Top.
In fact, OCEAN is now attempting a Channel Top breakout.
Weekly Close FOLLOWED BY a successful reclaim of the Channel Top would confirm the breakout.
We've seen so many fake-breakouts over the past few months.
Will OCEAN finally register a successful one?
I would lock in profits upon upside wick beyond the Channel Top, followed by Weekly Close below the Channel Top as that has preceded bearish reversals to the bottom of the Channel.
However, Weekly Close above the Channel Top and that would prepare price for a retest in which case that retest and price stability would be absolutely crucial for further trend continuation.
Dogecoin - DOGE/USD
Here is last week's analysis on DOGE: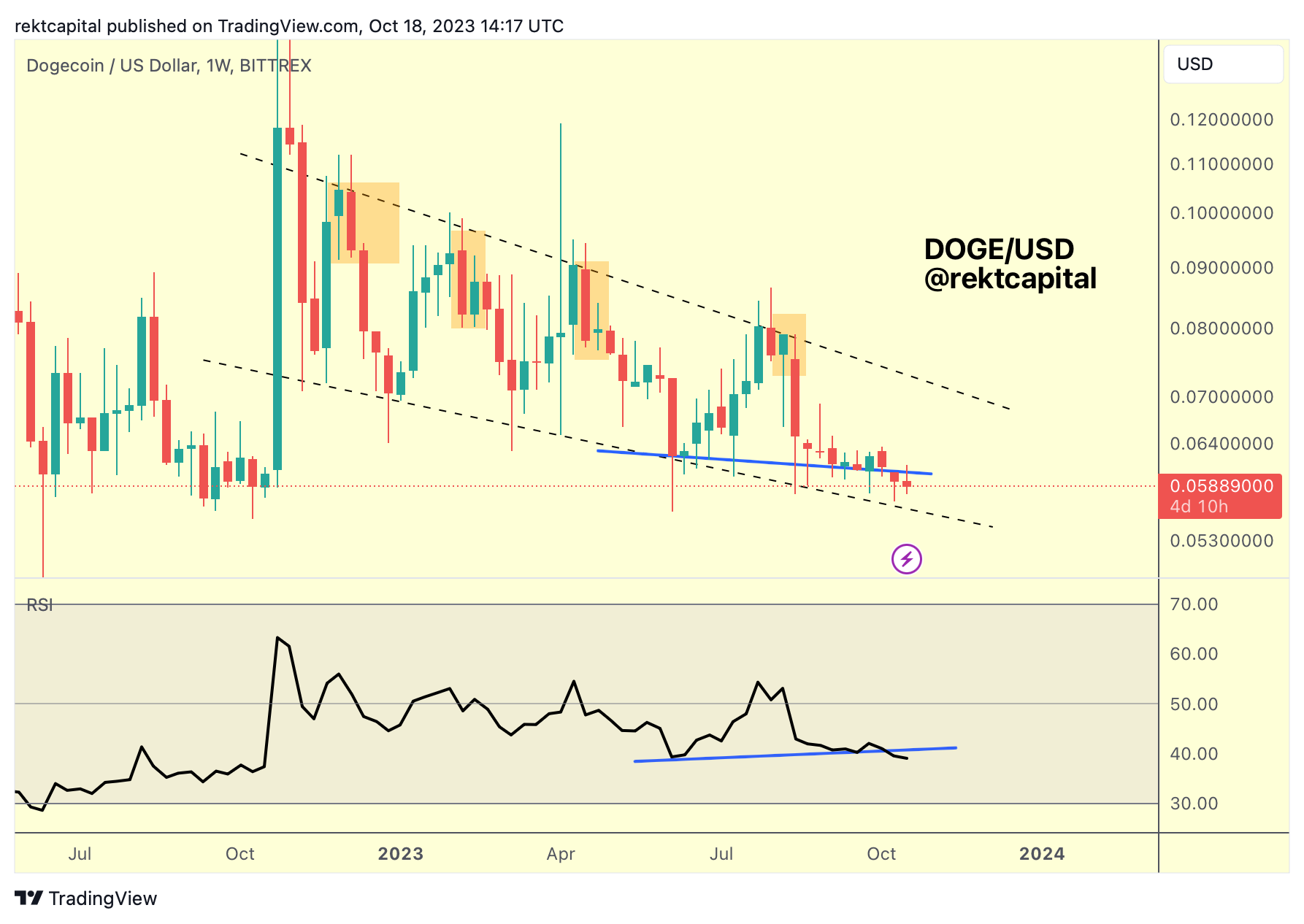 I also mentioned the following:
However, I am open to the possibility of DOGE reclaiming its Lower Low on price action, because the breakdown confirmation hasn't been too decisive or strong. There needs to be a stronger reaction for the scenario of a potential fake-breakdown to assuage.
And here is today's update: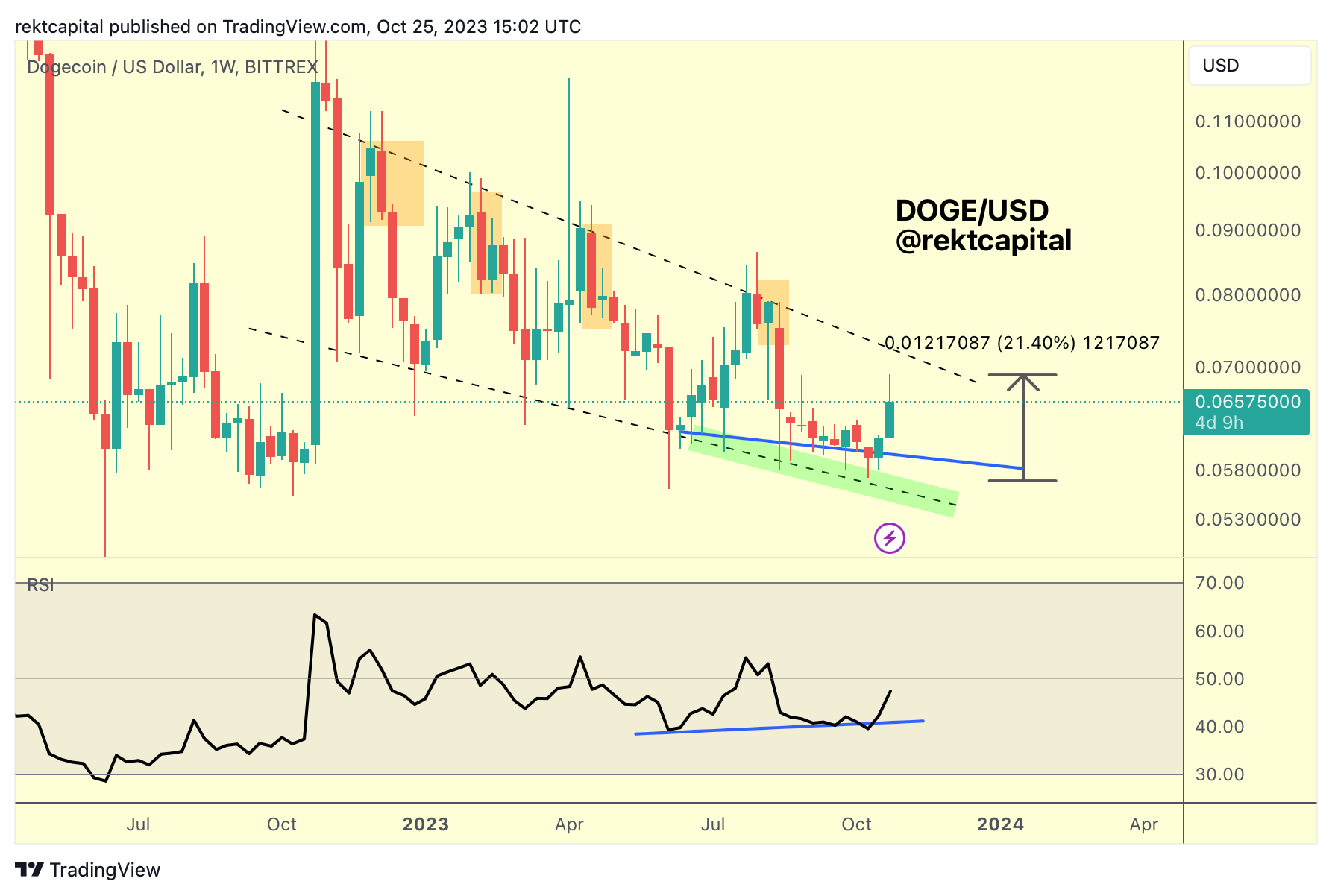 DOGE indeed fake-broke down from its Lower Low (blue) trendline, and also on its Higher Low RSI trendline (blue) as well.
Essentially, the Bullish Divergence stayed intact and DOGE has rallied +21% to the upside after a prolonged period at the base of the Channel Bottom.
We've been monitoring this one for a while now so it's good to see it come to fruition.
DOGE with time should be able to revisit the Channel Top.
Weekly Close beyond the Channel Top would likely be enough to muster a breakout from here after multiple months of consolidation inside the market structure.
Woo Network - WOO/USDT
This post is for paying subscribers only
Already have an account? Sign in.