My Updated Altcoin Watchlist
Features analysis on 6 Altcoins: OCEAN DOGE WOO VRA XLM INJ
This Friday, I'll chart your Altcoin picks in an exclusive subscriber-only TA newsletter and will cover as many as I can
So if you'd like to have an Altcoin charted, feel free to share max. two TA requests each in the comments below.
I'll chart the Altcoins that get mentioned and 'Liked' the most
Click the buttom below to leave a comment with your TA request!
Let's dive into today's Altcoin Watchlist.
In today's edition of the Rekt Capital Newsletter, the following cryptocurrencies will be analysed and discussed:
Ocean Protocol (OCEAN)
Dogecoin (DOGE)
Woo Network (WOO)
Verasity (VRA)
Stellar (XLM)
Injective (INJ)
Let's dive in.
---
Ocean Protocol - OCEAN/USDT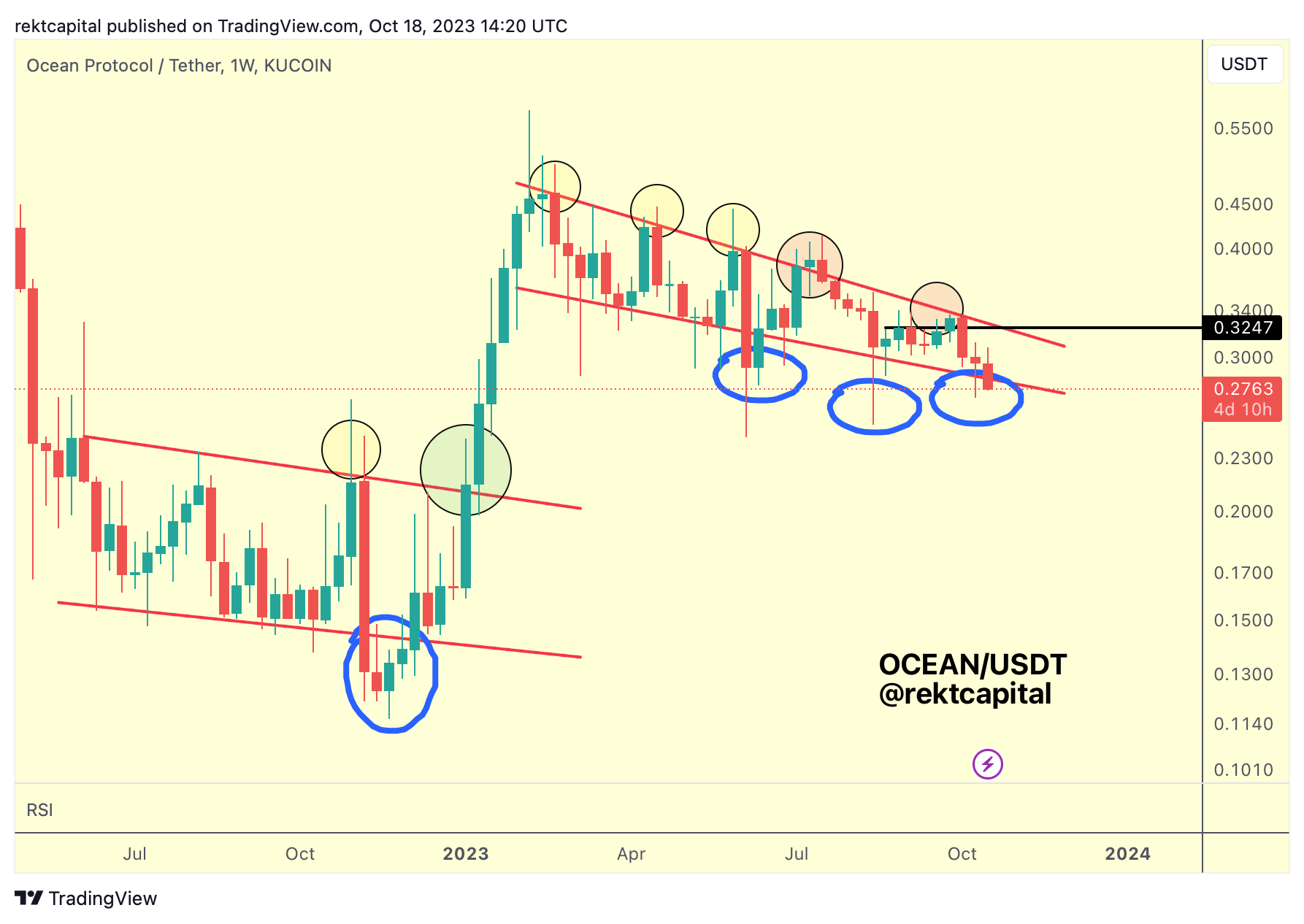 Moment of truth for OCEAN.
Will this current deviation end up as a downside wick below the red Channel or will price actually Weekly Close below here?
In the event of a downside wick, then it's possible for OCEAN to then recover and revisit the Channel Top.
But if OCEAN Weekly Closes below the Channel Bottom, it would still be important to see rejection from the Channel Bottom as new resistance.
Because we've seen many times before how OCEAN can fake-breakdown from the Channel but actually not turn the Channel Bottom into new resistance; as a result, OCEAN would then reclaim the Channel Bottom as support (mid-2023 or late 2022 are prime examples).
So essentially: downside wick and recovery above the Channel Bottom could enable a move to the Channel Top.
But a Weekly Close below the Channel Bottom wouldn't necessarily be bearish, unless OCEAN also rejects from the Channel Bottom resistance, instead of managing to reclaim it as support.
Dogecoin - DOGE/USD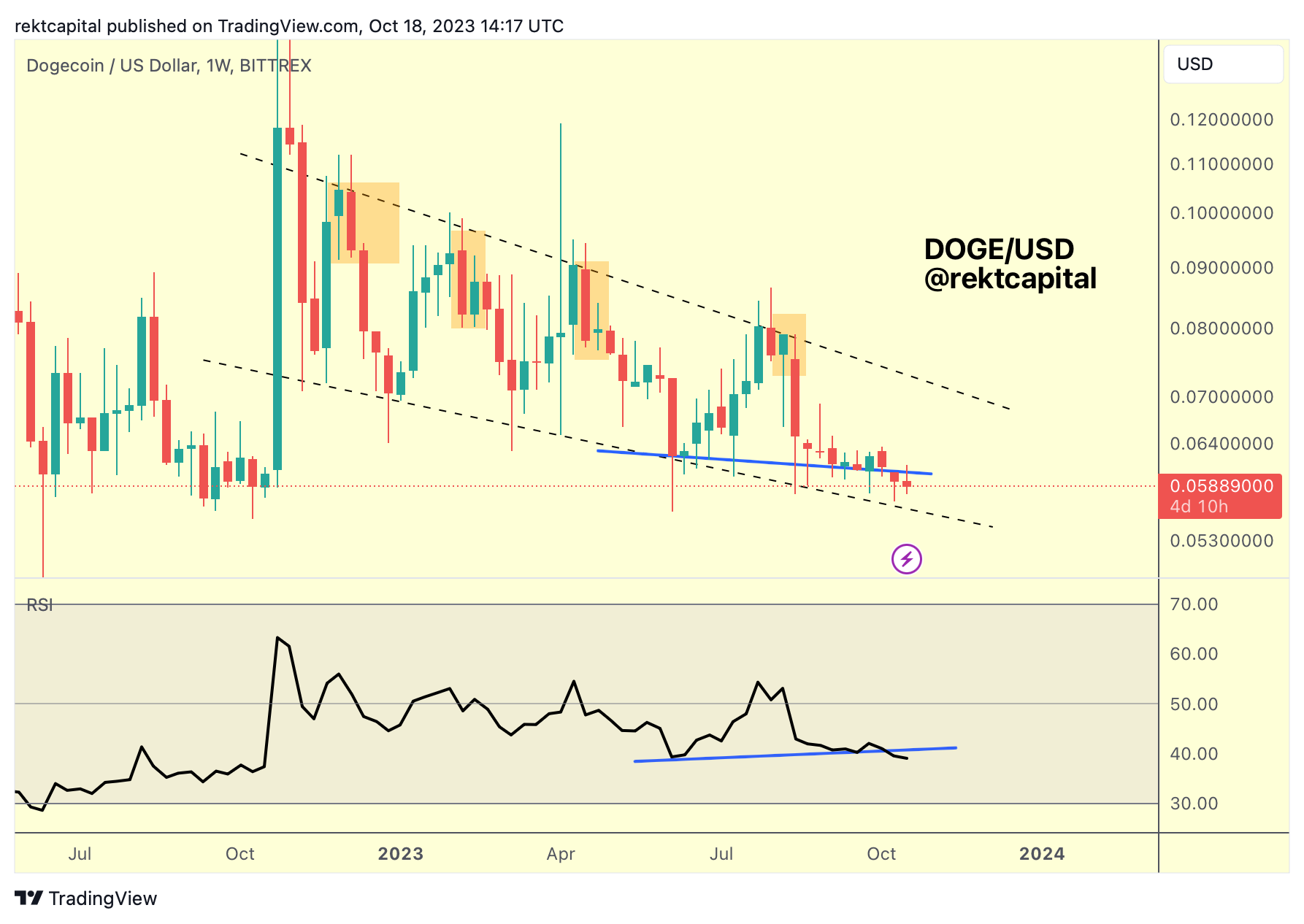 Dogecoin is still meandering at the bottom of the Channel, however the latest development in price is that the potential Bullish Divergence is now most likely no longer valid.
This is because the Lower Low had lapsed as support last week and in that same week turned into new resistance, with price also this week confirming that as new resistance.
Of course, the RSI is reflecting this lost Lower Low on the price action with a breakdown from its own trendline as well.
However, I am open to the possibility of DOGE reclaiming its Lower Low on price action, because the breakdown confirmation hasn't been too decisive or strong.
There needs to be a stronger reaction for the scenario of a potential fake-breakdown to assuage.
Macro-wise however, not much has changed - price still resides at the Channel Bottom and as a result continues to consolidate inside the market structure.
The whole exercise here was to try and see if hidden strength is slowly manifesting around the Channel Bottom area and for the time being - there is none.
Still worth watching as the Channel Bottom has acted as a key springboard for the previous 5-7 rallies.
Woo Network - WOO/USDT
This post is for paying subscribers only
Already have an account? Sign in.