My Updated Altcoin Watchlist
Features analysis on 7 Altcoins: AVAX VRA ETH INJ BCH SOL LINK
Before we jump into today's newsletter issue, I'm excited to announce my Early Black Friday Sale 🚀
You can now get my Rekt Masterclass Bundle for 50% off.
The Rekt Capital Masterclass includes 4 Online Courses in 1 Bundle:
Bitcoin Investing Course ($297)
Altcoin Investing Course ($297)
Cryptocurrency Technical Analysis Course ($297)
Cryptocurrency Risk Management Course ($297)
Individually, these courses sell for $1,188.
And I normally sell the bundle for $997.
But your price is only $498.50.
Join thousands of others and buy the Masterclass Bundle here
One other thing:
This deal is only valid for 5 days.
Let's dive into today's Altcoin Watchlist.
In today's edition of the Rekt Capital Newsletter, the following cryptocurrencies will be analysed and discussed:
Avalanche (AVAX)
Verasity (VRA)
Ethereum (ETH)
Injective (INJ)
Bitcoin Cash (BCH)
Solana (SOL)
Chainlink (LINK)
Let's dive in.
---
Avalanche - AVAX /USDT
Last week in Rekt Capital Friday Altcoin Newsletter, I discussed AVAX in a lot of detail: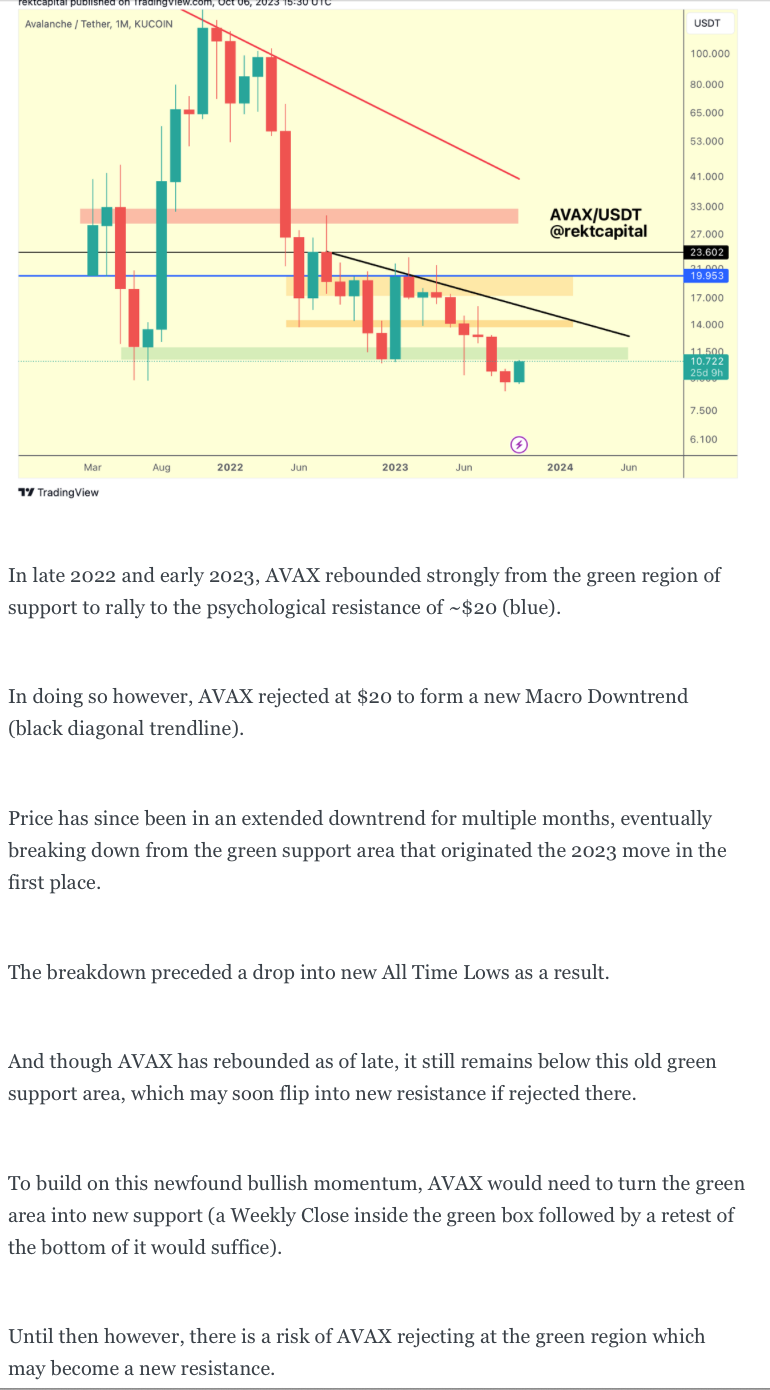 Here is today's update: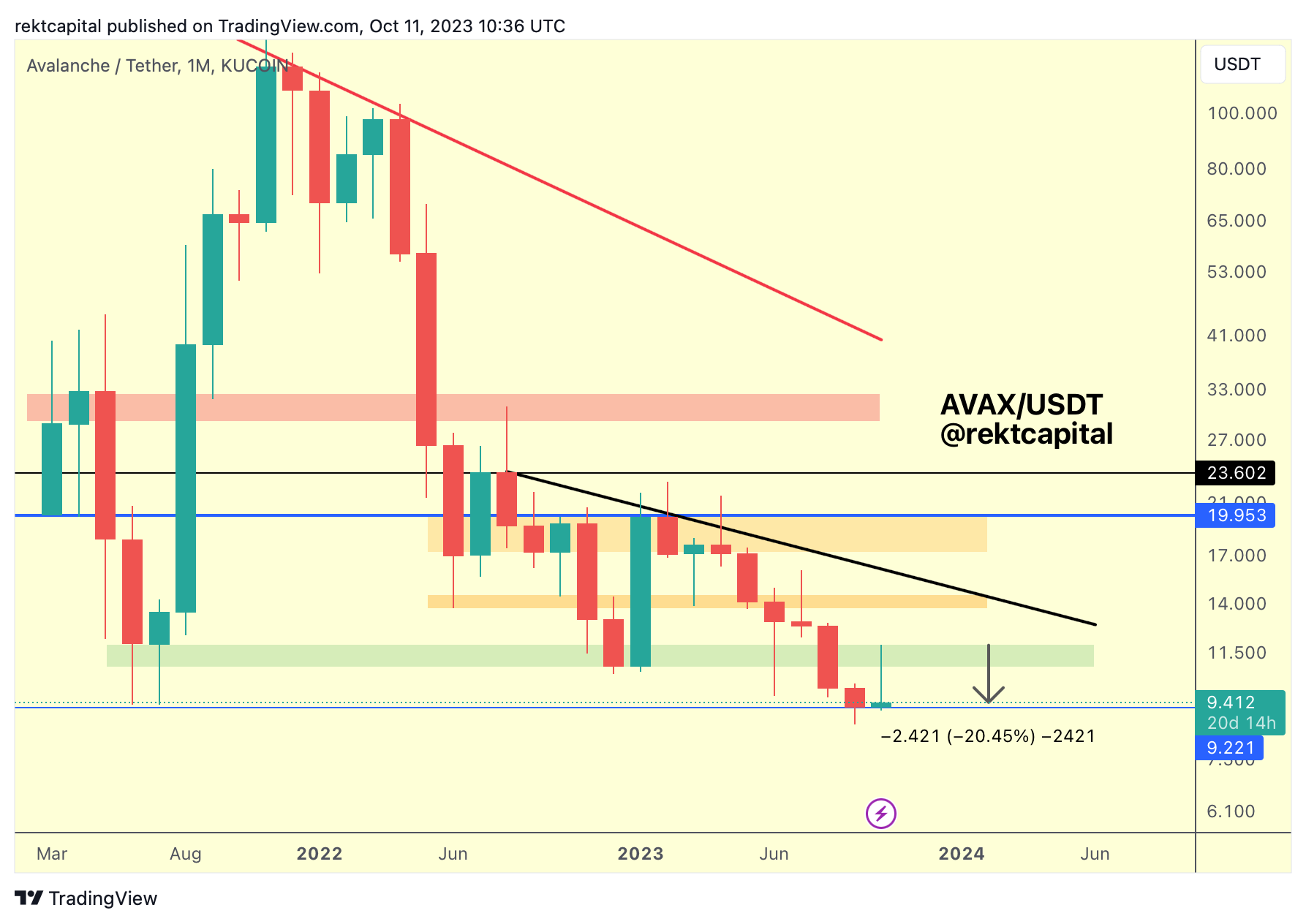 AVAX harshly rejected at the green region, effectively confirming it as resistance to continue bearish continuation to the downside.
AVAX has essentially dropped back into the support level (blue) it had rebounded from and needs to maintain this level to avoid a retrace into negative price discovery in search of a new All Time Low.
Verasity - VRA/USDT
A full two months ago, we spoke about how VRA would revisit the orange area of support while still dwindling within its black downtrending channel: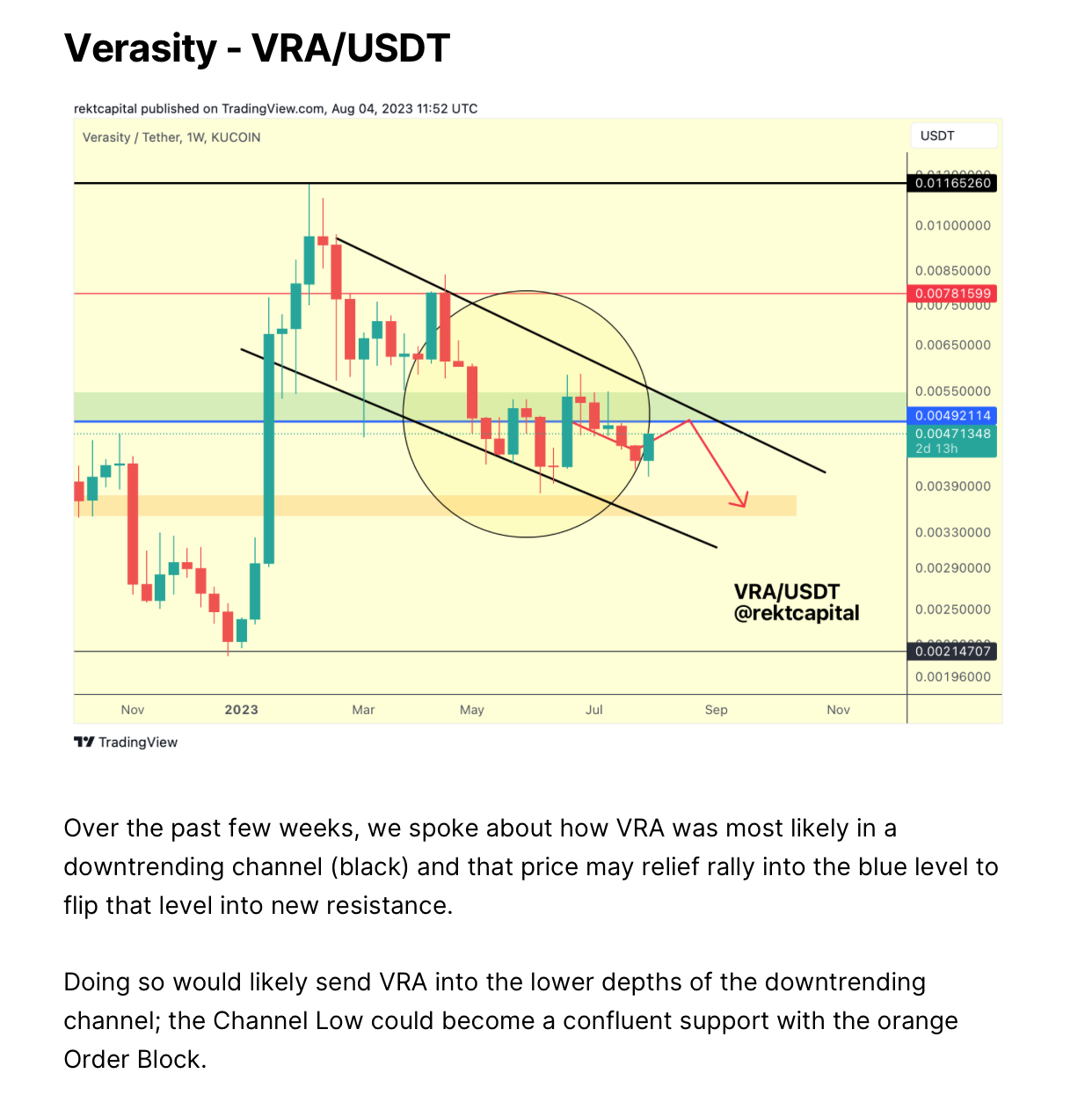 And VRA reached that region in mid-September where I shared another update: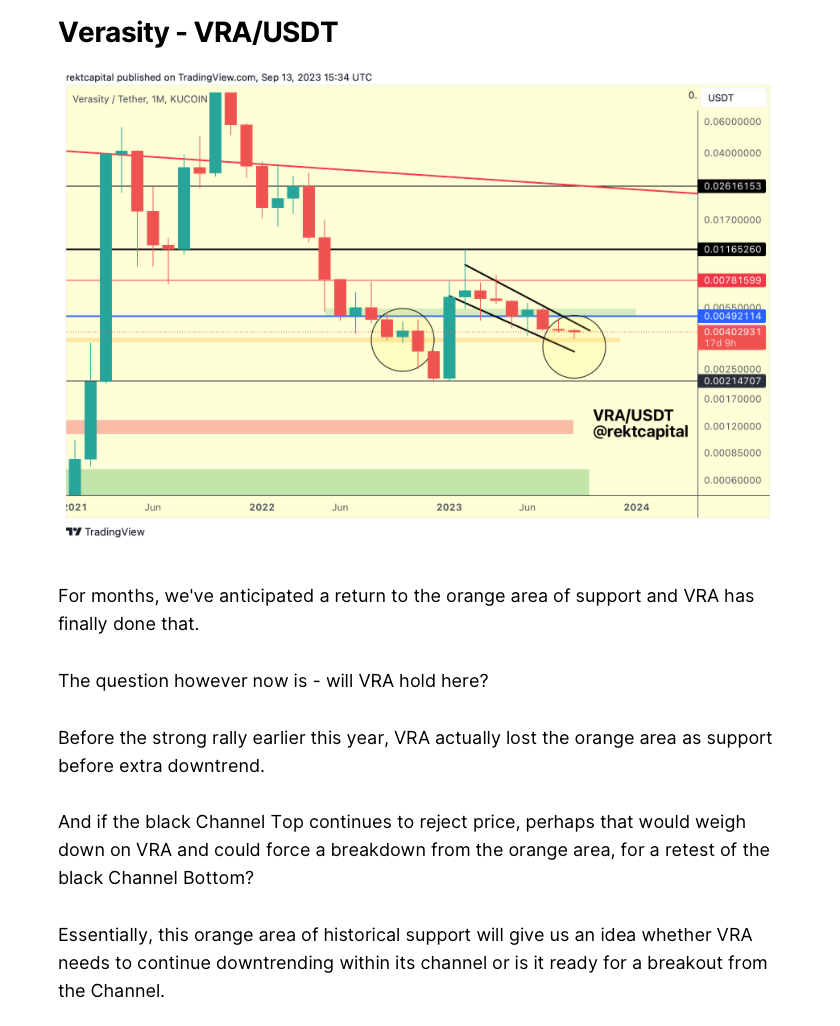 In last week's edition of the Newsletter, VRA broke out from the Channel, rallying +76% to the upside: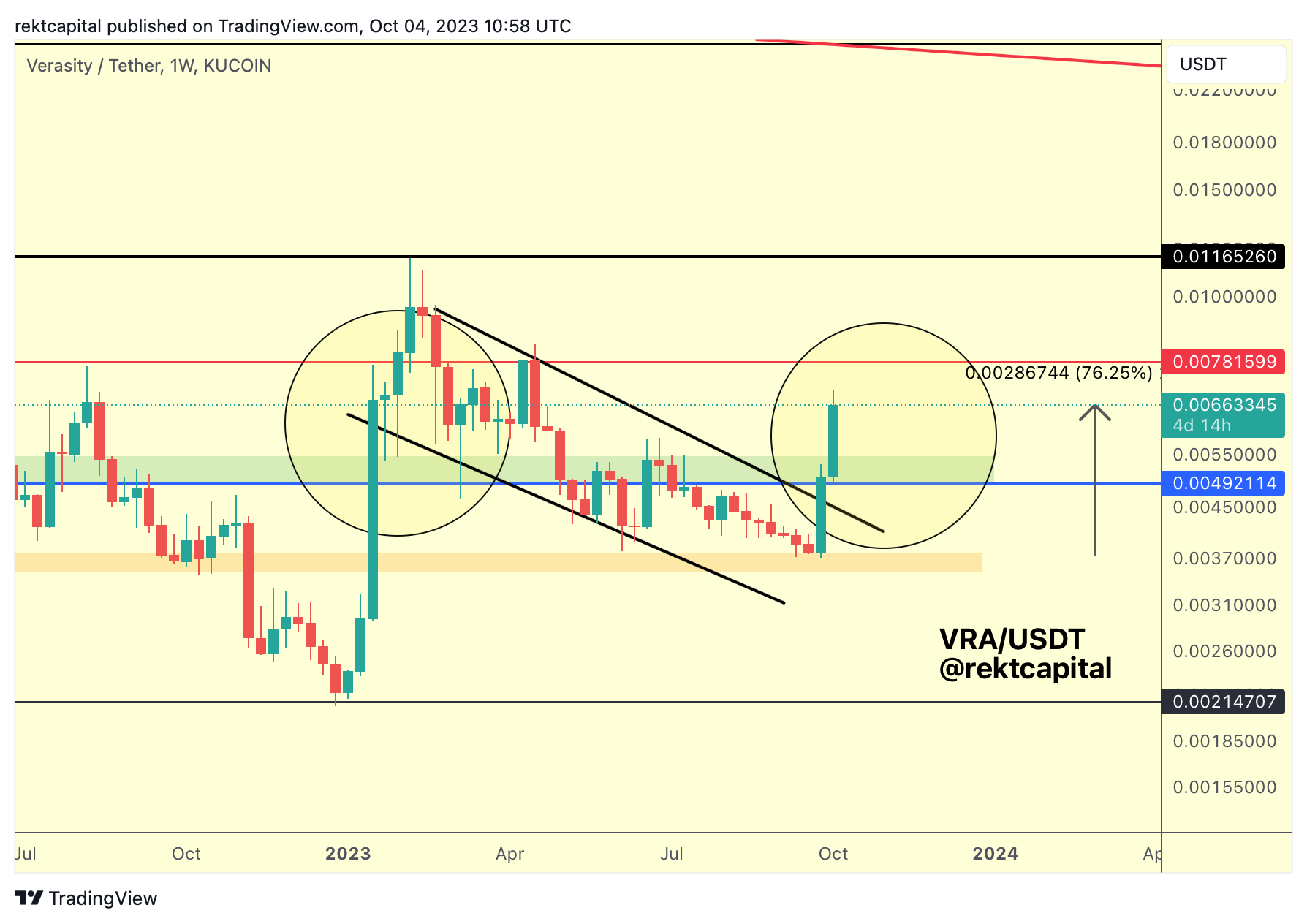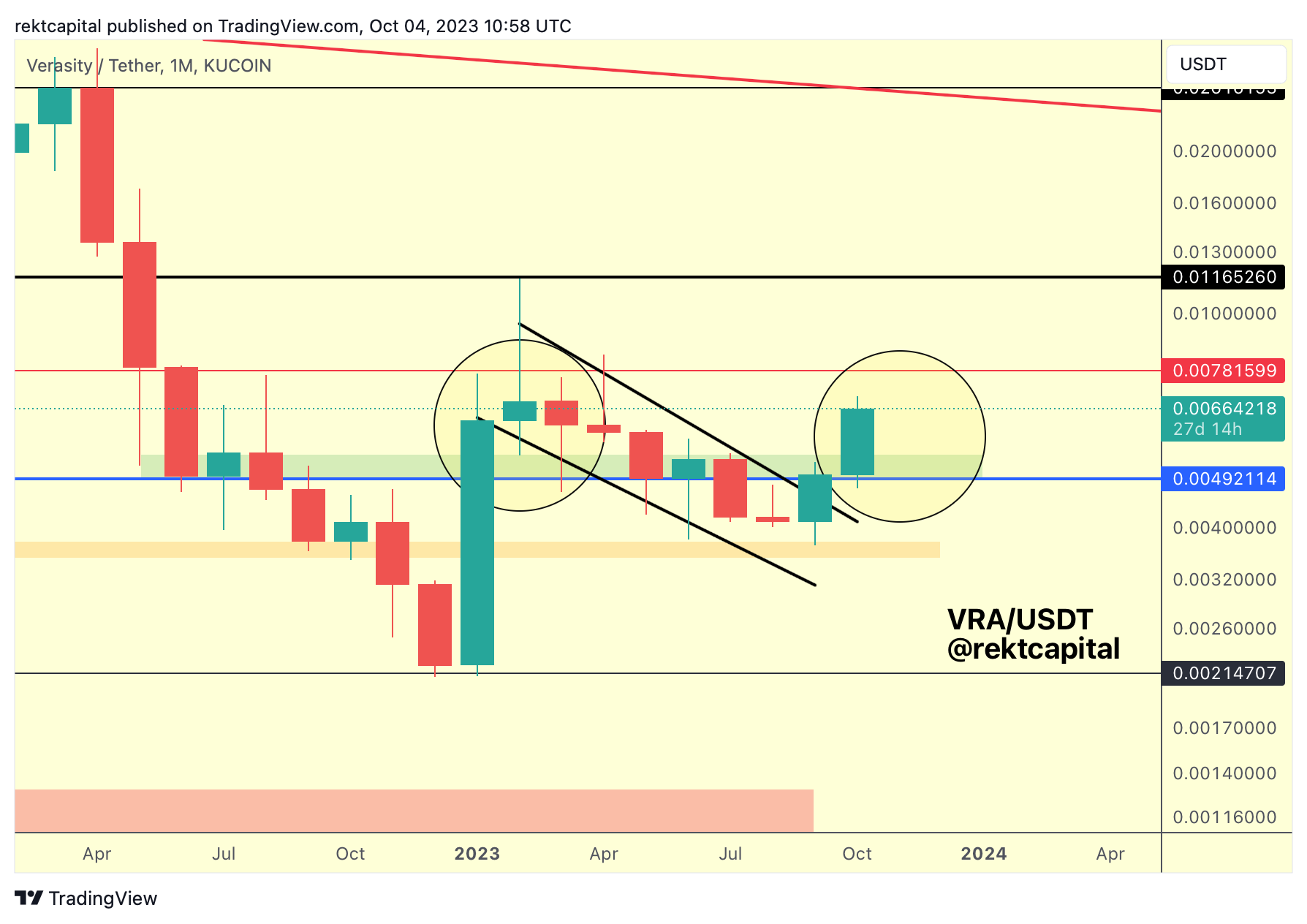 And in the context of the Monthly chart, we also discussed the following:
And if we look to the breakout move from earlier this year, then a Monthly Candle breakout beyond the blue level preceded a retest of that same region. As a result, it is possible that VRA will try to retest the blue level as support in the coming weeks. And a successful retest there would solidify a new floor for price and a Higher Low relative to last month's lows.
So here is today's update: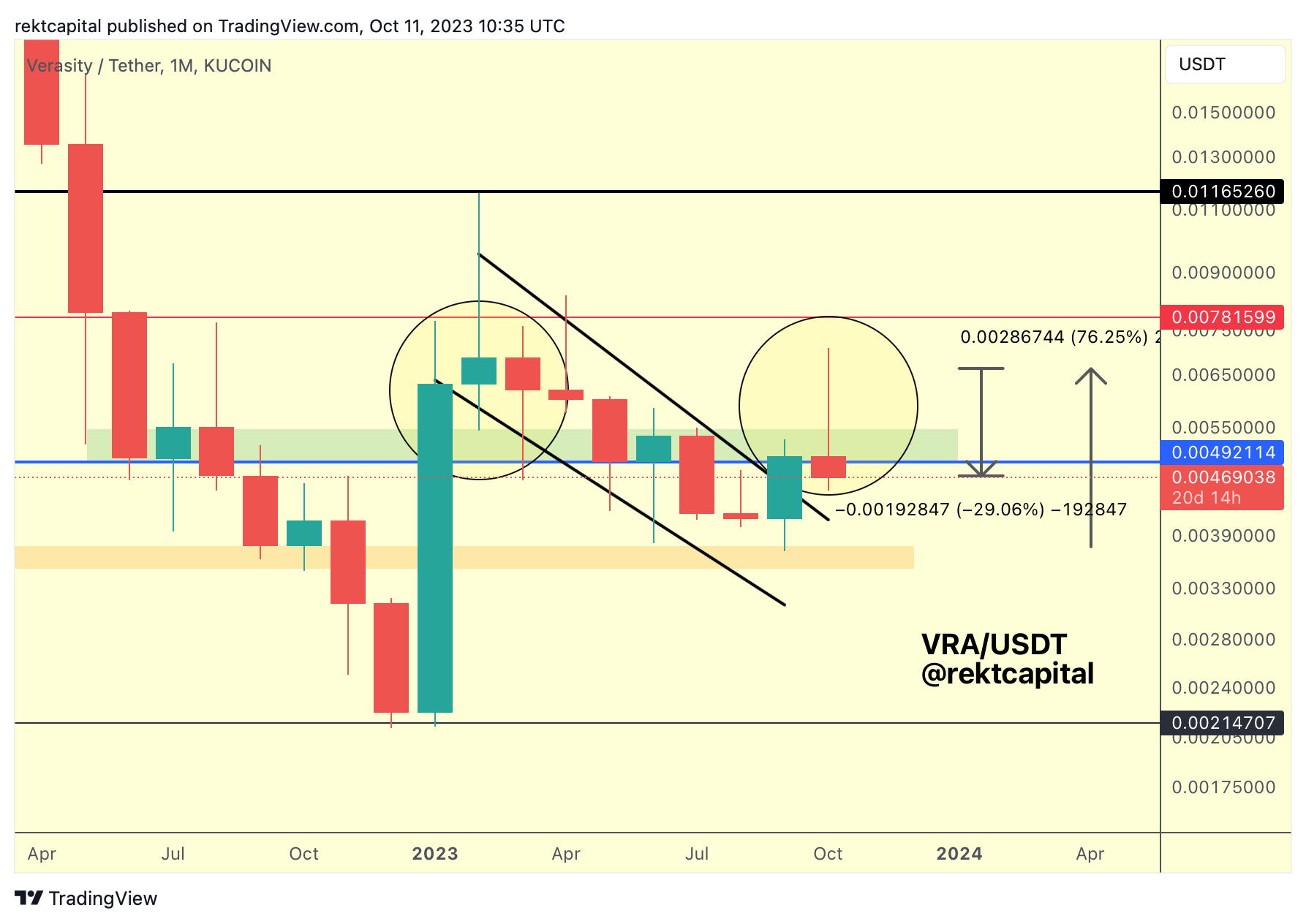 Veracity has retraced almost the entirety of this breakout move, indeed dropping towards the blue level and even below it.
Here is how I think about this:
Last month, VRA Monthly Closed above the blue level to begin the first step of breaking said level as resistance and this month is all about turning it back into new support.
VRA needs a Monthly Close above blue this month to perform the second step of reclaiming the blue level.
However, we still have multiple weeks for this reclaim to occur and given how VRA is a volatile coin, downside volatility below this blue level is possible.
So until proven otherwise, this downside below the blue level could constitute a volatile retest of the blue level.
The problem would emerge if VRA were to flip blue back into resistance on the Weekly timeframe for example: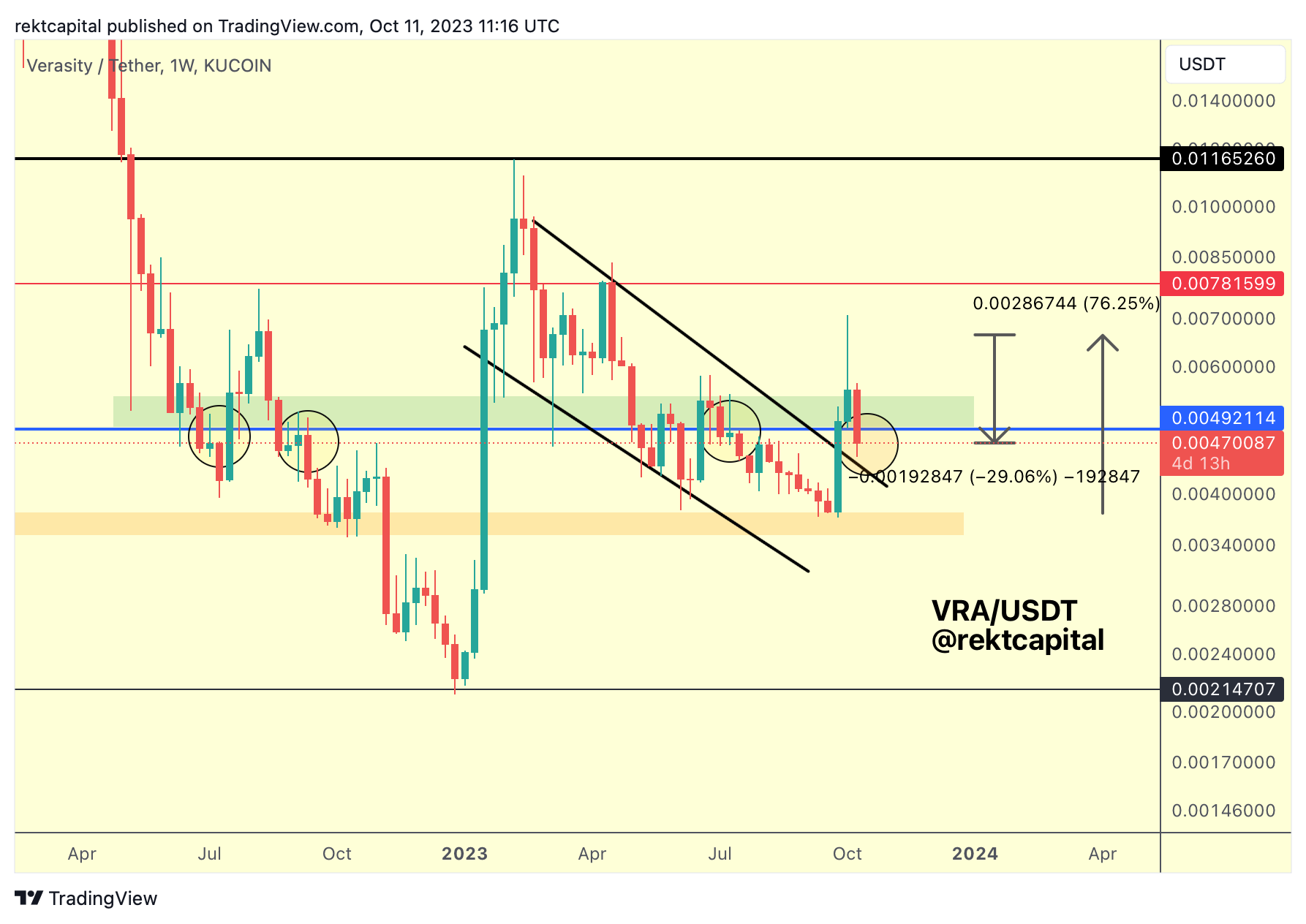 In the past, turning blue into resistance has preceded downside.
So it's key for VRA to keep blue as support going into the Monthly Candle Close but to understand that a Weekly Close below blue could jeopardise that Monthly Close.
Ethereum - ETH/USD
This post is for paying subscribers only
Already have an account? Sign in.