My Altcoin Watchlist
Features analysis on 5 Altcoins: OCEAN DOGE WOO XLM INJ
This Friday, I'll chart your Altcoin picks in an exclusive subscriber-only TA newsletter and will cover as many as I can
So if you'd like to have an Altcoin charted, feel free to share max. two TA requests each in the comments below.
I'll chart the Altcoins that get mentioned and 'Liked' the most
Click the buttom below to leave a comment with your TA request!
Let's dive into today's Altcoin Watchlist.
In today's edition of the Rekt Capital Newsletter, the following cryptocurrencies will be analysed and discussed:
Ocean Protocol (OCEAN)
Dogecoin (DOGE)
Woo Network (WOO)
Stellar (XLM)
Injective (INJ)
Before we dive in, last week's Altcoin Watchlist is essential reading and today will be a direct update to that edition.
Let's dive in.
---
Ocean Protocol - OCEAN/USDT
A few weeks ago in the Altcoin Watchlist, I covered OCEAN and discussed how a downside wick below the Channel Bottom followed by a reclaimed of the Channel Bottom would position OCEAN for a revisit of the Channel Top: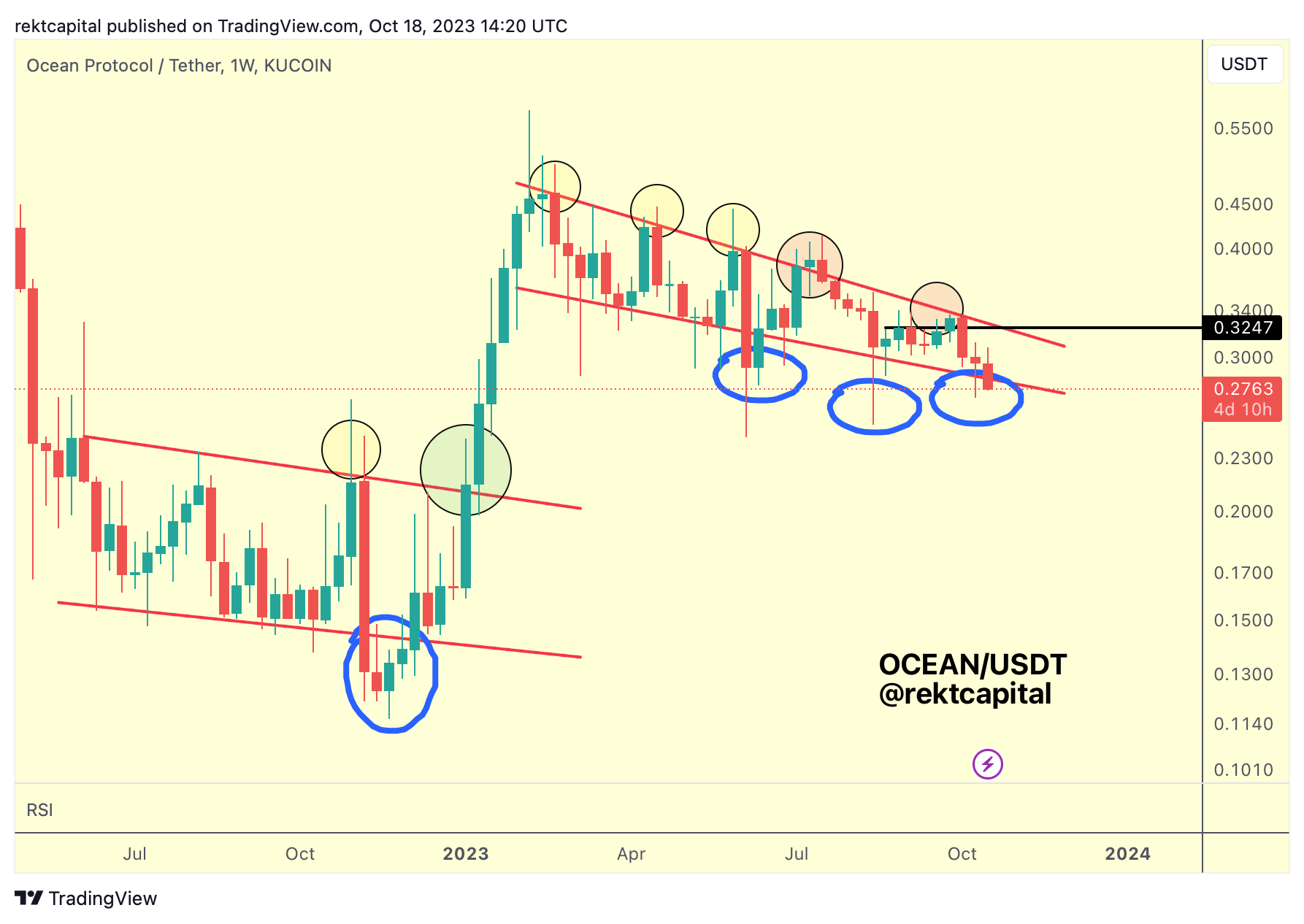 And here is today's update: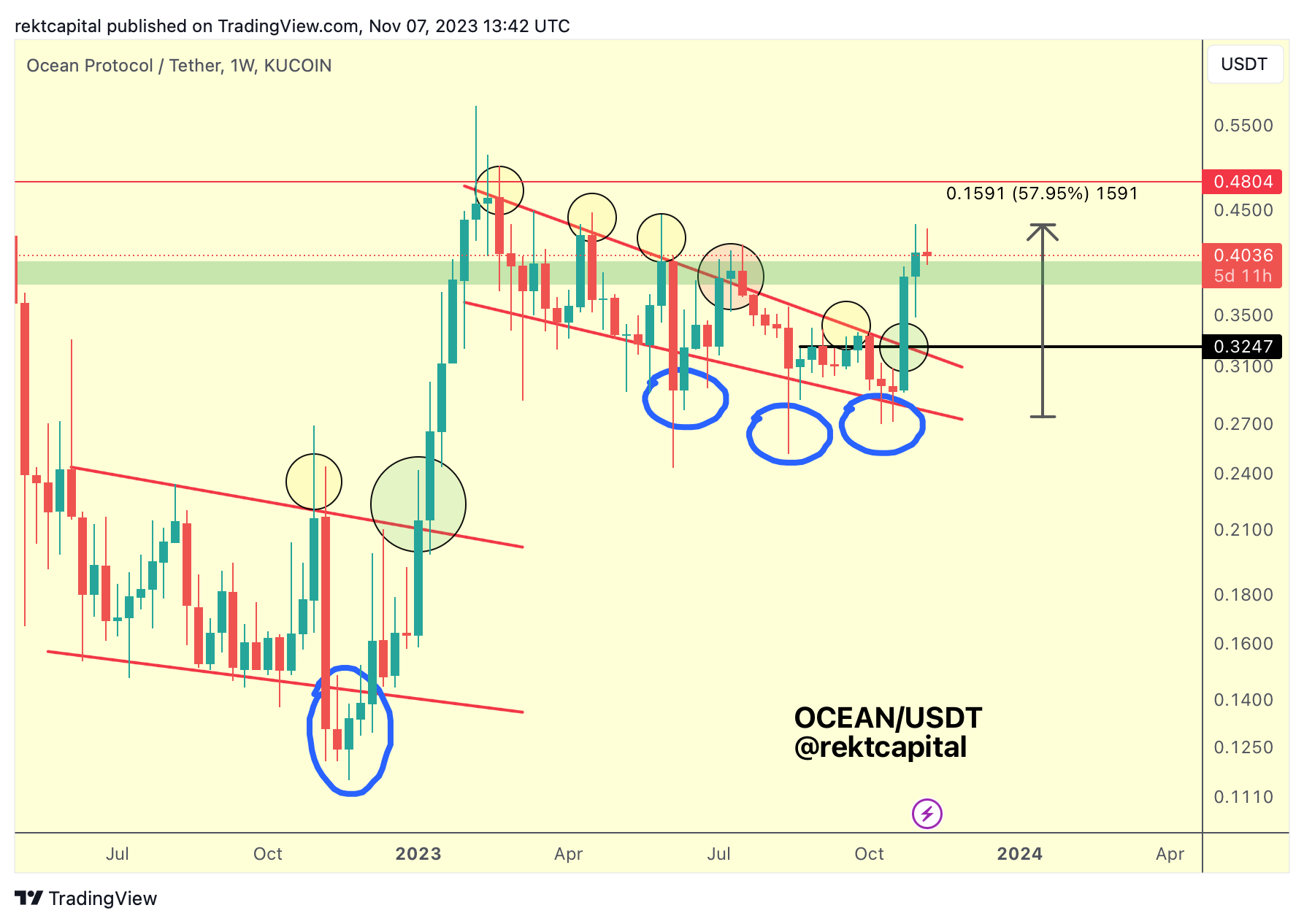 OCEAN reclaimed the bottom of the Channel and broke out from it, rallying +57$ in total.
And with a Weekly Close above the green area, OCEAN could be setting itself up for a retest of this region in an effort to solidify an old resistance into new support.
This is necessary to hold as support if OCEAN is to continue building on its current rally; holding support at green successfully would enable a move to the red $0.48 highs above.
On the Monthly, the need for a retest is even clearer and here's why: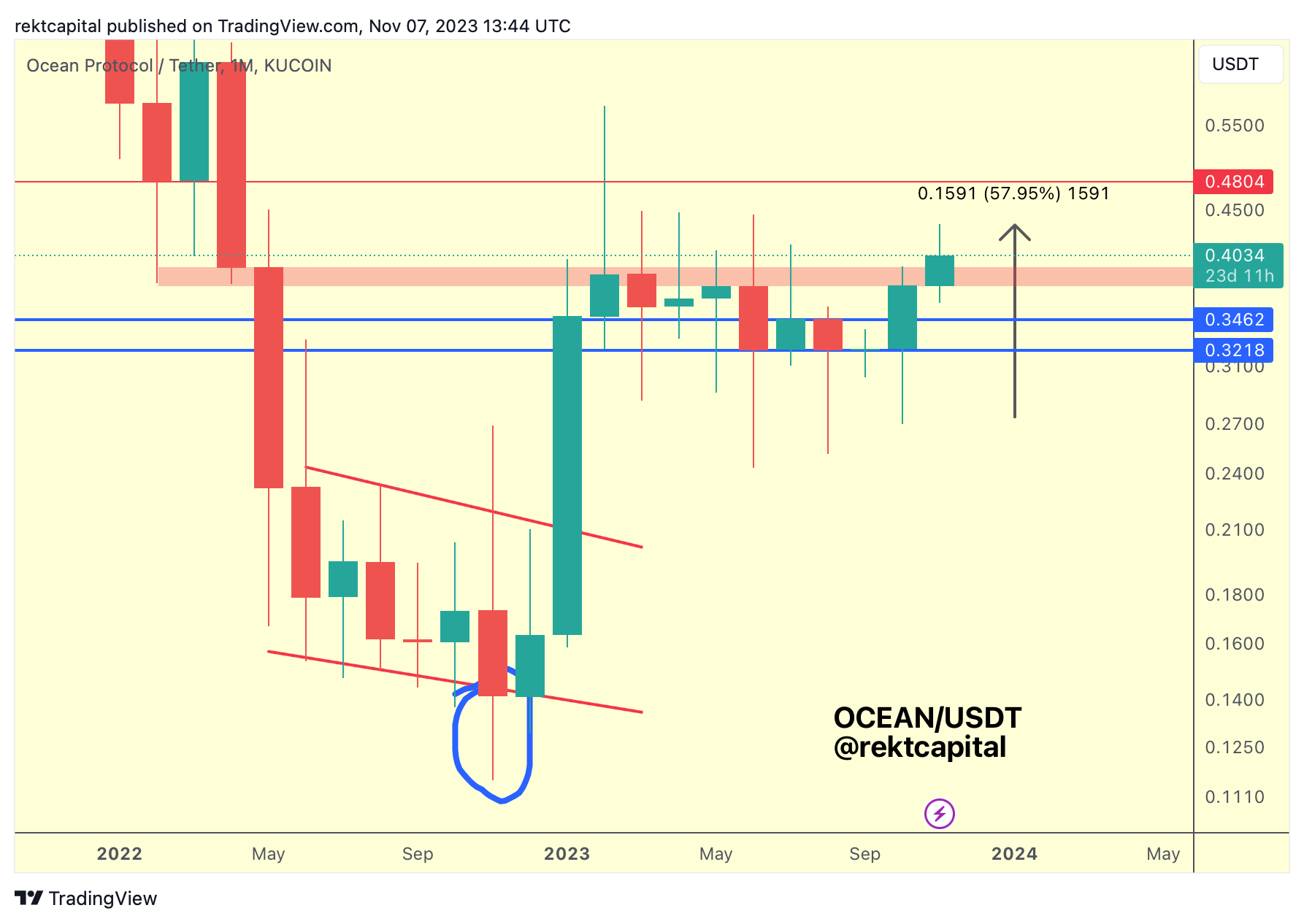 OCEAN needs to retest this red region as support to continue higher.
In the past, this red region acted as a strong resistance; many FOMO upside wicks had formed beyond this point, preceding a rejection.
That's why a Monthly Close beyond this point is so crucial; a Monthly Close above red would shift the trend, especially if a following retest of red into new support occurs.
Because the threat here is that this current OCEAN Monthly Candle beyond red could end up as a FOMO wick as well, just like the others.
And if this were to end up being the case, OCEAN would likely revisit at least the blue levels below.
It's crucial that OCEAN holds red as support.
Dogecoin - DOGE/USD
In mid-October, I shared the following analysis on DOGE: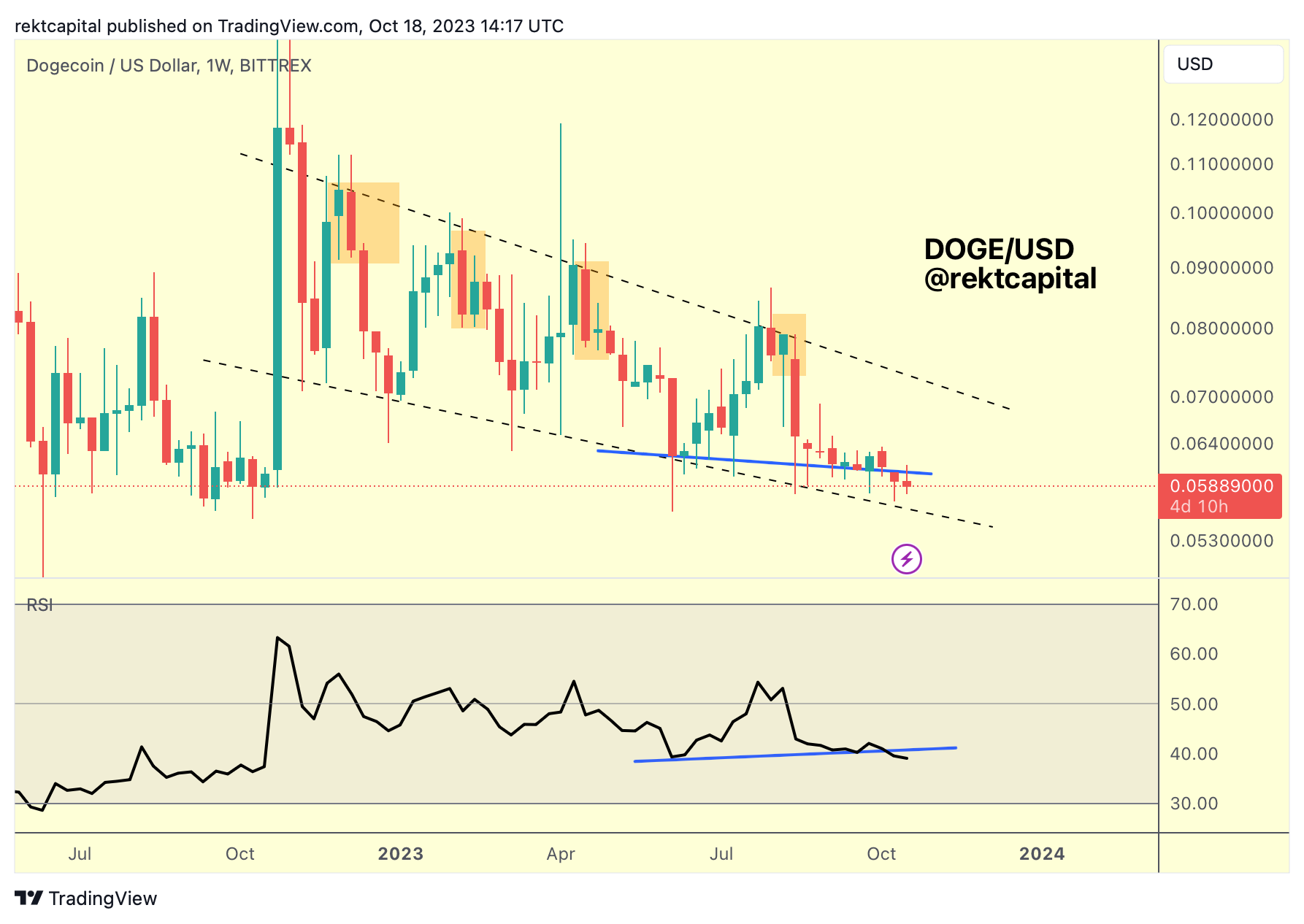 I also mentioned the following:
However, I am open to the possibility of DOGE reclaiming its Lower Low on price action, because the breakdown confirmation hasn't been too decisive or strong. There needs to be a stronger reaction for the scenario of a potential fake-breakdown to assuage.
And here is today's update: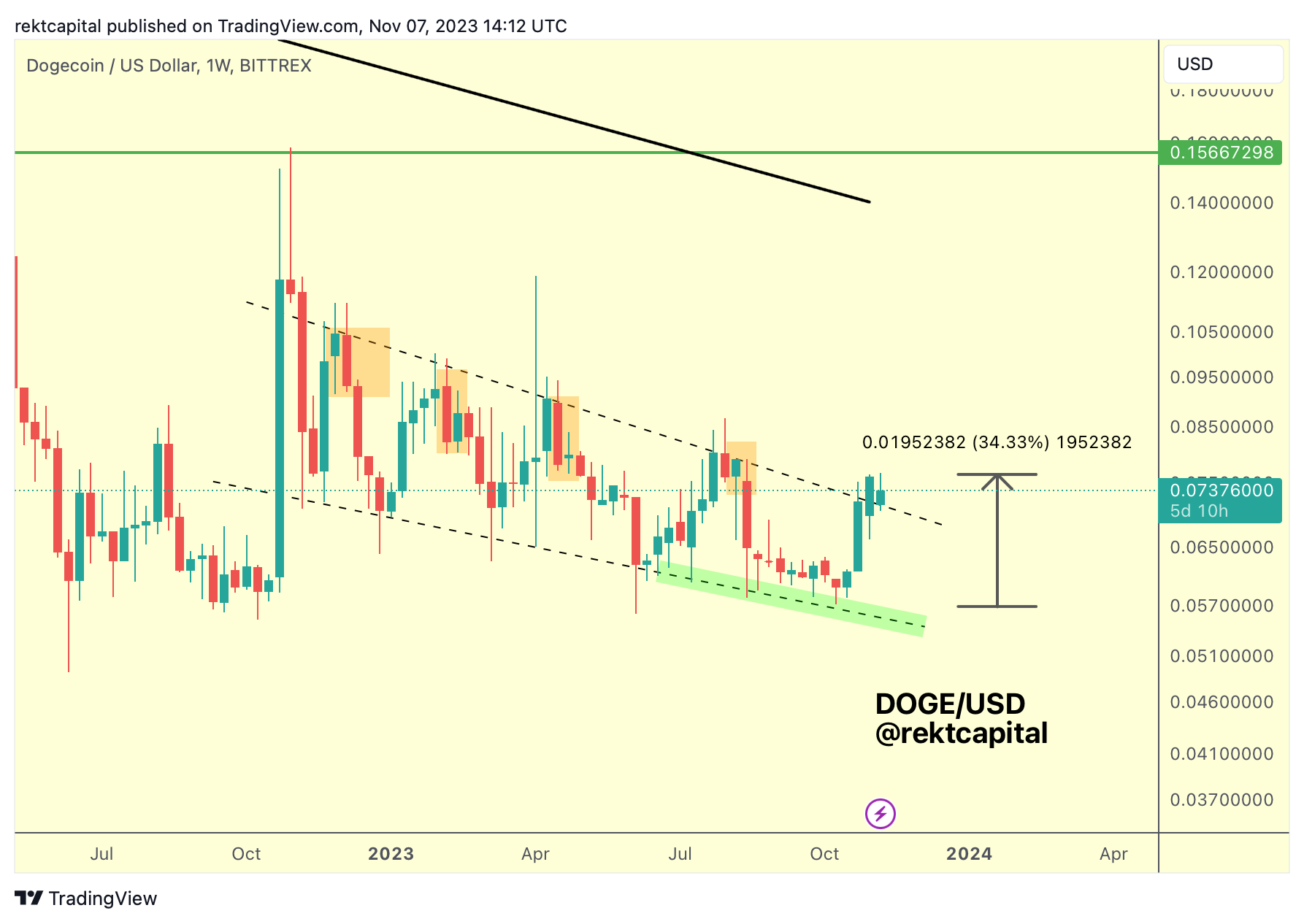 Dogecoin has rallied +34% from Channel Bottom to Channel Top.
Last week, I mentioned the following two key triggers for me for DOGE:
Reclaim of the Channel Top as new support to confirm the breakout
Revisit of the Channel Bottom for a retest
It looks like the first is becoming a reality, now that a Weekly Close above the Channel Top has occurred as well.
DOGE is currently in the process of a retest of the Channel Top as new support.
Successful retest here would enable a confirmed breakout from this year-long Downtrending Channel.
Woo Network - WOO/USDT
This post is for paying subscribers only
Already have an account? Sign in.