My Altcoin Watchlist
Features analysis on 6 Altcoins: OCEAN DOGE WOO VRA XLM INJ
This Friday, I'll chart your Altcoin picks in an exclusive subscriber-only TA newsletter and will cover as many as I can
So if you'd like to have an Altcoin charted, feel free to share max. two TA requests each in the comments below.
I'll chart the Altcoins that get mentioned and 'Liked' the most
Click the buttom below to leave a comment with your TA request!
Let's dive into today's Altcoin Watchlist.
In today's edition of the Rekt Capital Newsletter, the following cryptocurrencies will be analysed and discussed:
Ocean Protocol (OCEAN)
Dogecoin (DOGE)
Woo Network (WOO)
Verasity (VRA)
Stellar (XLM)
Injective (INJ)
Before we dive in, last week's Altcoin Watchlist is essential reading and today will be a direct update to that edition.
Let's dive in.
---
Ocean Protocol - OCEAN/USDT
In the edition from two weeks ago in my Altcoin Watchlist, I covered OCEAN and discussed how a downside wick below the Channel Bottom followed by a reclaimed of the Channel Bottom would position OCEAN for a revisit of the Channel Top: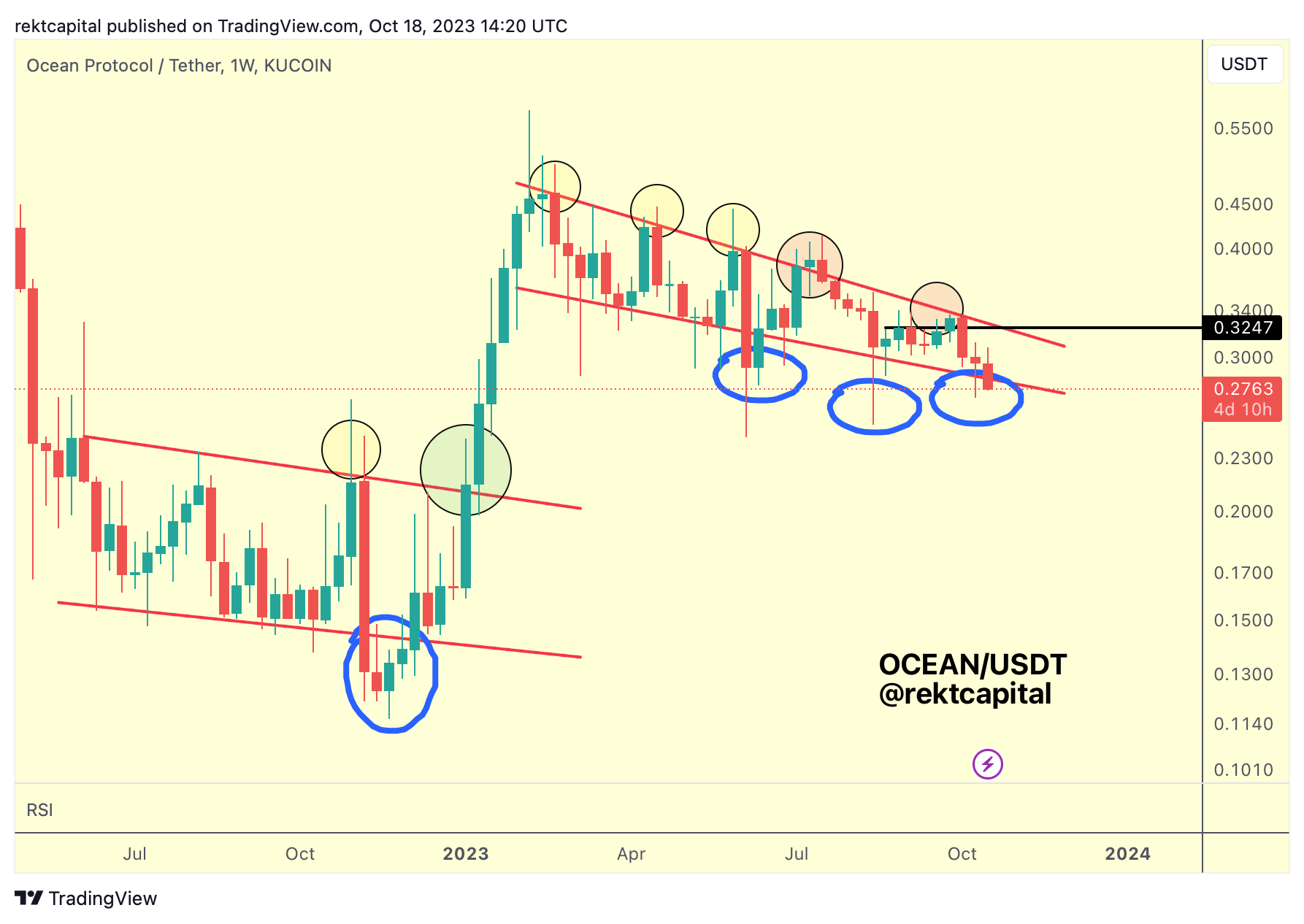 Here is last week's update: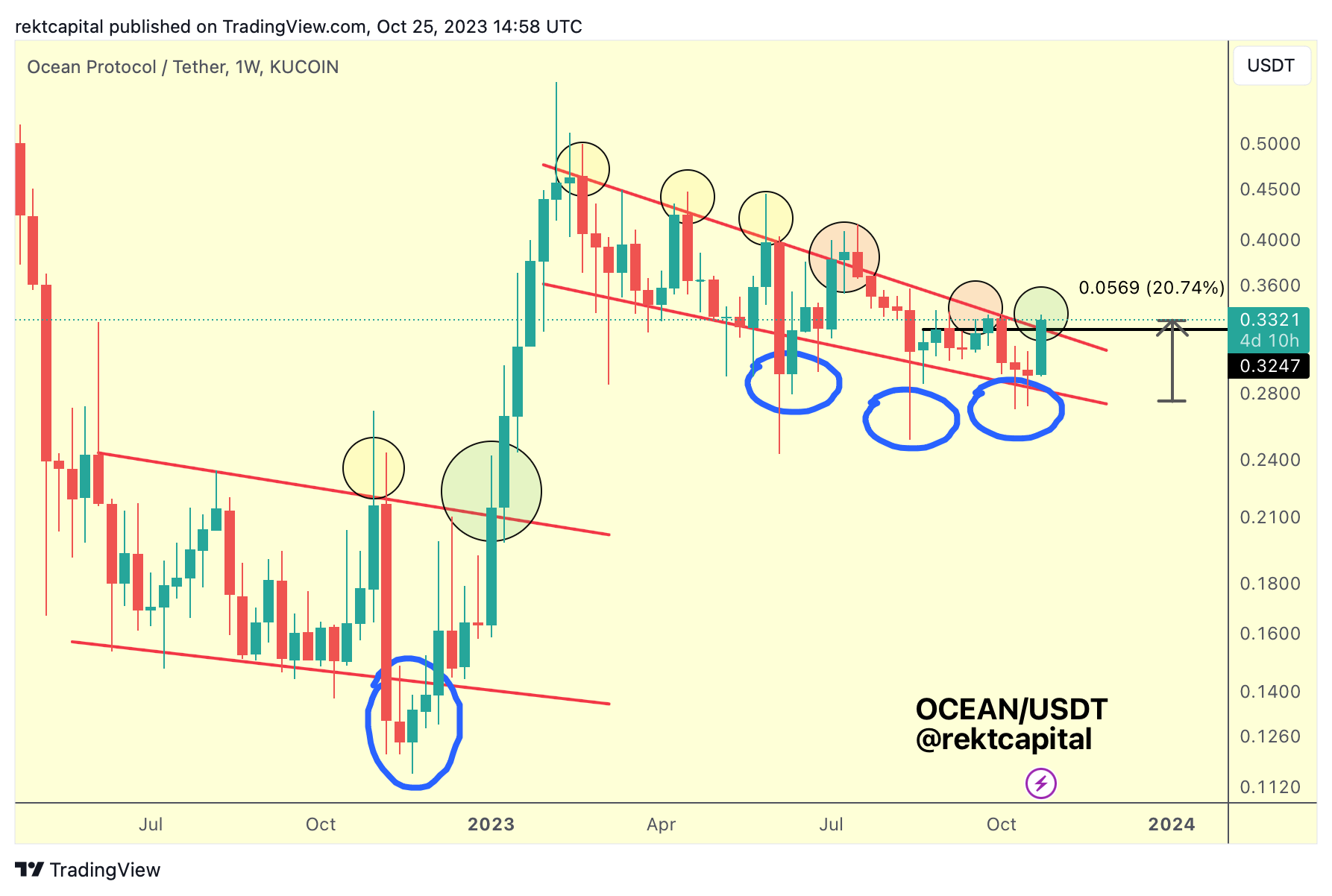 And here is today's update: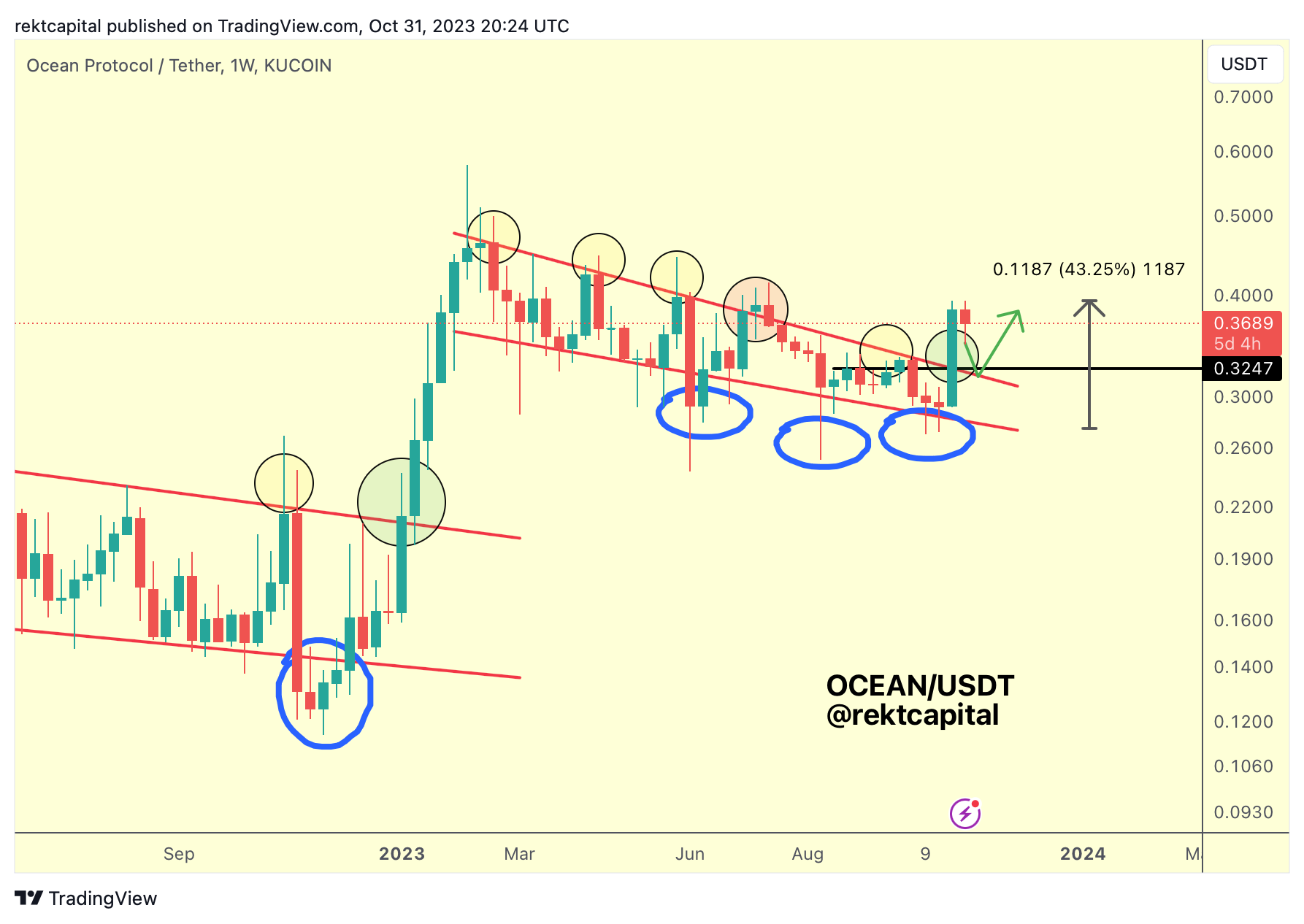 OCEAN has finally broken out from the Channel, rallying an emphatic +43% in the process.
At this stage, with the new Weekly Close already in, OCEAN could dip to as low as the Channel Top for a retest attempt.
It's important that this retest attempt is successful as it is required to fully confirm the breakout.
After all, we've seen failed post-breakout retests before (red circle).
That being said, that failed post-breakout retest yielded a minimal reaction to the upside whereas here we've witnessed a very convincing breakout.
Any dips to the Channel Top may constitute a retest and it's key that price Weekly Closes above the Channel Top, should that retest indeed occur.
The Monthly Timeframe analysis attests to this, though with additional nuance that we'll discuss: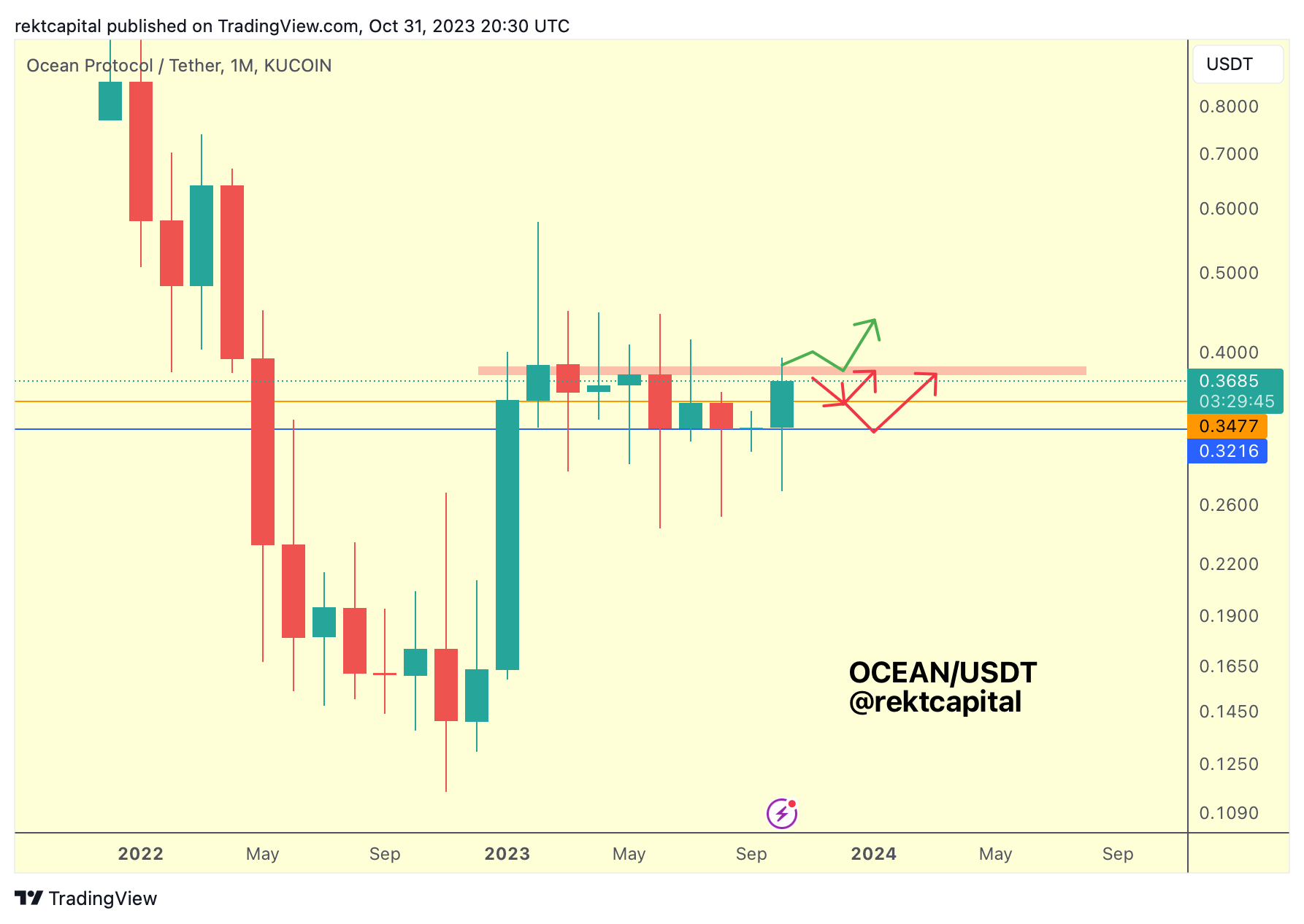 With the Monthly Close just around the corner, it's important to flag how this upcoming Close may impact price.
A Monthly Close below red could set OCEAN up for a price rejection to at least the orange level below and in a more volatile case to the blue level (which is the retest zone of the Channel Top).
Breaking the red resistance area would be bullish as the next major resistance would reside around ~$0.50, but for OCEAN to rally that much, it would need to reclaim the red resistance area first.
Dogecoin - DOGE/USD
Here is the analysis on DOGE from two weeks ago: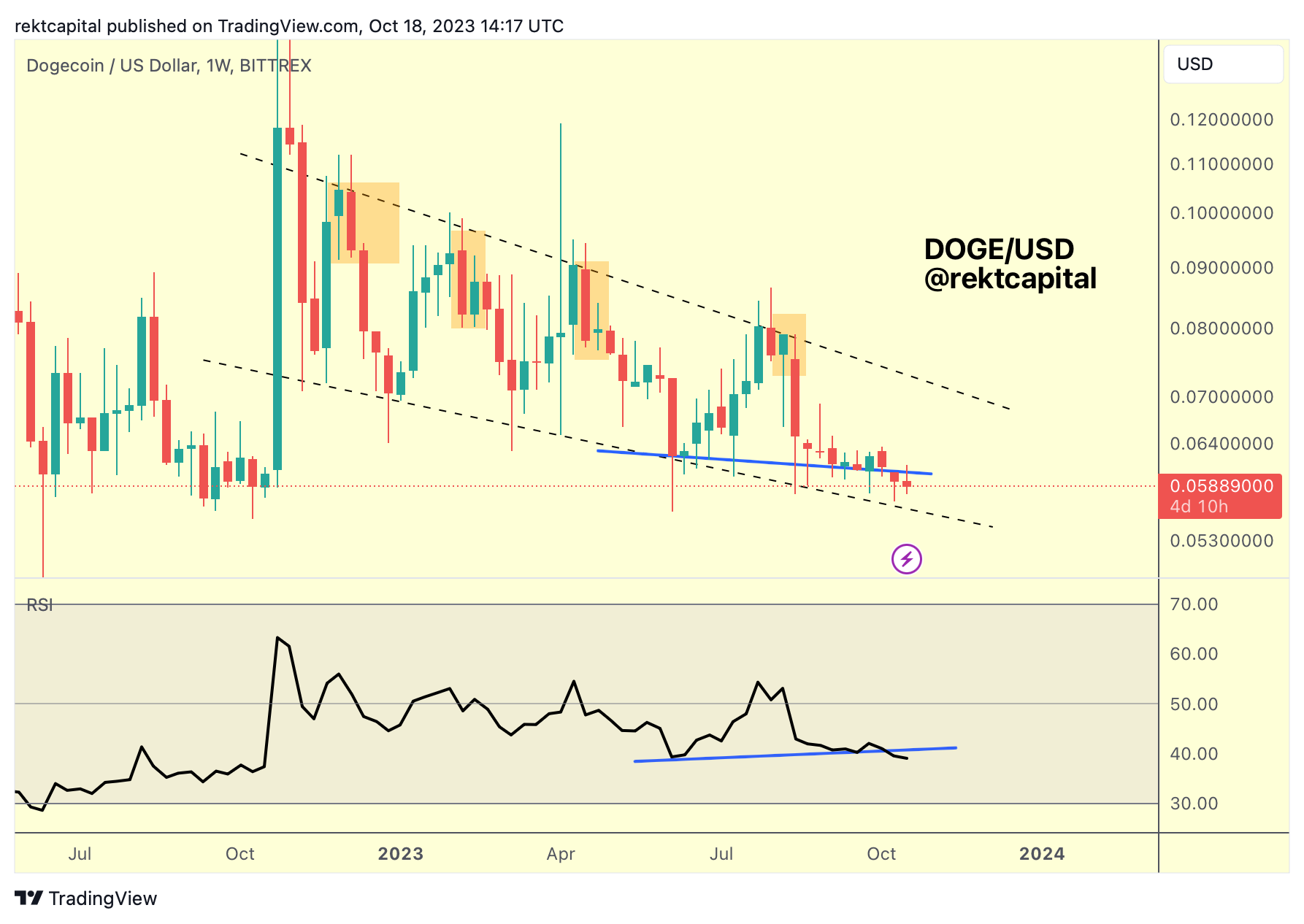 I also mentioned the following:
However, I am open to the possibility of DOGE reclaiming its Lower Low on price action, because the breakdown confirmation hasn't been too decisive or strong. There needs to be a stronger reaction for the scenario of a potential fake-breakdown to assuage.
And here is today's update: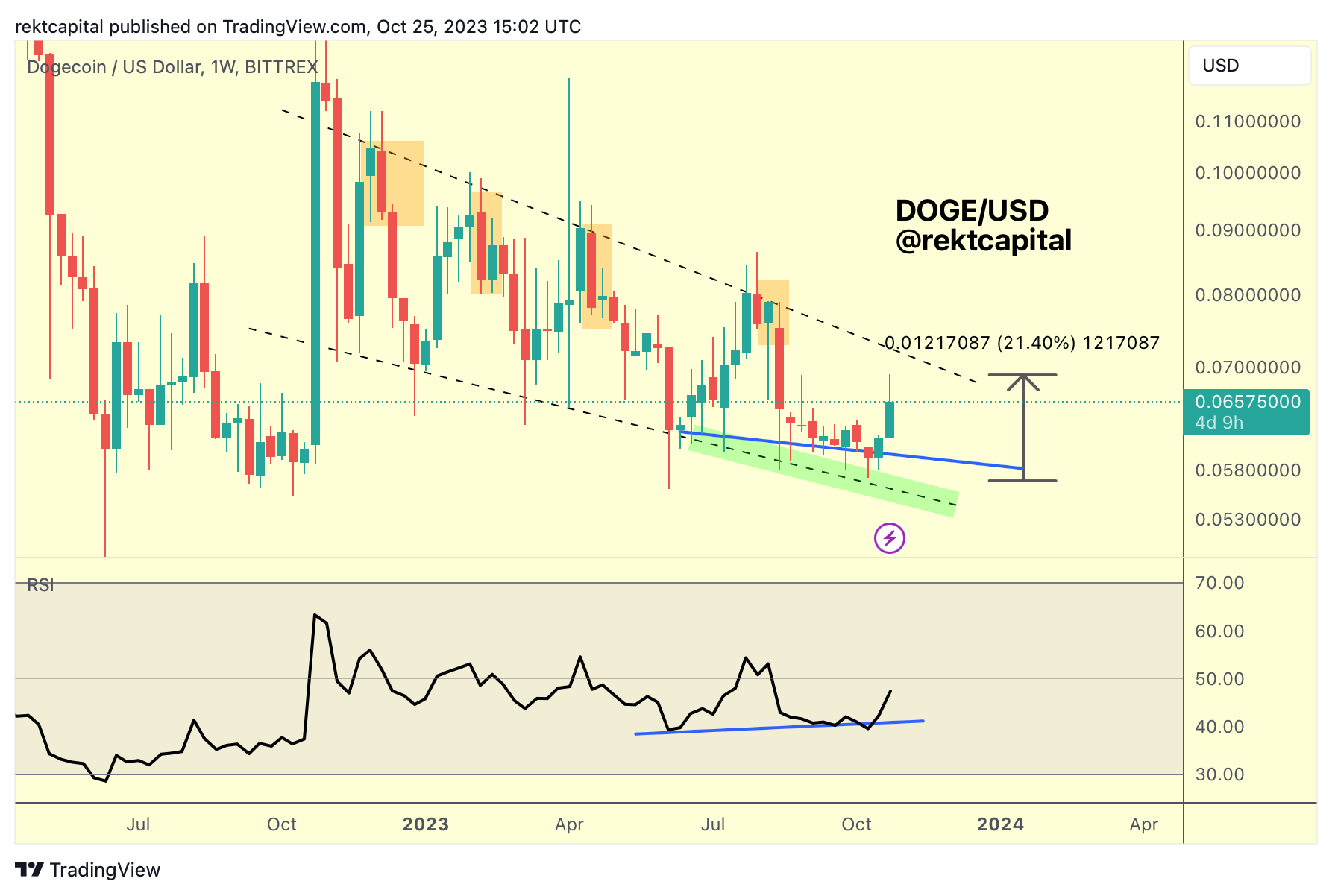 And here is today's update: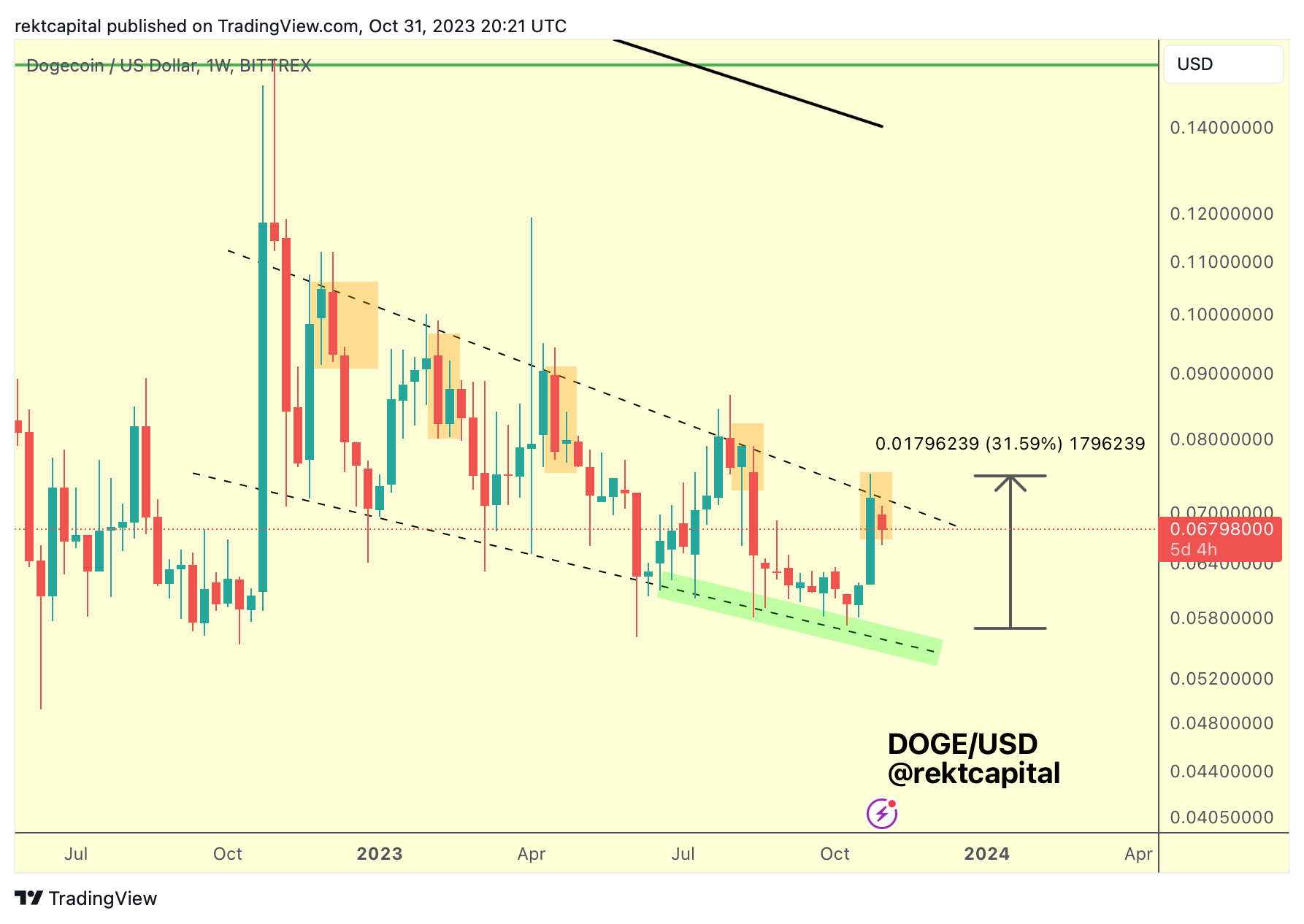 Dogecoin has rallied +31% in total from Channel Bottom to Channel Top, even producing an upside wick beyond the Channel Top, just like on the previous orange-highlighted occasions.
Because DOGE Weekly Closed below the Channel Top, that now means that if price cannot reclaim the Channel Top as support in the coming days, there is a threat of a stronger rejection that could send price to the bottom of the market structure.
After all - historically, whenever DOGE has Weekly Closed below the Channel Top, price would revisit the Channel Bottom for a retest.
Either way, there are two key triggers for me at this time:
Reclaim of the Channel Top as new support to confirm the breakout
Revisit of the Channel Bottom for a retest
Woo Network - WOO/USDT
This post is for paying subscribers only
Already have an account? Sign in.