Bitcoin - Preparing For November
Trying to understand what's next for BTC's using data science, key indicators, the Four Year Cycle, and more.
Welcome to the Rekt Capital newsletter, a resource for investors who want to better navigate the crypto markets with the help of cutting-edge crypto research and unbiased market analysis
Monthly Timeframe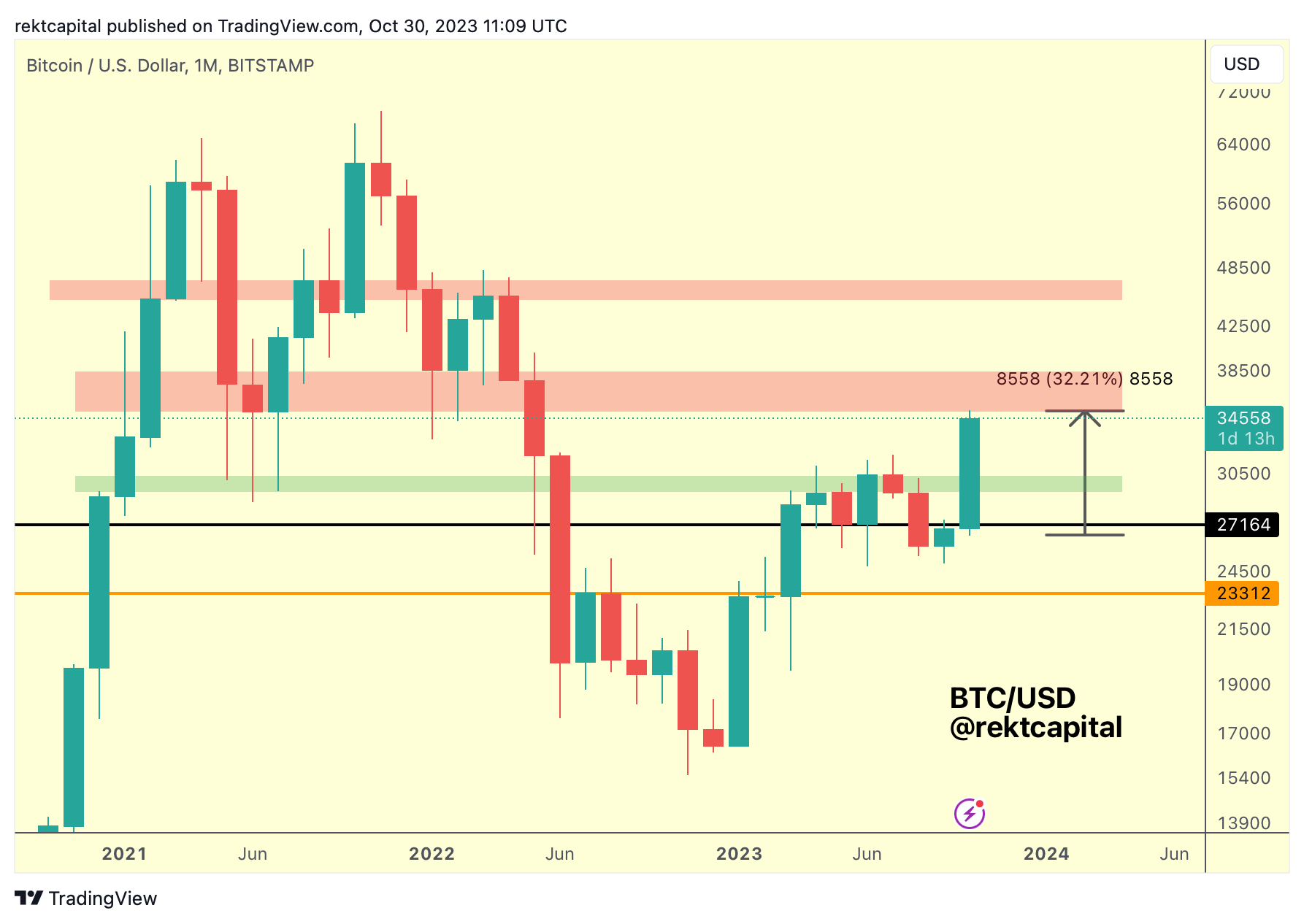 Bitcoin is enjoying a phenomenal October, rallying +32% over the course of the month.
In doing so, BTC has broken out from the black-black range which turned out to be a Re-Accumulation Range.
And with the breakout, BTC has rallied straight into the next major resistance area on the Monthly timeframe (red area).
A Monthly Close inside this red region could be the beginning of an effort to reclaim this region as support, and upon successful reclaim that could set up a move to the red region that resides even higher.
Of course, naturally if BTC is unable to break higher, the next major support area will be the same region that offered resistance for most of this year 2023 (I.e. the black-black range below).
Any pullback into that area would likely constitute a technical retest to confirm an old resistance as new support.
And upon successful retest there, price would be in a position to try for a renewed attempt at challenging the red resistance area (ie the region that BTC is trying to break beyond right now).
Overall, BTC is trying to establish a new Macro Range right now.
Will it form a range between $31000-$35000?
Or will it be able to break beyond $35k and actually develop a range higher between $35000-$40000?
Monthly Close is just around the corner and so we'll have more confirmation when it comes to Bitcoin's next move.
An Indicator We've Paid Attention To For Months
This post is for paying subscribers only
Already have an account? Sign in.