Altcoin Newsletter #95
My exclusive commentary on 8 Altcoins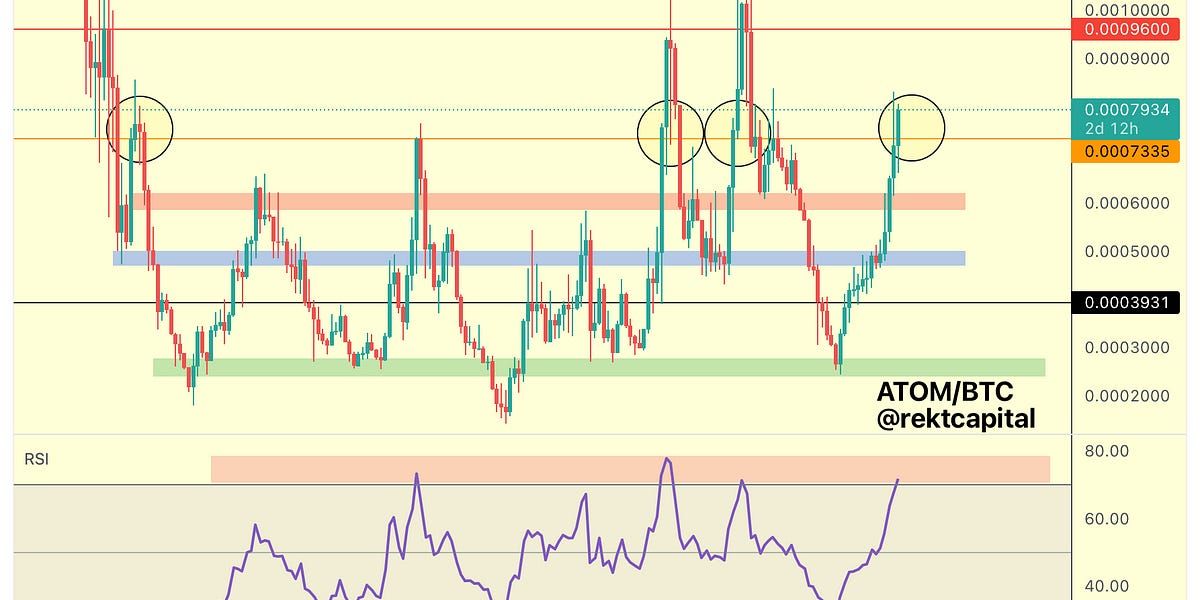 Welcome to the Rekt Capital newsletter, a resource for people who want to better navigate the crypto markets with the help of cutting-edge crypto research and unbiased market analysis.
Every Friday, I host an Altcoin TA session where I share my exclusive commentary on the price action of a wide variety of coins, requested by valued premium members of the Rekt Capital Newsletter.
I share charts on 8 coins today.
---
Last Chance To Participate In 1 BTC Giveaway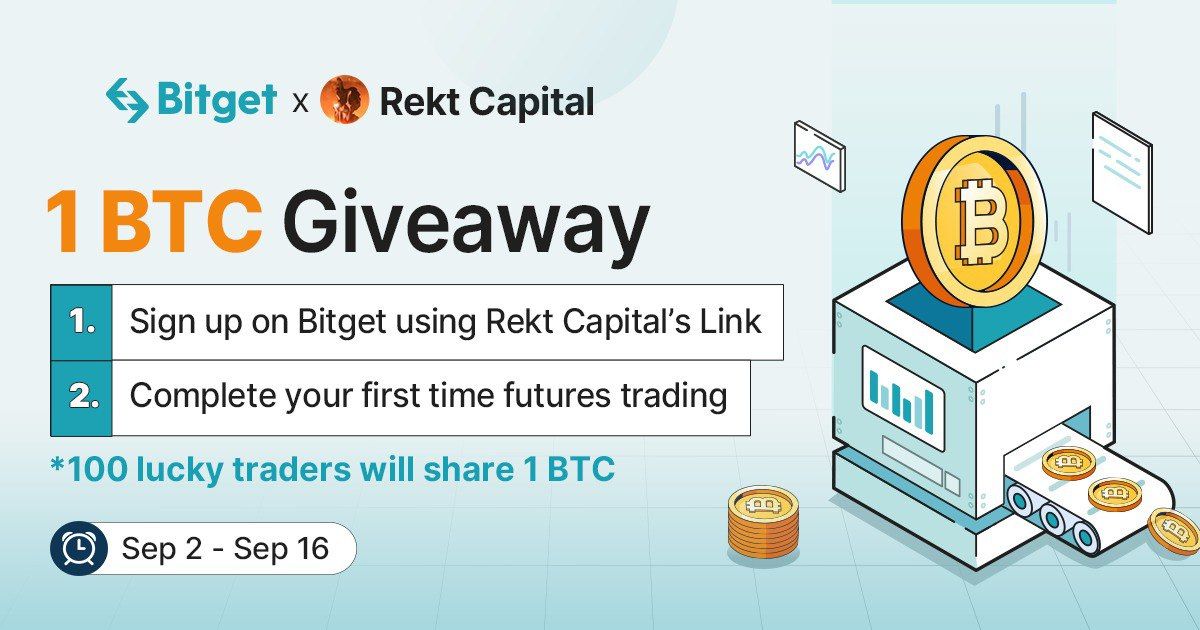 Final day to take part in the 1 BTC giveaway. Giveaway ends tomorrow 🔥
Bitget is the world's largest crypto copy trading platform, official partner of Juventus Football Club and top 5 crypto derivatives exchange in volume as listed on CoinMarketCap!
To celebrate, Bitget have arranged a very special promo for valued readers of the Rekt Capital Newsletter.
Sign up using my link to Bitget and you will get:
• Up to $8000 sign up bonus & 15% OFF trading fees lifetime
AND
• Open your first trade on Bitget between 2 September to 16 September and 100 lucky traders will share 1 BTC!
Sign up to Bitget using my link and make the most of this special promo:
---
In today's Altcoin newsletter, I cover 8 different Altcoins, specifically:
Cosmos (ATOM/BTC)
Syscoin (SYS/BTC)
Shiba Inu (SHIB/USDT)
Thorchain (RUNE/USDT)
Stellar (XLM/USDT)
Monero (XMR/USD)
Hedera Hashgraph (HBAR/USDT)
Injective (INJ/USDT)
Let's dive in.
---
Cosmos - ATOM/BTC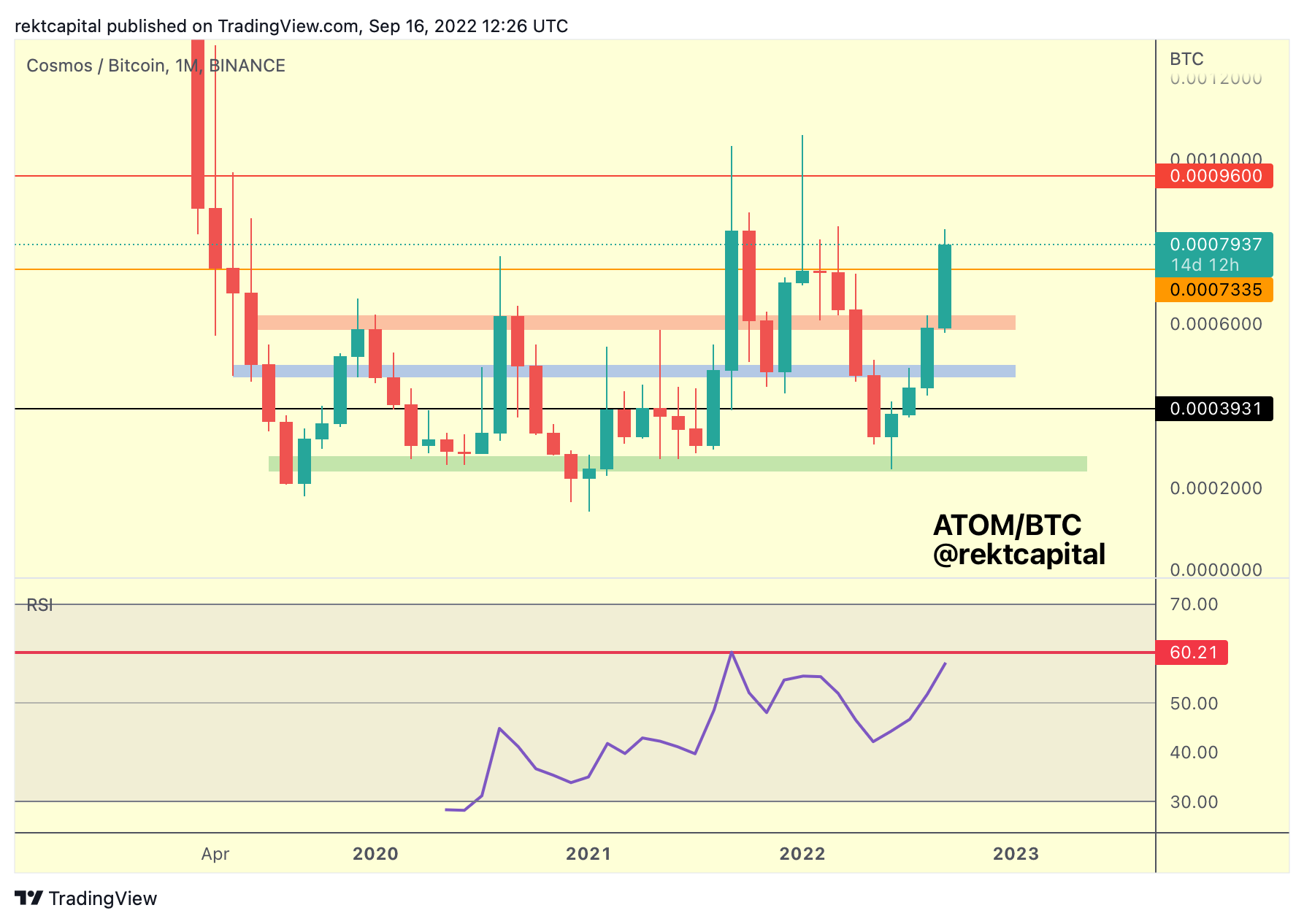 ATOM demonstrates cyclical qualities.
In short, bottoms occur near the green box and tops occur either at the red box or if the trend is strong - they occur at the red horizontal above.
These tops tend to occur when the Monthly RSI = 60 is reached and ATOM is slowly getting there.
This orange level is a gatekeeper to ATOM's success because ATOM has never been able to claim it as support after a successful Monthly Close above it.
ATOM has a chance to revisit the red horizontal above, especially if orange is flipped into support.
The Weekly timeframe shows the importance of the orange level: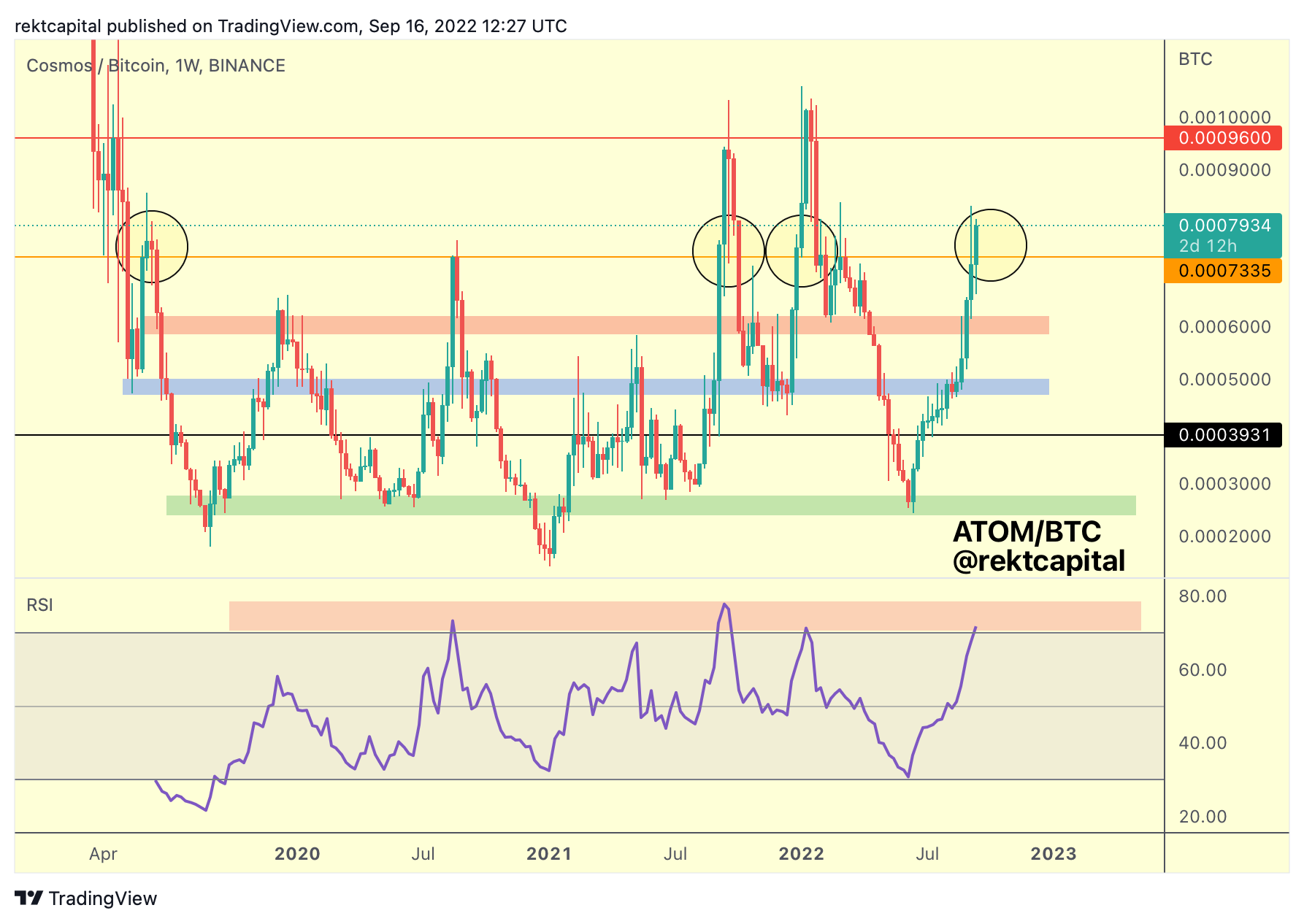 Successful Weekly Closes above orange has preceded strong moves to the red level above; ATOM is positioning itself for a Weekly Close above orange this time around as well.
Successful Weekly Close above orange and the red level above would likely be next.
It's worth noting that the Weekly RSI is also overextended, entering the overbought territory.
Reaching this red boxed area on the RSI has preceded tops in the past and the risk will continue to mount for ATOM the deeper it presses into this RSI resistance area.
Once ATOM finally rejects, it would probably dive into the lower red box area on price action, which would enable a rebound but not a major one; perhaps enough to flip orange into resistance.
Generally, the lower red and blue regions will be bounce areas for me. But they are there for another day.
First, this strong move needs to conclude and since it is currently overextending, the clock is ticking.
This post is for paying subscribers only
Already have an account? Sign in.