Altcoin Newsletter #81
My exclusive commentary on 8 Altcoins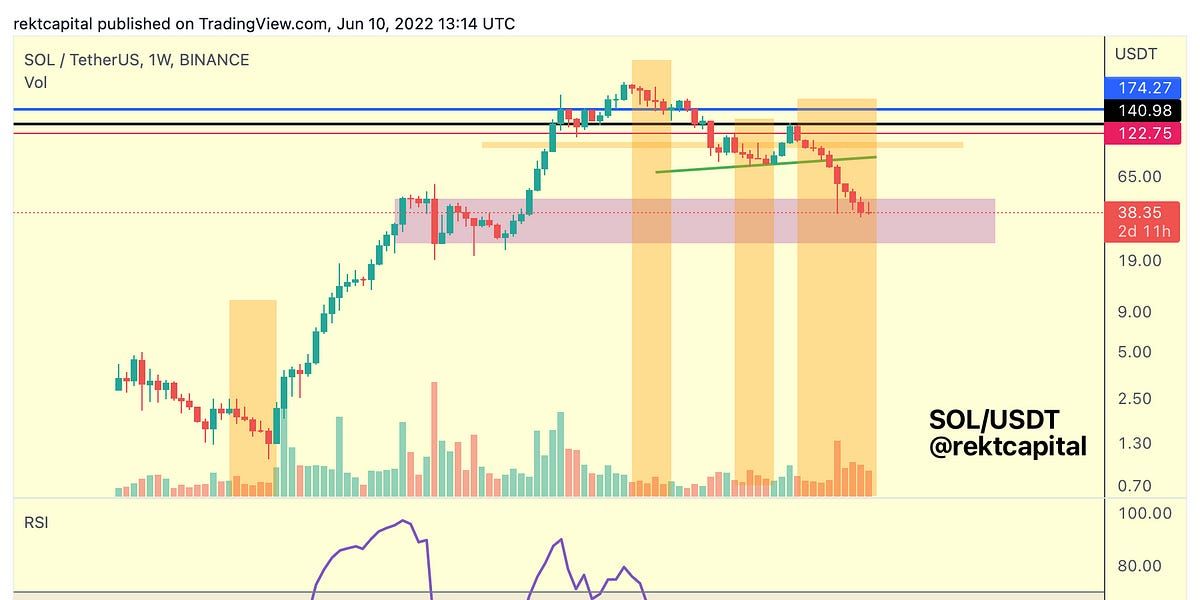 Welcome to the Rekt Capital newsletter, a resource for people who want to better navigate the crypto markets with the help of cutting-edge crypto research and unbiased market analysis.
Every Friday, I host an Altcoin TA session where I share my exclusive commentary on the price action of a wide variety of coins.
I share charts on 8 coins today.
---
In today's Altcoin newsletter, I cover 8 different Altcoins, specifically:
Reserve Rights (RSR/USDT)
Solana (SOL/USDT)
Chainlink (LINK/USD)
Utrust (UTK/USDT)
Near Protocol (NEAR/USDT)
OMG Network (OMG/USDT)
Power Ledger (POWR/USD)
Thorchain (RUNE/USDT)
---
Reserve Rights - RSR/USDT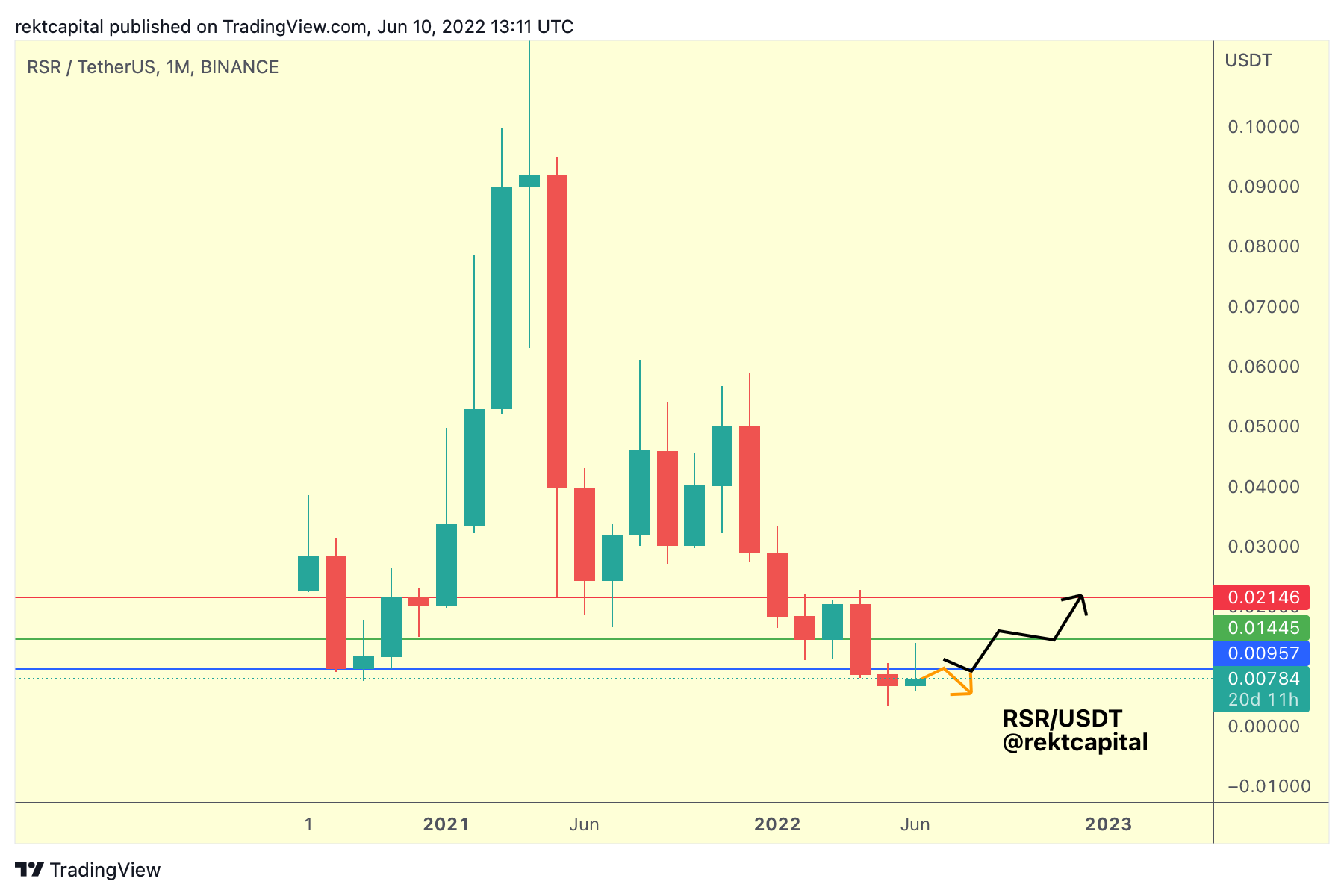 RSR lost pre-2021 blue ATL support last month, and this month it is flipping it into resistance.
If RSR can't flip blue back into support and/or Monthly Closes below blue again, RSR could reject here and see new ATLs.
To shake this off however, RSR would need to follow the black path and claim blue, then green as support to enable some relief movement.
RSR's claim to fame is to reclaim lost levels one by one but if it can't start that by flipping blue into reclaimed support, "post breakout relief rally" bias won't go away.
Solana - SOL/USDT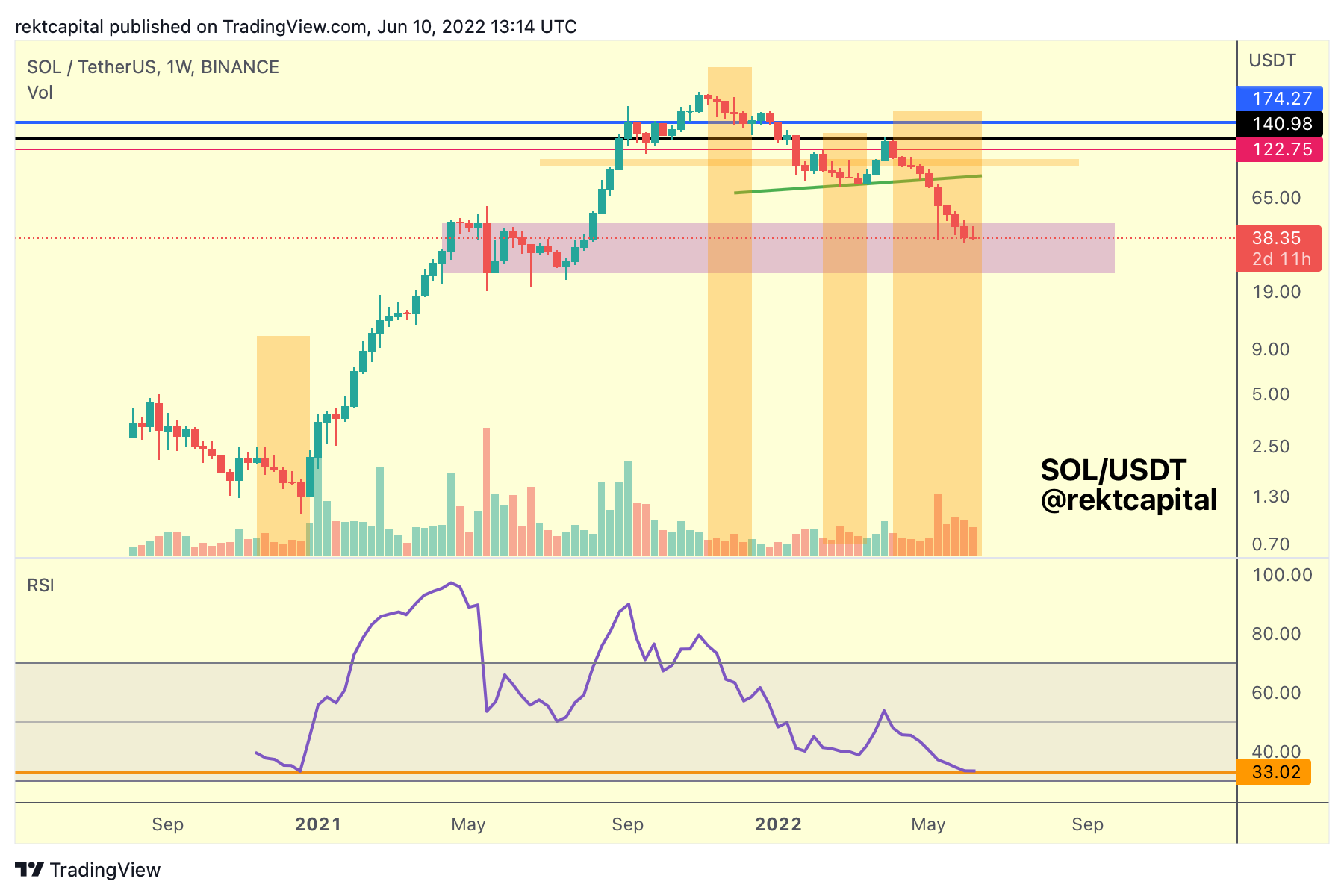 SOL has reached All Time Lows on the RSI. Last time SOL was at this RSI level was at lows following prolonged sell-side volume (first orange box on the left) which preceded a reversal. However, that was a Bull Market.
Nonetheless, a noteworthy observation, especially since SOL is reaching a historical demand area (purple) and is experiencing a period of prolonged sell-side pressure on volume.
These period of prolonged seller pressure have preceded at the very least bounces.
Seeing as SOL is approaching a demand area, at high levels of seller volume, at ATL equal RSI levels, at the very least some sort of relief shouldn't be too far off in the future - even if that relief is to flip the top of the purple box into new resistance to promote further consolidation within this purple area.
This post is for paying subscribers only
Already have an account? Sign in.