Altcoin Newsletter #141
Features ARB UNIBOT ATOM COTI AR DOT SHIB
In today's Altcoin newsletter, I cover 7 different Altcoins, specifically:
Arbitrum (ARB)
UniBot (UNIBOT)
Cosmos (ATOM)
Coti (COTI)
Arweave (AR)
Polkadot (DOT)
Shiba Inu (SHIB)
These Altcoin TA requests are made by valued readers of the Rekt Capital Premium Newsletter.
Let's dive in...
---
Arbitrum- ARB/USDT
ARB has been in a Macro Downtrend since topping out in April/May 2023.
The Downtrend is strong, to the point it has forced price back to the psychological support of ~$1 (black) and beneath this level is the pool of liquidity (green) where ARB previously downside wicked into to garner buy-side strength for a price reversal.
In June, this downside wicking into green was successful as it generated a lot of buy strength to prompt a move to the Macro Downtrend.
However, last month ARB produced another downside wick into the green liquidity pool and it drastically failed to replicate the same results in as in June.
In fact, little interest was garnered in the green area last month which is why ARB is back here this August.
If ARB Monthly Closes below the black psychological level of ~$1 followed by a relief rally into that level, then that could confirm a further drop into the bottom of the green area.
The more ARB drops inside this green area, the more of a case could be made for this demand area losing strength.
Given the little price history for ARB, losing the green area would open up negative price discovery in an effort to search for some unknown support.
UniBot- UNIBOT/USDT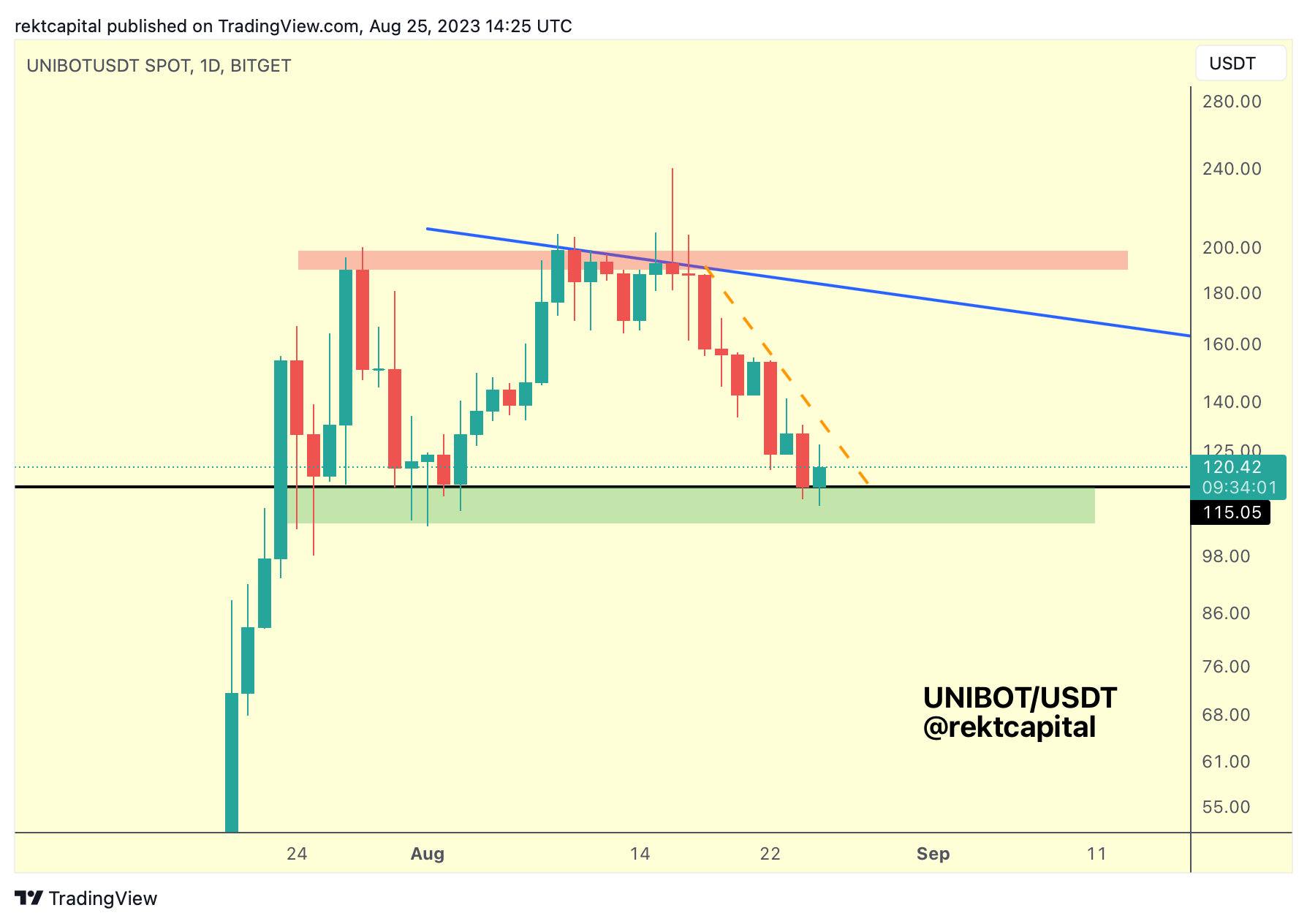 Very similarly to ARB, UNIBOT had also rejected from its Macro Downtrend and dropped into the green pool of liquidity below a key support (black) of ~$115.
UNIBOT has been in a downtrend (orange) since rejecting at the Macro Downtrend (blue).
At the moment, UNIBOT is holding above the black level, downside wicking slightly into the green demand area.
This is where UNIBOT needs to hold to have a chance at breaking the orange downtrend in the coming days.
Break the orange downtrend and UNIBOT would enjoy some uptrending price action.
However if UNIBOT fails to Daily Close beyond the orange downtrend, then that could act as a point of rejection that would force price to lose the black level to really check that green demand area for strength.
A squeeze between the black support and the orange downtrend is coming soon.
This post is for paying subscribers only
Already have an account? Sign in.