Altcoin Newsletter #136
Features SNX, FIL, UNI, OCEAN, ADA, SOL, COTI, DOT
Welcome back to the Rekt Capital Newsletter.
We're slowly reaching the finish line of our exclusive series!
Later today, I'll be presenting the ninth video deep dive in our "10 Altcoins with 10X Potential" series, available exclusively for Hall of Fame Rekt Capital subscribers 🚀
Here's what's inside:
In-depth analysis of the ninth Altcoin poised to deliver potential 10X growth.
Comprehensive technical review of the ninth Altcoin's strengths, possible challenges, and prospective growth sparks.
Actionable investment tips and strategies designed to optimize your returns.
Expert counsel on decoding market trends and making savvy decisions.
With only one more reveal to go, the excitement is at its peak! Don't miss out on the final stretch of this incredible opportunity to potentially multiply your investments.
In today's Altcoin newsletter, I cover 8 different Altcoins, specifically:
Synthetix Network Token (SNX)
Filecoin (FIL)
UniSwap (UNI)
Ocean Protocol (OCEAN)
Cardano (ADA)
Solana (SOL)
Coti (COTI)
Polkadot (DOT)
These Altcoin TA requests are made by valued readers of the Rekt Capital Premium Newsletter.
Let's dive in.
---
Synthetix Network Token - SNX/USDT
As a preface to today's analysis, let's recount my Quarterly analysis of SNX back in mid-March: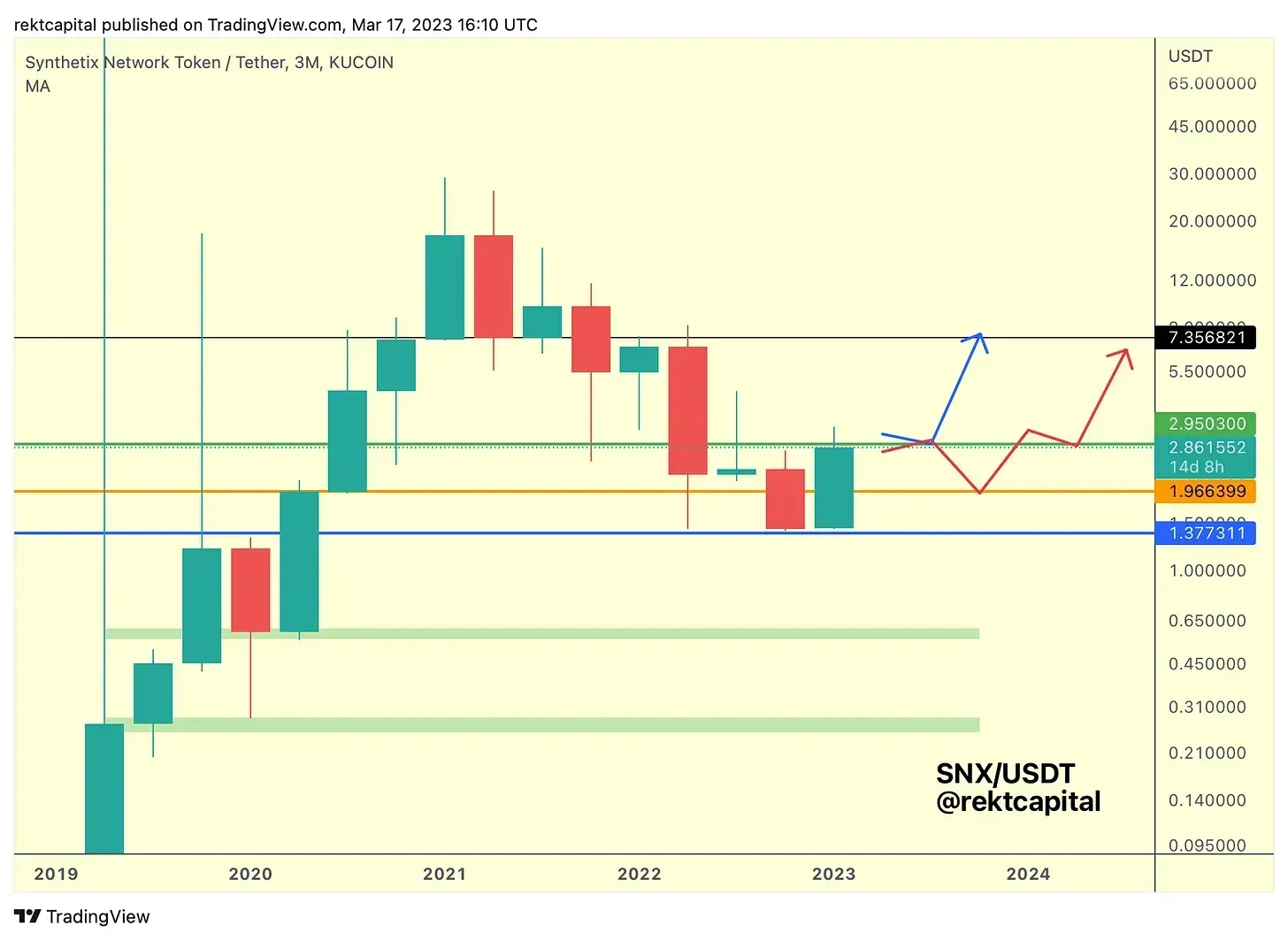 And then the analysis from late June: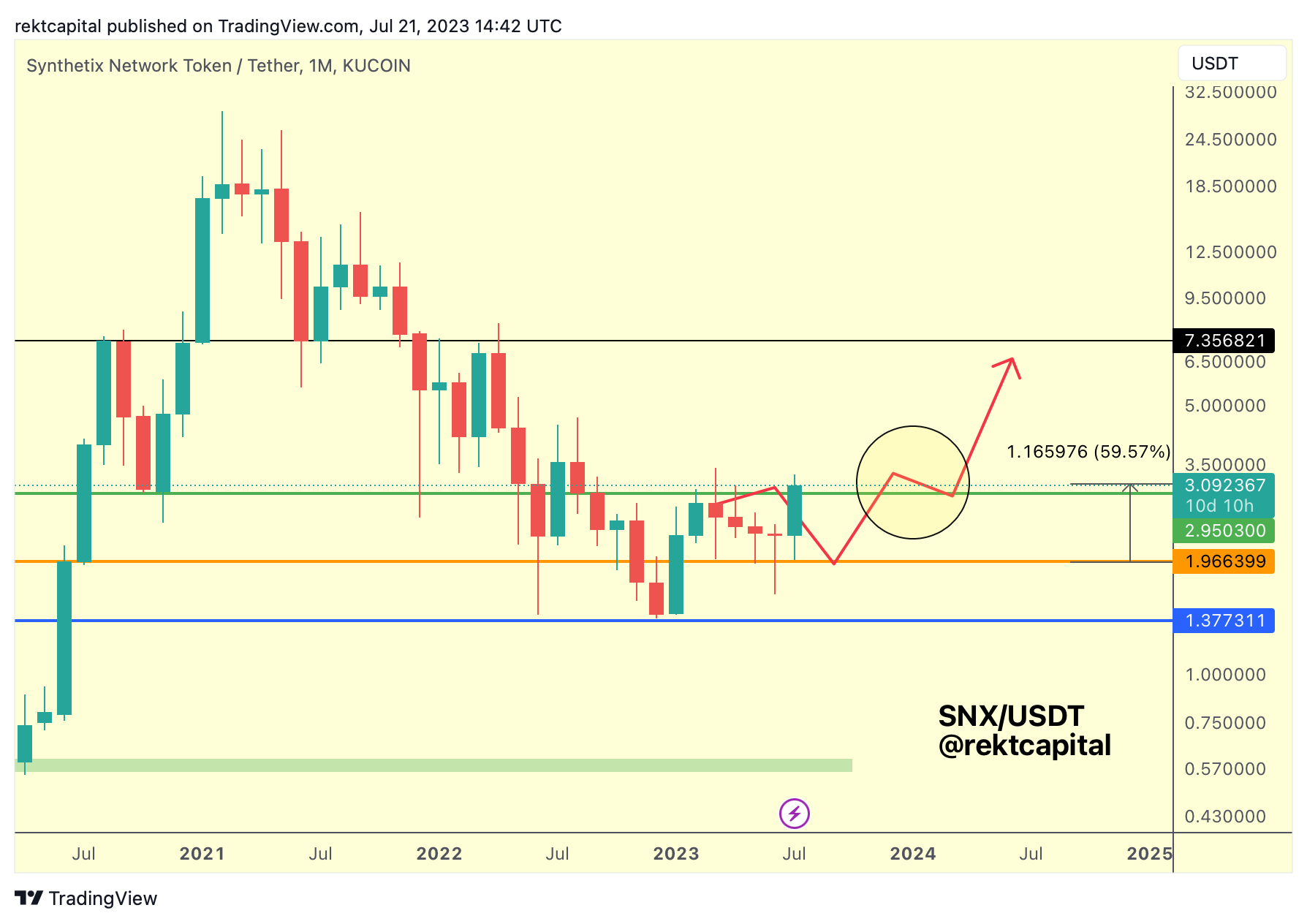 With all that in mind, here is today's analysis on SNX: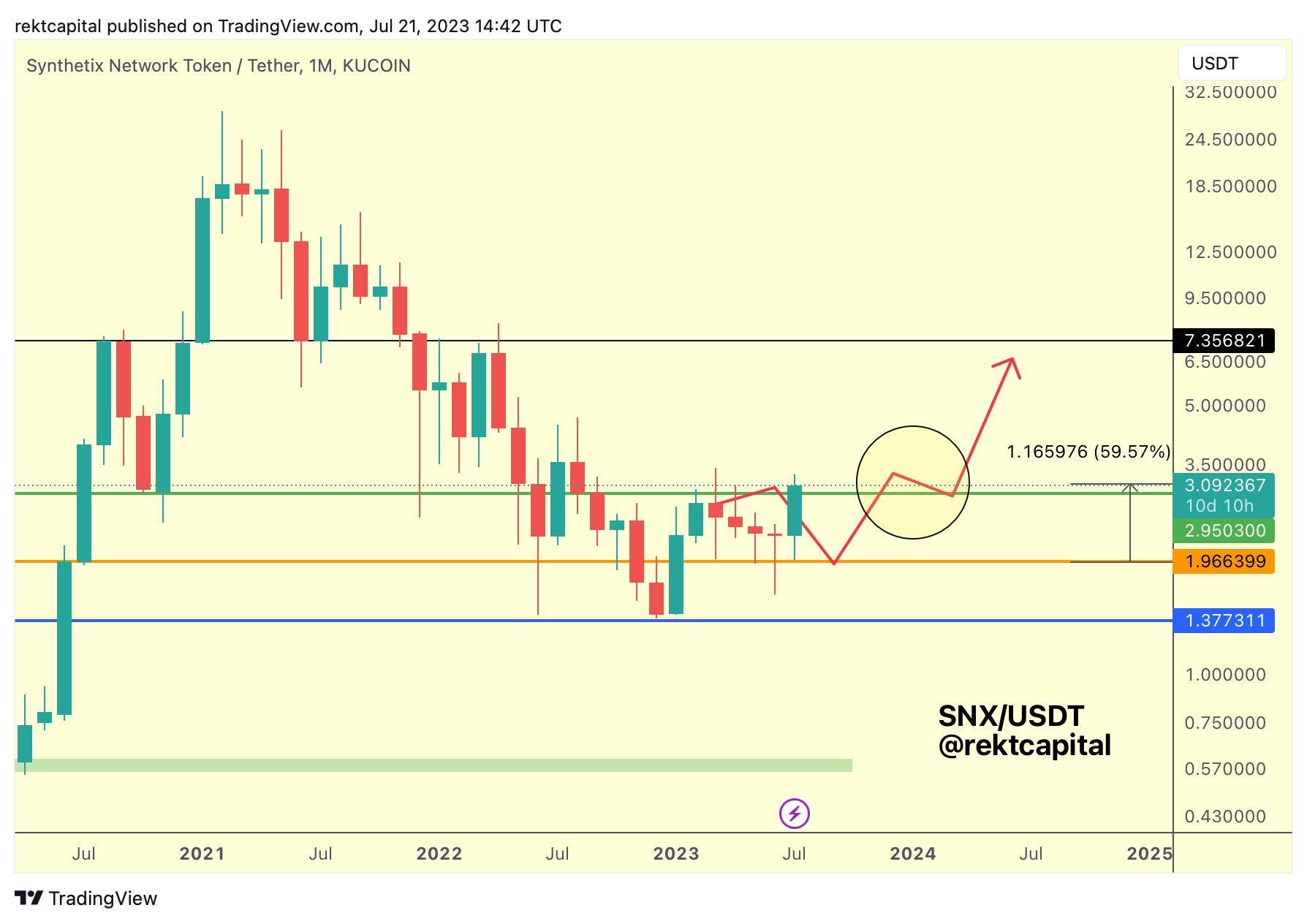 SNX has rallied +59% and is now positioning itself for a Monthly Close above the green resistance.
Of course, a Monthly Close above green here is important because earlier this year, SNX produced an upside wick beyond green and rejected.
More, around a year ago SNX was able to perform this Monthly Close but on the flip side of that wasn't able to retest green as support.
So key things here:
For SNX to confirm a breakout it needs to a) Monthly Close above green
And then b) retest successfully green as support
This is essentially what the yellow circled portion of the red path emphasises.
The SNX rally may not be over just yet, especially if SNX satisfies both a) and b).
This post is for paying subscribers only
Already have an account? Sign in.