My Thoughts on Bitcoin
What's in store for Altcoins for July?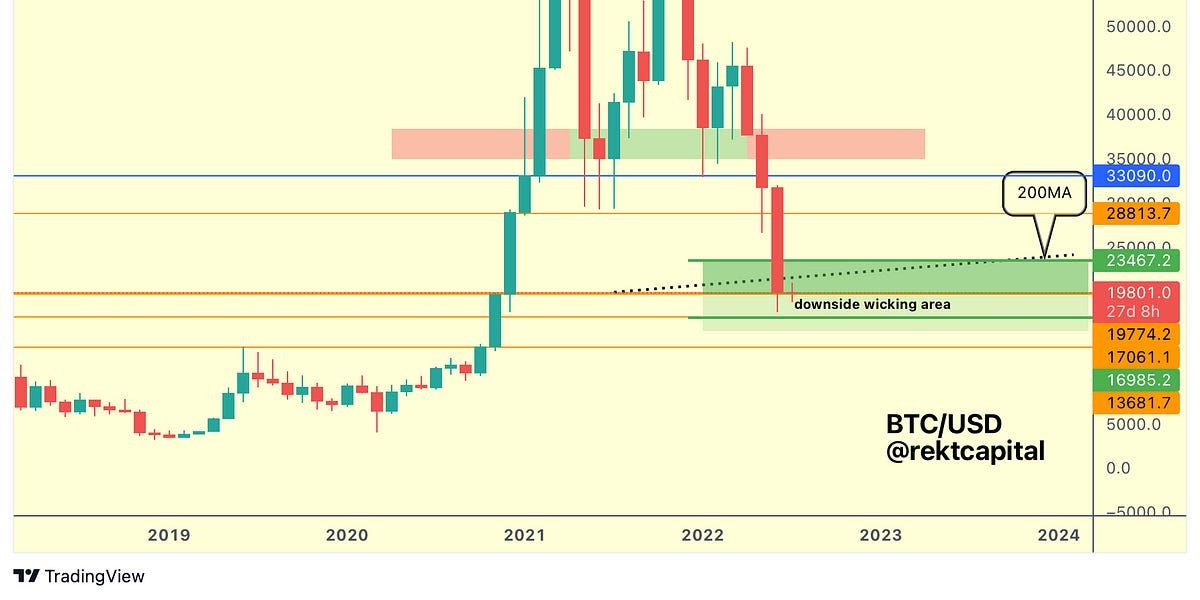 Welcome to the Rekt Capital newsletter, a place for people who want to better navigate the crypto markets with the help of cutting-edge crypto research and unbiased market analysis.
---
What If Bitcoin Dominance Continues To Decline?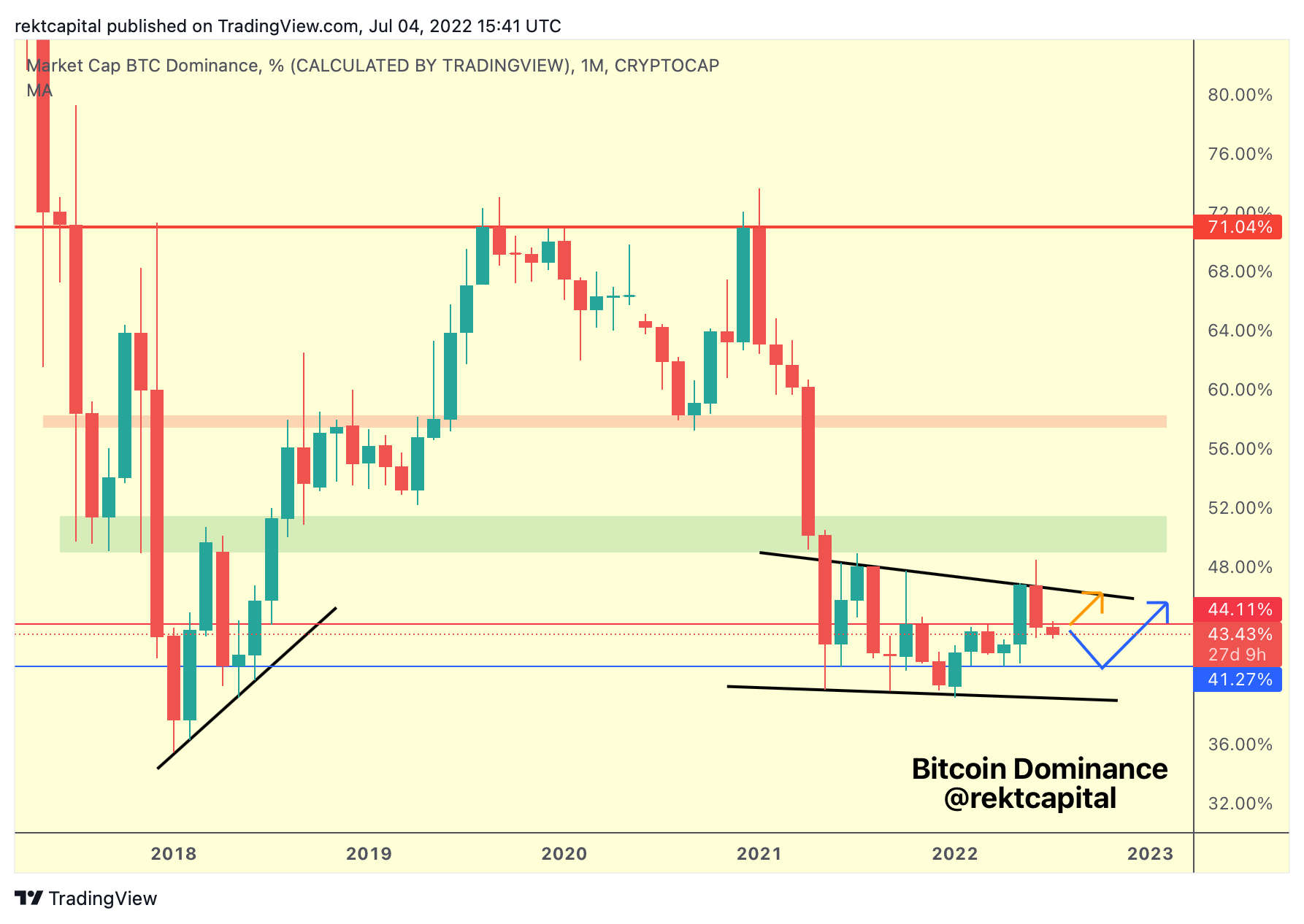 This past June, I mentioned how we can better prepare for an incoming trend in Bitcoin Dominance.
I shared that if BTC.D were to Monthly Close below the red level, then that would likely enable a move via the blue path, perhaps even as low to the black Wedge Bottom if the bottom horizontal support were to lapse.
Indeed, the new Monthly Close for June occurred below the red level, and this July BTC.D is already rejecting from the red level.
If this continues, then a stronger rejection from here may occur.
What would this mean?
Declining BTC.D could result in money flowing away from Bitcoin into either a) fiat itself, or b) Altcoins.
What we've seen over the past few weeks is BTC.D declining in a time where BTC's price would crash, brining down Altcoins, before enabling Altcoin relief once BTC's price had settled at support.
And so a further decline in BTC.D at this stage could indeed see an initial money flow into fiat, away from BTC and Altcoins, followed by some money flow into Altcoins for relief moves.
Altcoins Set For Downside?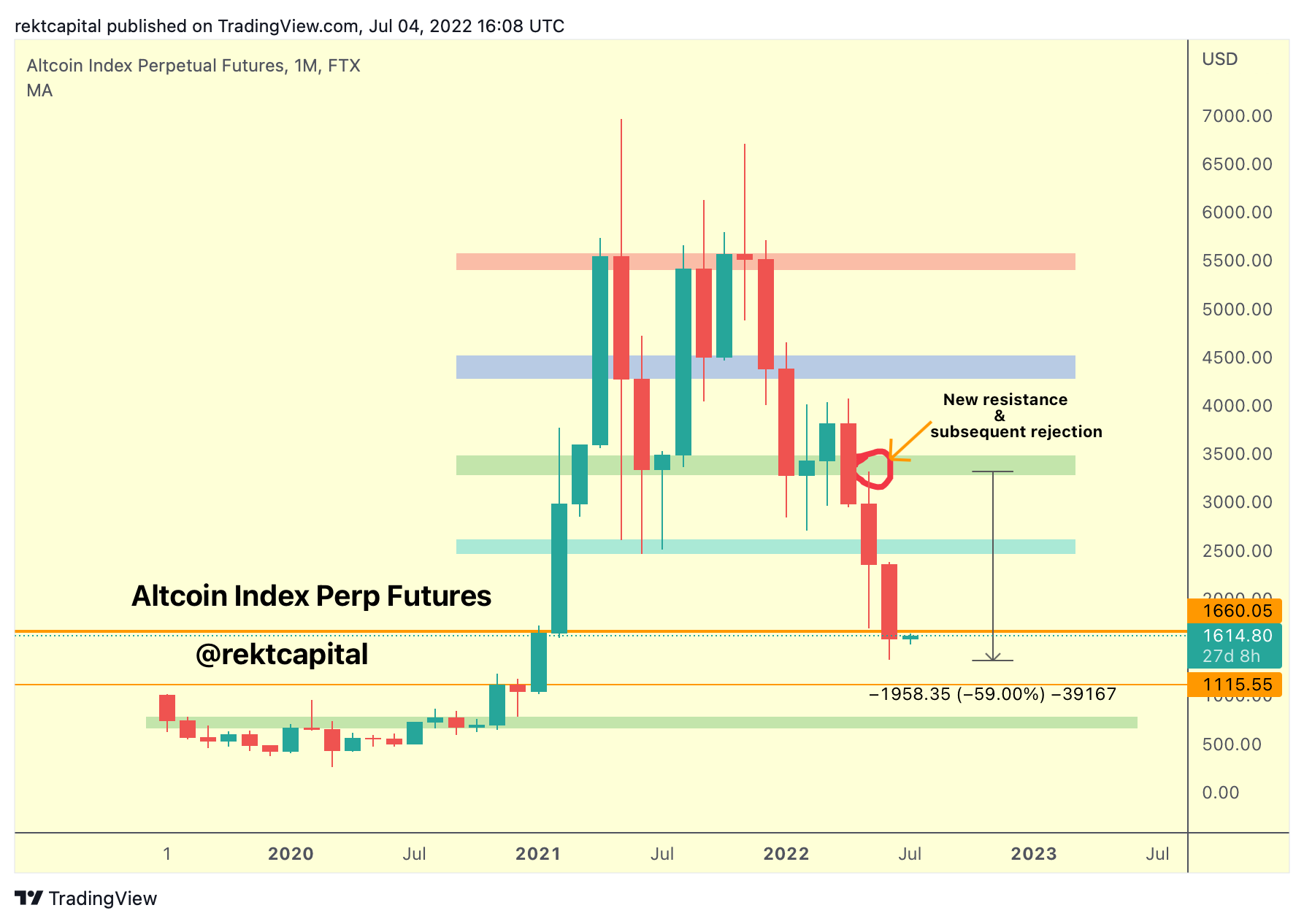 So while BTC.D could offer some relief opportunities for Altcoins, there trend for Altcoins should nonetheless continue to remain down.
And the positioning of the Altcoin Index is a testament to that.
A Monthly Close below Monthly support of 1660 on the Index suggests this old support could flip into new resistance.
Interestingly, this is the same technical predicament that Bitcoin Dominance is in, which suggests that in the event that BTC.D decline, ALTPERP could decline as well, favouring money flow towards fiat as market participants panic-sell and capitulate further, potentially chasing the relief bounces that will inevitably follow after prolonged periods of selling.
And because ALTPERP has little support between the two orange Monthly levels, a rejection from this local orange resistance could see ALTPERP drop swiftly and sharply to the 1115 level.
Based on these charts, Altcoins may be technically setting themselves up for another sell-side cascade.
This post is for paying subscribers only
Already have an account? Sign in.