Bitcoin, Ethereum, and other Market Leaders
Full Market Update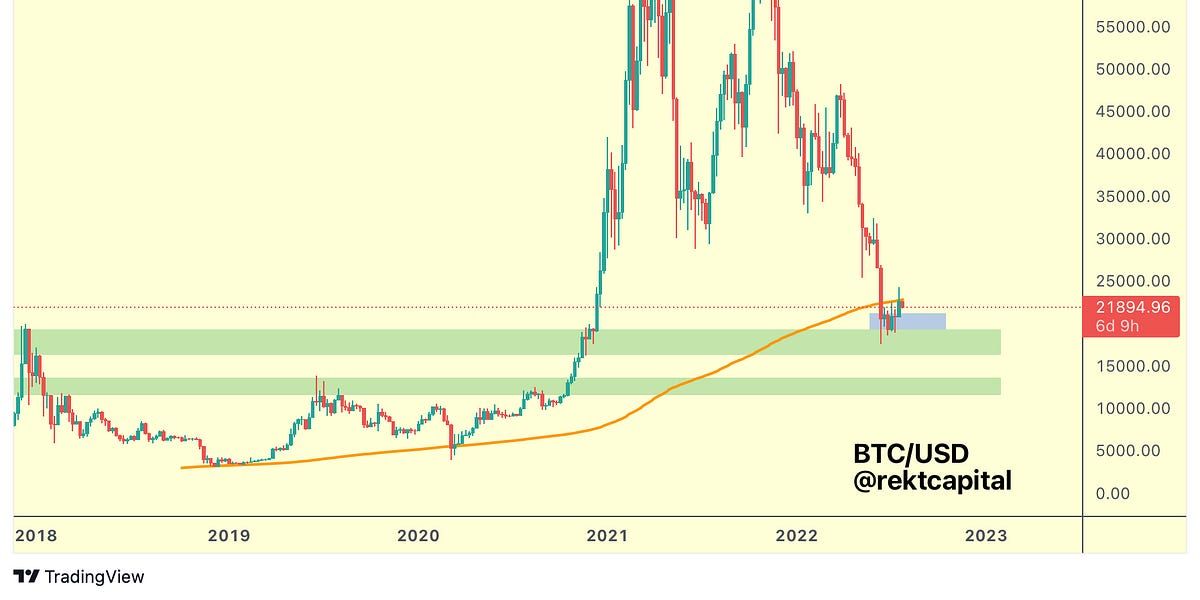 Welcome to the Rekt Capital newsletter, a place for people who want to better navigate the crypto markets with the help of cutting-edge crypto research and unbiased market analysis.
---
Bitcoin - BTC/USD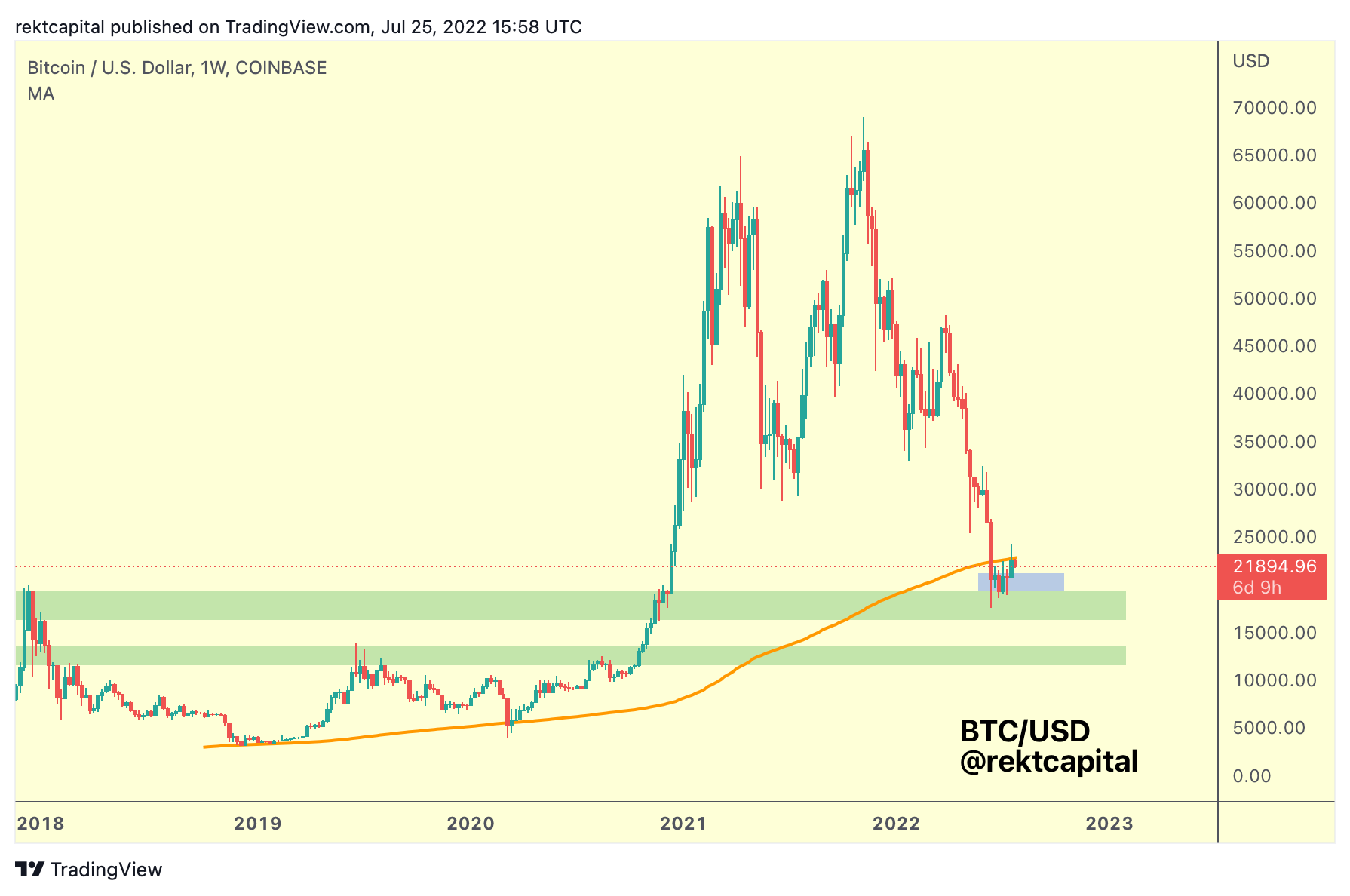 Bitcoin has Weekly Closed below the 200-week MA for yet another consecutive week in a row.
In fact, last week's rally beyond the 200-week MA has printed as an upside wick beyond what is now a confirmed resistance.
The upside, FOMO wick is showcasing that the resistance here is strong.
And that being said, a rejection here could take place, at least towards the blue boxed region.
Because the blue box represents a sideways range which price has broken out from. If BTC were to dip now, it would be to retest the top of that range as new support.
Successful retest there and BTC would rally again towards the 200-week MA.
But this blue range is forming on top of a historical demand area, the $20000 psychological region which was once a resistance in 2017 and then a new support in late 2020.
Once again, BTC is forming support here and enjoying some relief, but perhaps we may learn that this rebound won't have much strength to it, evidencing developing weakness in the psychological level of $20000. That however may still take some time.
Generally, anything below the 200-week MA for BTC is a generational long-term investing opportunity.
Ethereum - ETH/USD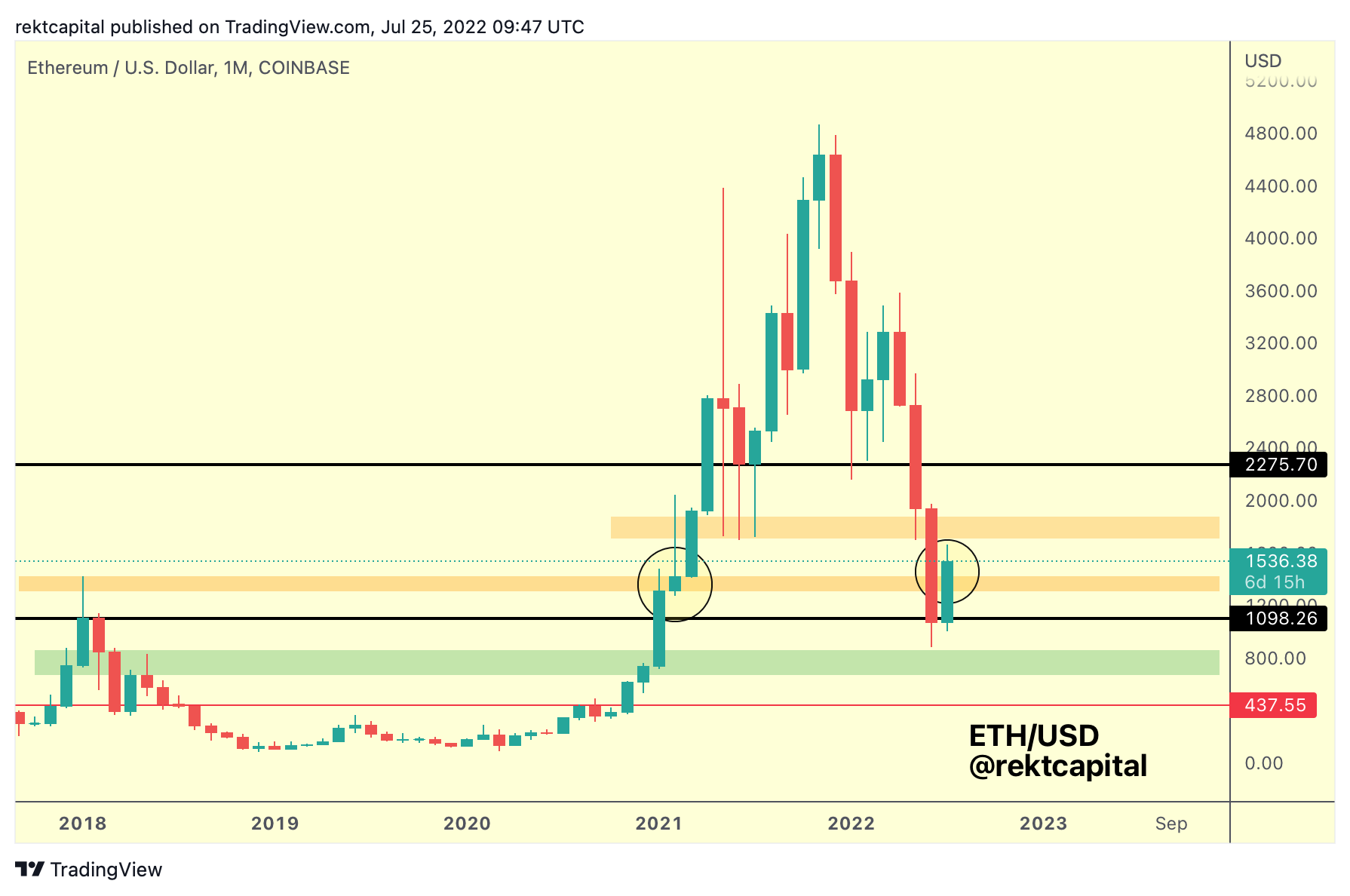 Ethereum looks to be positioning itself more favourably than Bitcoin, at least on a technical perspective.
In early 2021, ETH experienced resistance at this orange area, also in late 2017.
But if ETH is able to Monthly Close above orange, then there will be a chance for turning this area into support.
That would be rather positive for ETH as we may seen a successful retest take place which would precede a move to the high $1800s (higher orange box).
However, if ETH Monthly Closes below the lower orange box, then we may see a scenario where ETH actually rejects from the orange box and falls back to the black level price rebounded from earlier this month.
That technical context will be key for ETH in terms of directional bias.
This post is for paying subscribers only
Already have an account? Sign in.