Altcoin Newsletter #84
My exclusive commentary on 8 Altcoins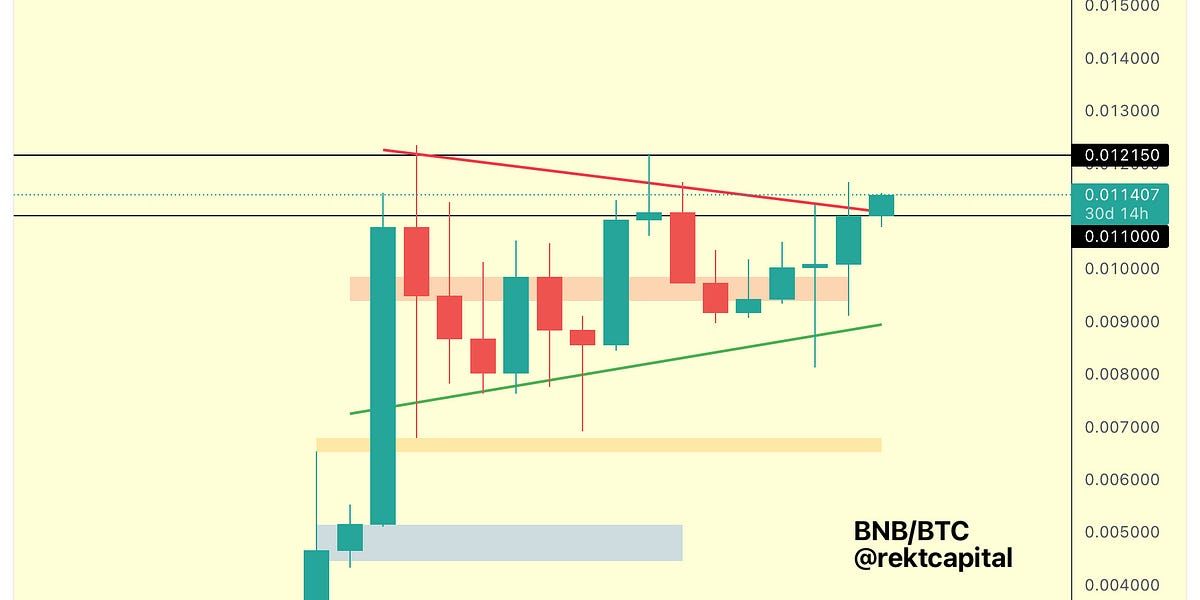 Welcome to the Rekt Capital newsletter, a resource for people who want to better navigate the crypto markets with the help of cutting-edge crypto research and unbiased market analysis.
Every Friday, I host an Altcoin TA session where I share my exclusive commentary on the price action of a wide variety of coins, requested by valued premium members of the Rekt Capital Newsletter.
I share charts on 8 coins today.
---
In today's Altcoin newsletter, I cover 8 different Altcoins, specifically:
Cosmos (ATOM/USDT)
Binance Coin (BNB/USDT)
Solana (SOL/USDT)
Thorchain (RUNE/USDT)
Synthetix Network Token (SNX/USDT)
Ripple (XRP/USD)
Waves (WAVES/USDT)
Enjin Coin (ENJ/USDT)
---
Cosmos - ATOM/USDT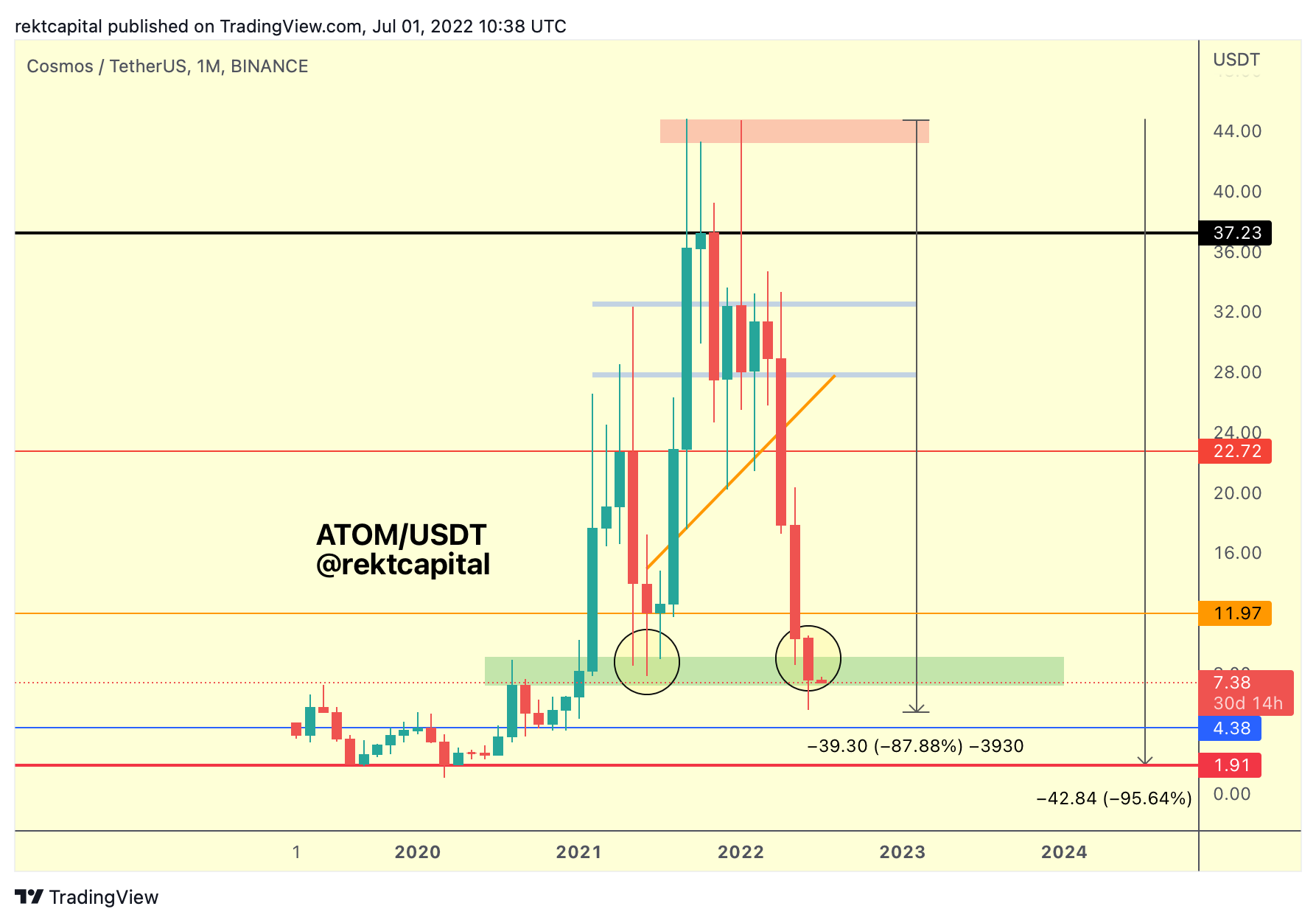 In mid-2021, ATOM would downside wick into this green region for three months straight, attracting strong buy interest.
Last month, ATOM just ran through this region, having to wick below the green region.
Generally, this green region is weak with buyers and seeing as ATOM has only retraced -87%, it may very well have to lose this area entirely, in which case blue would be next.
The -90% mark is the next major support level (blue).
The ATL area (red) is also a major support region but at the -95% mark.
Binance Coin - BNB/USDT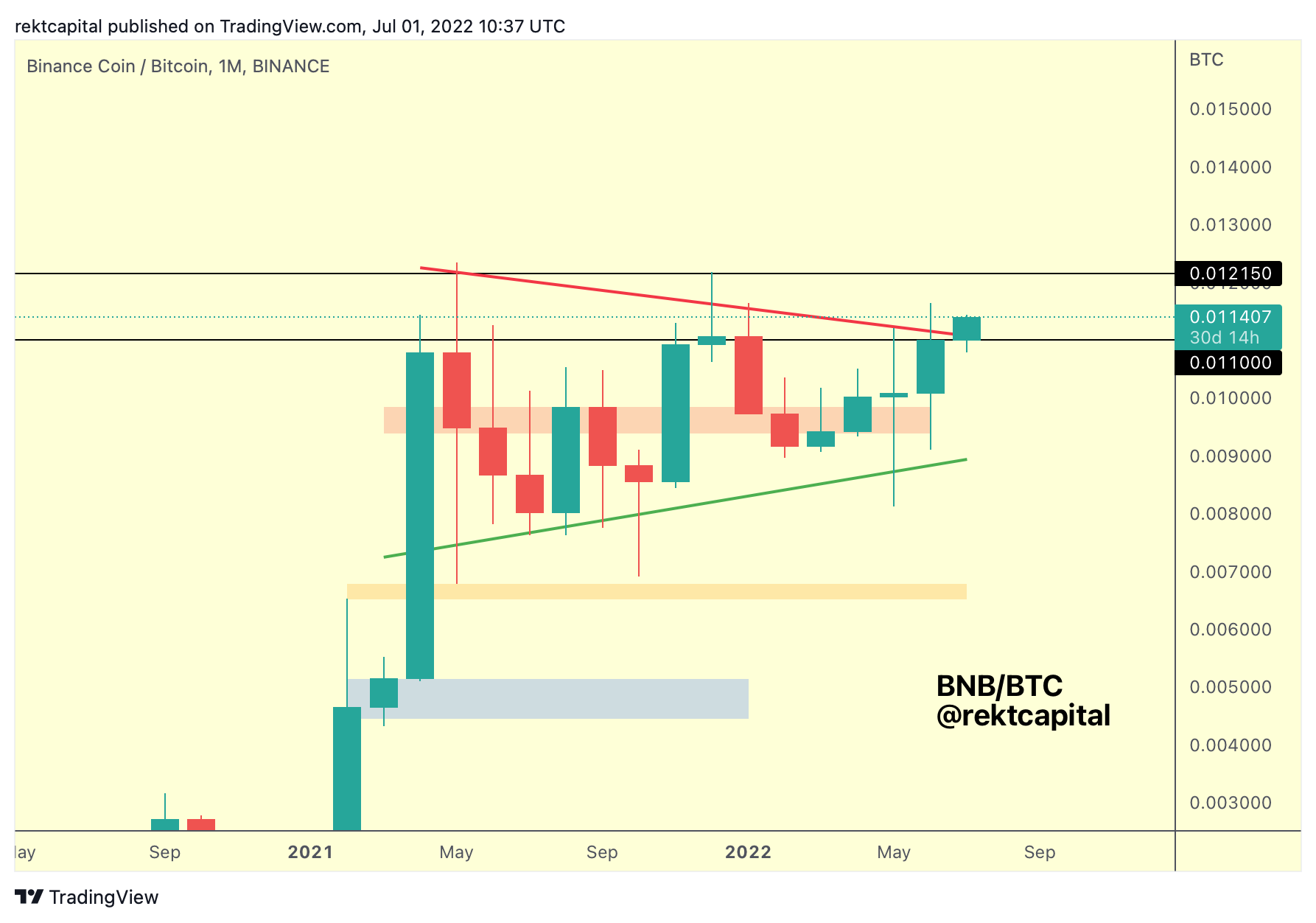 BNB is trying to breakout from the multi-month triangle.
June Monthly Candle Closed. below the black level, which was figuring as resistance, but BNB is actually trying to turn it into support this July.
It's too early to say whether this retest will be successful, but this black level is crucial to watch. BNB has never been able to retest this level as support.
Last time BNB was close to retesting this level as support was in late 2021 and it failed miserably.
Hold here however and the next black level above would be the final resistance before Price Discovery.
BNB needs to hold black as support to confirm a breakout from this multi-month triangle.
This post is for paying subscribers only
Already have an account? Sign in.